After more than two years, the venerable Community Maps Resource Center is getting an upgrade.  This means more and better organized resources to help you join and participate in the growing Living Atlas community.
The first thing you will notice when visiting the new documentation center is that the look and feel is consistent with other ArcGIS documentation collections, with a blue, tabbed navigation bar at the top and a Home page that contains quick links to the documentation topics and other resources, including videos, blog posts and our Living Atlas of the World Discussion Group on GeoNet.

The documentation categories step you through all of the facets of Esri Community Maps membership – from a detailed explanation of how the program works and who is currently participating, to instructions on how to contribute your Living Atlas content and take advantage of the published products to build useful applications.  There is even a comprehensive library of support resources to help answer your questions.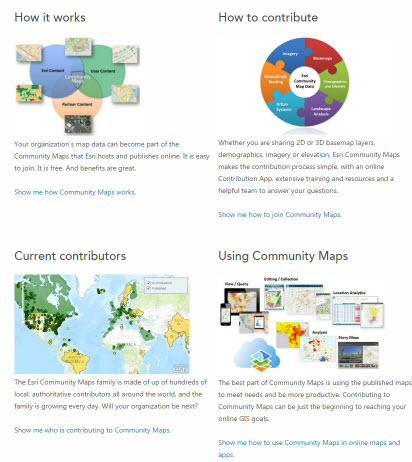 One of the more noticeable and important enhancements in this site is the expanded information on the variety of data layers accepted by Esri Community Maps.  Where the former resource center focused almost solely on basemap layers, the new doc center includes details on how to contribute to other Living Atlas themes, such as imagery, elevation and hydrology.
Of course, the new site also includes updated documentation on the entire Community Maps contribution process, from applying and preparing your content, to uploading and reviewing it prior to publishing in the Living Atlas of the World.

This documentation, which incorporates the new Data Preparation Tools workshop, will ensure that all Community Maps members have the information they need to be successful contributors.
So visit the new Community Maps Documentation Center soon, and explore all of resources it has to offer.  And remember, if there is something you need that is not there, let us know.