Updated December 8, 2017:  The Esri Vector Basemaps were recently updated to a new version (v2). The best way to access them in ArcGIS Online is through the Esri owned Vector Basemaps group, which contains the latest set of web maps and tile layers. See What's New in Esri Vector Basemaps (December 2017) for information related to this update.
—
The latest updates to the Esri Vector Basemaps were released late last week. We previously blogged about these maps' transition from their beta release last spring through their release as production maps just last month.
Topographic & Street Map styles with updated data (Cupertino, CA; Lake County, IL)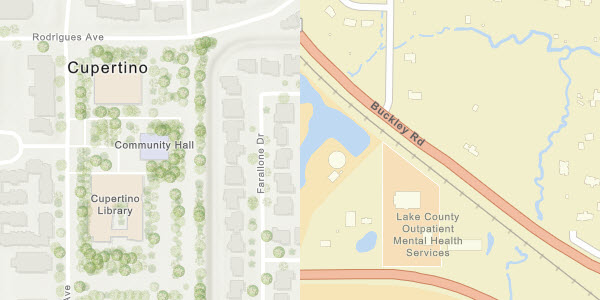 Benefits of Esri Vector Basemaps
The vector basemap format holds several benefits over its raster counterpart. One is the ability to customize the vector map style by changing colors, line attributes and even fonts. Another benefit of the vector maps is updated data. In this latest vector release, we made improvements to our data and added the contributions of 20 communities through the Esri Community Maps Program. This data is available in all 9 map styles because they all reference the single tile set we produce for the vector basemaps.  This vector tile set is also referenced by our sample vector basemap creations.
Navigation & Terrain with Labels map styles with updated data (Whiteside County, IL; Rocklin, CA)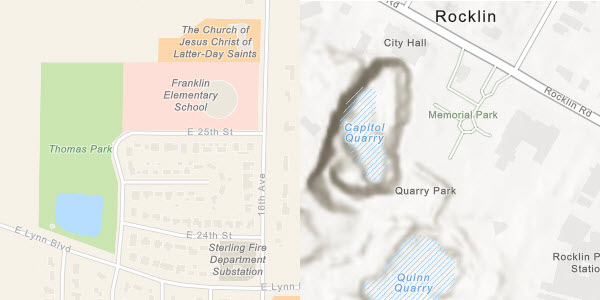 Community Contributions added or updated in this release:
Carteret County, NC
Cary, NC
Cupertino, CA
Davie County, NC
Decatur, AL
Kettering, OH
Lake County, IL
Longview, TX
Loudoun County, VA
Mesa, AZ
McKinney, TX
McMinnville, OR
Orange County, NC
Pottawattamie County, IA
Richmond County, NC
Rocklin, CA
Springfield, MA
Whiteside County, IL
Wyandotte County, KS
    Streets at Night & Light Gray Canvas with updated data (Springfield, MA; Wyandotte County, KS)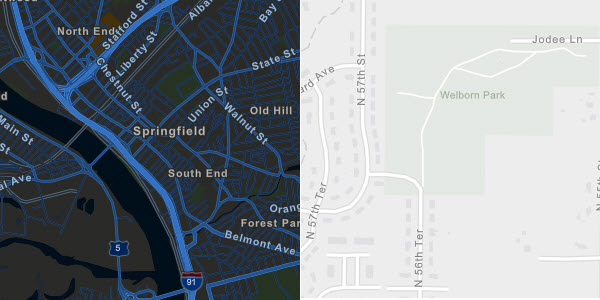 New creative style and story map
The latest sample vector tile layer we're sharing in ArcGIS Online is inspired by and pays tribute to Pokemon GO. The Esri vector map style was customized and then used as the basis for this story map. The story map traces last year's explosive popularity of the game, benefits to certain businesses, as well as crimes, banned locations and other interesting anecdotes associated with playing Pokemon GO.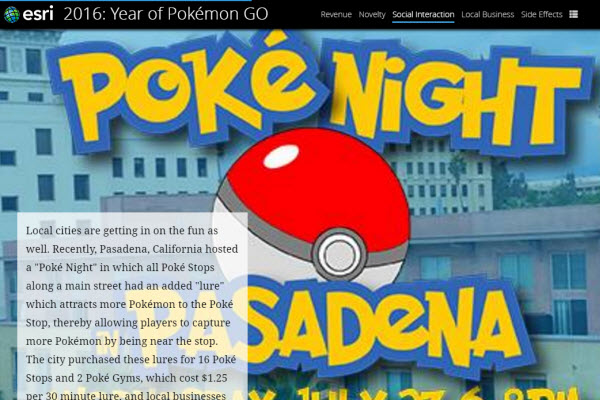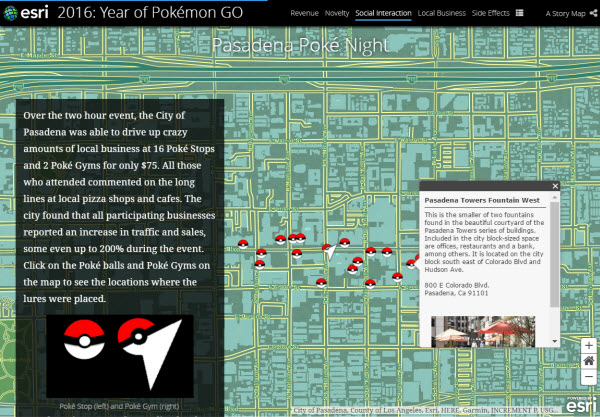 The Pokemon GO sample style is available to use along with the other creative custom styles like those previously included in our vector blogs (Colored Pencil, Merry Christmas, Newspaper, Modern Antique, etc.).