Updated December 8, 2017:  The Esri Vector Basemaps were recently updated to a new version (v2). The best way to access them in ArcGIS Online is through the Esri owned Vector Basemaps group, which contains the latest set of web maps and tile layers. See What's New in Esri Vector Basemaps (December 2017) for information related to this update.
—
With our latest update to the Esri Vector Basemaps, we've continued to update data and expand coverage of the maps, released a new suite of maps and layers in GCS WGS84, and provided the option to use the vector basemaps as the default maps in the galleries. Stay up-to-date on announced changes to the Vector Tile Basemaps through this summary of our blogs.
Updated and Expanded Coverage
Building off our previous vector map release, we've continued to update our HERE map data, add content from contributions through our Community Maps Program, and expand coverage with OpenStreetMap data. The most recent OSM expansion covers countries in the Middle East and central Asia, including Afghanistan, Iran, Syria, Tajikistan, Turkmenistan, and Yemen. New and updated contributor data now appears in the these communities:
Davidson County, Tennessee
Japan
Kane County, Illinois
Lee County, Florida
Madison County, Indiana
Mesa, Arizona
Nashville, Tennessee
San Miguel County, Colorado
The City of Atlanta, a Community Maps contributor, has built a series of maps and apps using the vector basemaps. This app for CommuteATL uses the Esri Navigation vector map as the foundation for adding traffic, bike, transit, and incident reporting.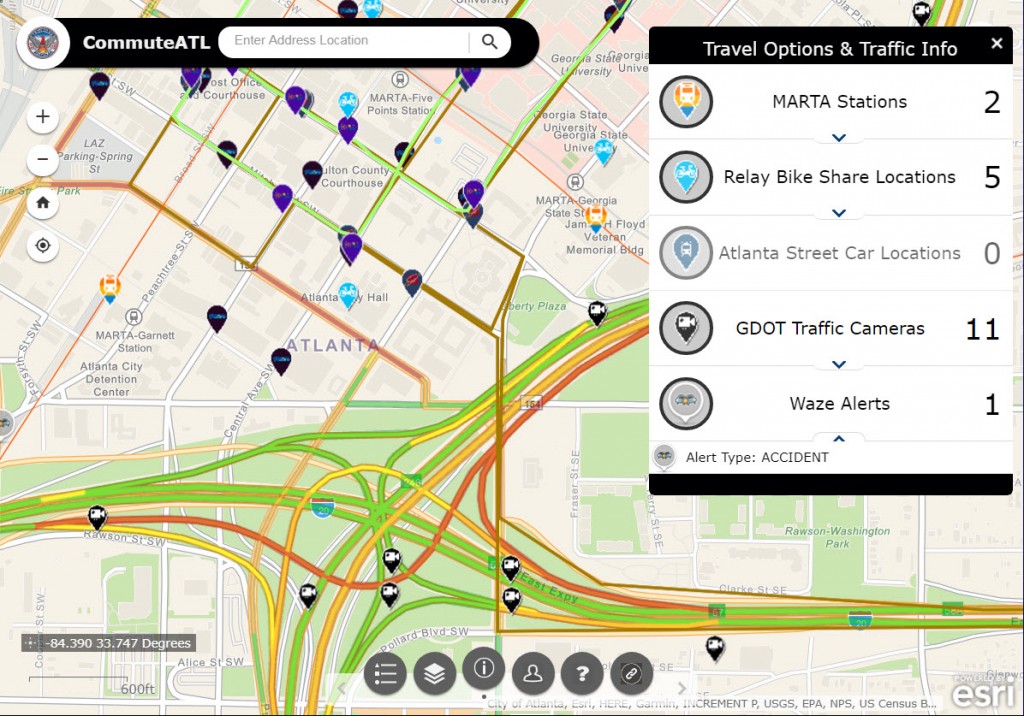 Geographic Coordinate System (GCS) WGS84
A new suite of vector basemaps GCS WGS84 is now available for use in your maps and apps. These were previously provided as beta maps and layers. World Imagery and World Hillshade layers in WGS84 are also out of beta for use with the WGS84 vector layers like Imagery Hybrid, Topographic, Streets (with Relief), and Terrain with Labels. All these mentioned maps and layers (and more…) are found in the Living Atlas and the World Basemaps (WGS84) group.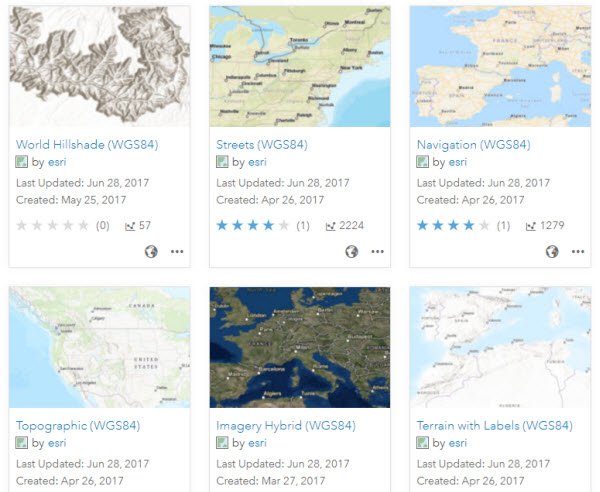 Organization Administration
Organization administrators can choose to use Esri vector basemaps as the default in the Map Viewer and Scene Viewer basemap galleries. Check Use Esri vector basemaps in supported ArcGIS apps in the Map tab under Edit Settings.
If you created maps or apps during the beta period of the Esri Vector Basemaps (June 2015-December 2016) and haven't updated the underlying tile layers, you are not using the most current style or tile set. The current URL is:
https://basemaps.arcgis.com/v1/arcgis/rest/services/World_Basemap/VectorTileServer
The URL for beta layers has "b1" or "b2" instead of the production "v1". This URL can be found on the lower right of any of vector tile layer item page (World Navigation Map for example). If you are using layers with the "b1" or "b2" URL (beta layers), it is recommended that you update to the current production layers. Older tile layers also carry "mature support" in their title. Those accessing the Esri Vector Basemap web maps will always be connected to the latest vector tile layers.