ArcGIS Maps for Adobe Creative Cloud is an extension for Adobe Illustrator and Adobe Photoshop, used by cartographers and designers that leverage ArcGIS as a system to create beautiful and useful map products and infographics.
The August 2023 release (version 3.5) for ArcGIS Maps for Adobe Creative Cloud includes many significant enhancements, bug fixes, and new tools to explore. Read below to learn what's new in this update.
New features and enhancements
Add content from an improved layer library—The Maps for Creative Cloud data category has updated layers and web maps. When browsing content, choose from an updated set of OpenStreetMap layers and vector tile basemaps that are well suited for use in the extension.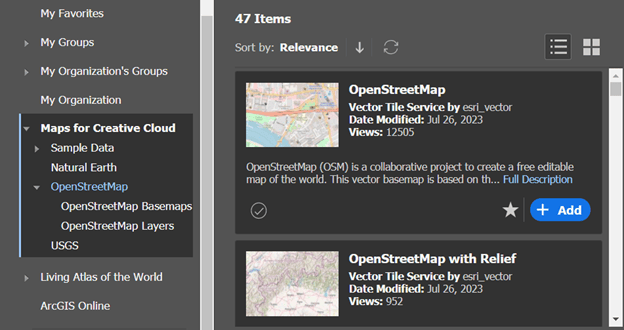 Name your file on sync—The first time you sync a map created in the extension, you'll be prompted with a new option to name the result file. Or you can continue to accept the default, which uses the mapboard name.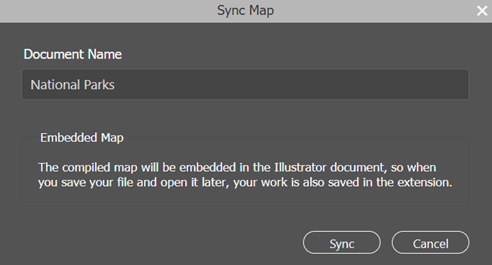 Duplicate AIX-generated mapboards—You can now duplicate AIX-generated mapboards in the Mapboards window. (When you sync the map for the duplicate mapboard, the downloaded map in the new Illustrator file will have the same rotation as the original, but the map won't appear rotated in the extension.)
Create georeferenced PDFs with the extension (beta)—When you sync a new map from the Compilation window or when you open an .aix file in Illustrator, you can save the result using the new file type ArcGIS – Georeferenced PDF (Beta) (*.PDF). This beta feature can be used for testing purposes; it is not yet recommended for production use. Share your feedback through Esri Community.  A georeferenced PDF that's created with Maps for Adobe Creative Cloud includes geospatial coordinates, which supports the measure and geolocation tools in Adobe Acrobat.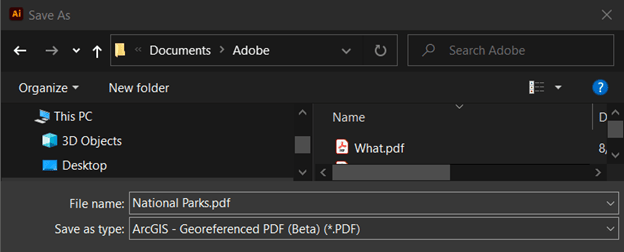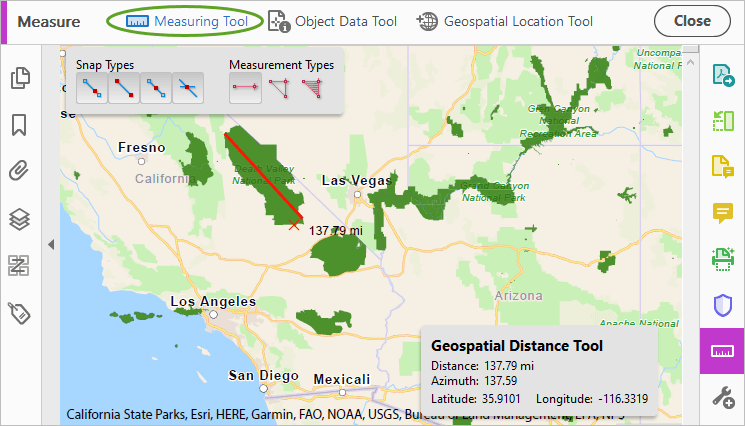 Use the same name as your .aix file—When you open an .aix file with the extension, the default name for the processed file is now based on that of the .aix file instead of being called Untitled.
Bug fixes
BUG-000156147 Opening some Pro-generated AIX files fails in Illustrator 27.1 (Requires ArcGIS Pro 2.9.8 or later)
BUG-000159848 Patterns in Legend don't display as expected
Adding places to a map fails intermittently. Read more in this Esri Community post.
Choropleth layers do not sync as expected. Read more in this Esri Community post.
Failure when signing into an ArcGIS Enterprise 11.0 portal when the print service is configured with a leading space in its URL.
Mapboard in the Compilation window shows a mismatched extent when created with a specific size.
Error when adding boundary layers from Living Atlas of the World in ArcGIS Enterprise.
Failure to retain a basemap other than Topographic when duplicating a mapboard.
Esri logo and data attribution text do not align when syncing a mapboard with rotation.
Download the latest version today. (See Requirements for supported versions of Adobe apps.)
For detailed information on these improvements, see the documentation. Stay engaged with the Maps for Adobe Creative Cloud community to help us continue improving the product.