ArcGIS Maps for Adobe Creative Cloud is a plug-in for Adobe Illustrator and Adobe Photoshop, used by cartographers and designers that leverage ArcGIS as a system to create beautiful and useful map products and infographics. New to Maps for Adobe Creative Cloud? See this video playlist to get started.
The latest update for ArcGIS Maps for Adobe Creative Cloud is here! This update includes improvements addressing feedback from the user community and general maintenance updates. Read below to learn what's new with the March 2023 release (version 3.4).
Improvements to the ArcGIS Pro to Adobe Illustrator workflows
Here are key enhancements included with this new version to support GIS professionals and cartographers who use the plug-in to work with ArcGIS Pro AIX exports.
Performance of opening AIX files
The latest updates include improvements to boost performance of opening complex maps built using ArcGIS Pro. Even with these improvements, it's recommended that map authors follow best practices when creating maps in ArcGIS Pro for use in Illustrator. This improvement should get you started with your design work much faster.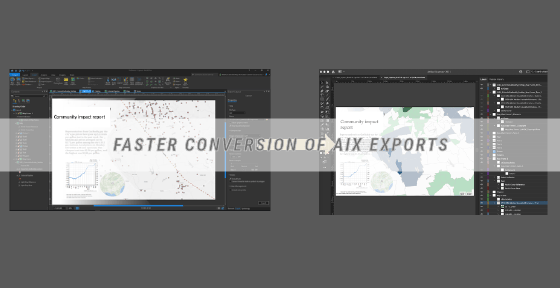 Layer organization of ArcGIS Pro Bar chart elements
With the new update, ArcGIS Pro layouts that include chart elements are neatly organized into layer groups. This new ability improves readability of a chart in Illustrator's Layers panel for easy styling of individual components such as axes, bars, labels, and so on. This is supported with AIX files created in ArcGIS Pro version 3.1 or later.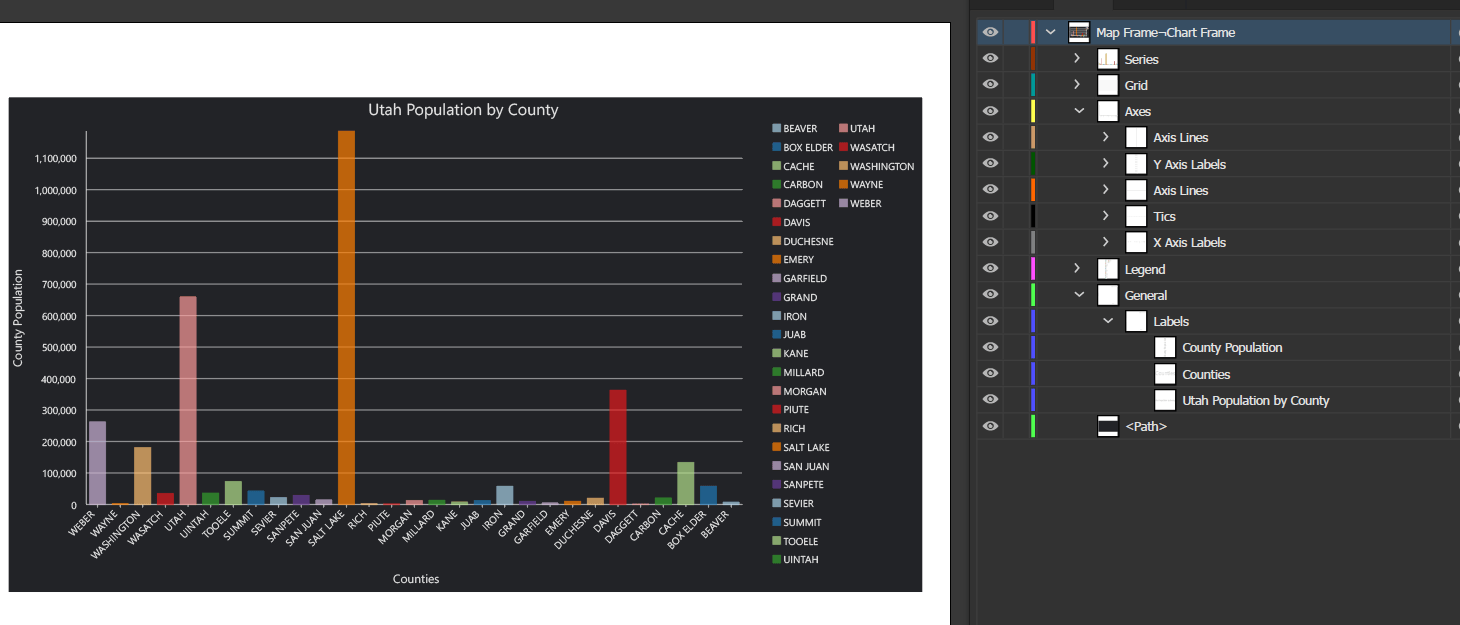 Improvements to workflows for directly mapping from your ArcGIS organization
This updated version includes performance improvements to sync workflows, accessibility improvements to the plug-in's user interface, map-creation workflows over the 180th meridian, and improvement to the content search experience.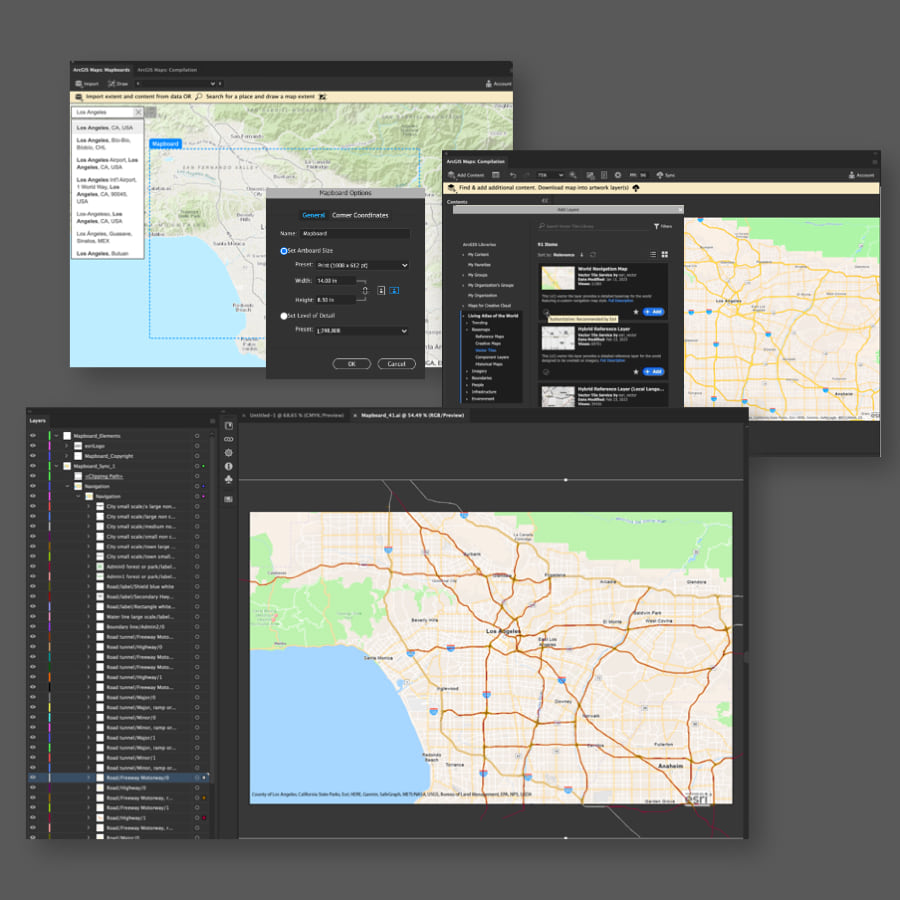 Performance improvement when syncing maps using Default mapping profile
Like performance improvements mentioned earlier, the performance of syncing maps directly using default mapping profile has also been greatly improved.
Support for Open Geospatial Consortium (OGC) layers
With this update, the plug-in supports the ability to work with OGC services hosted as layers or maps in your ArcGIS organization. This enables the ability to use OGC layers to define and compile mapboards and sync it as graphics for map creation. WFS layers are downloaded as vectors, and WMS and WMTS layer are downloaded as image layers.
Additions to supported environment
We are excited to share that signing into an ArcGIS organization with a Google credential is now supported. This addresses errors reported in this community post, when ArcGIS licensing is tied to a Gmail account. The new version also supports the Windows 11 operating system, and latest version of Adobe Illustrator and Adobe Photoshop (at the time of writing this blog these are Adobe Illustrator v27.3.1 and Adobe Photoshop v24.2.)
List of BUGS addressed with March 2023 release

BUG-000147897 Cannot log into plugin in Adobe Illustrator and Adobe Photoshop using Google login credentials
BUG-000151415 Improve Pro-AIX Processing time (can't open large files)
BUG-000151731 Some ArcGIS Pro label expressions result in unexpected AIX results
BUG-000144936 ArcGIS Pro layouts AIX exports with SVG images obscure other layers in Adobe Illustrator
BUG-000154524 The Counts and Amounts point symbology on a feature layer appears unexpected when synced in Adobe Illustrator.
Syncing a map from the plug-in results in a blank file. This issue was addressed by the Adobe Illustrator team recently, read more in this community post.
Download the latest version today.
For detailed information on these improvements, please see the documentation. Stay engaged with the Maps for Adobe Creative Cloud community.