Sometimes it's fun to take a virtual vacation using imagery to explore new places from the comfort of your home, a Viewcation.  With the availability of high resolution imagery, fast computers and better performing internet networks this is possible for everyone.  In fact, today's imagery is so sharp and clear, that I'll typically pull up the imagery for places I'm going to visit to get the lay of the land before visiting.
One place that really struck me as unique from the air was Barcelona, Spain.  I took a real vacation there last year.  If you get the chance to visit, try out one of the bus tours that take you around the city.   It is a great way to see a lot of sites, without trying to figure out the driving, plus you'll see things that interest you and weren't even on your list of sites to visit.  Last year when I visited Spain, we did just that, and took the two day city tour, so we could hop on and off.  During the tour, the guide repeatedly mentioned how the old town was a mishmash of buildings and streets going in every direction without a plan, yet the newer part of town was laid out concisely using a square / rectangular / linear pattern.
If you've ever walked around the old town, you probably remember the little alleyways, hidden courtyards, intimate restaurants, and older architecture.  Wandering aimlessly while on vacation is actually one of the things I love to do, and you can do that for days in old town.  So I was intrigued with the tour operators' comment.  Could I actually see the difference between old town and new town using imagery?  When I returned to my hotel room that night, I pulled up ArcGIS Online to look at the imagery for Barcelona, and what a surprise.  I've never seen such a clear distinction in old / new areas than in Barcelona.  Take a look!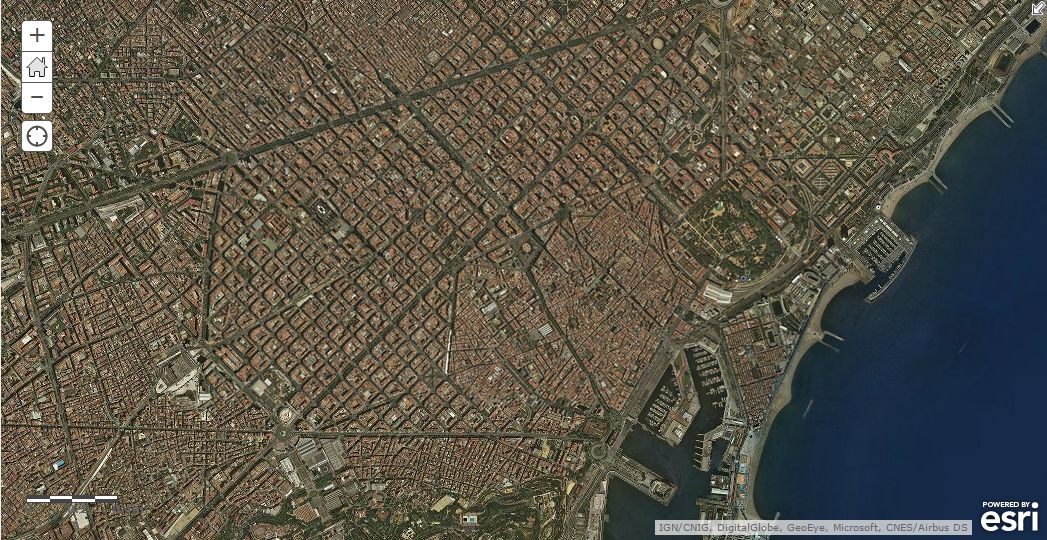 Can you see the difference?  In the older part of town, you can see the confusion of buildings and streets.  You can also see the newer part of Barcelona and how uniform everything is.  From ground level, you don't realize that the buildings are all designed exactly the same and that many of them have courtyards in the middle.  Here is a zoomed in image so you can see more details.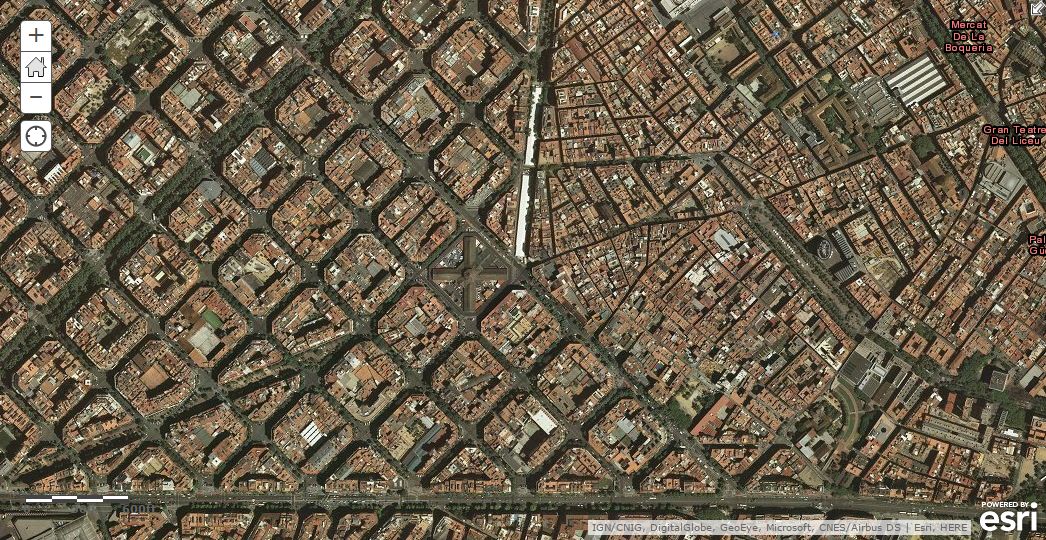 I was so fascinated with how the newer part of the city was conceptualized and designed, that I thought I'd research it to see if there was any additional information available.  After a few search attempts, I discovered that Spanish urban planner Ildefonso Cerdá y Suñer1 is credited as the driving force behind the design.  You learn reading his short biography in Wikipedia that with his new design, he focused on more than just buildings…he took into consideration sunlight, natural lighting, ventilation, traffic, sanitation and transportation, as well as the need for public and private gardens and green space.  Here is a close up of some of the buildings constructed following his guidelines.  Up close, you can tell that the buildings aren't perfect rectangles, in fact, all corners are angled making them octagons.  This was on purpose.  The angled corners allowed the streets to broaden at every intersection making for greater visibility, and fluid traffic in all directions2.  Such an innovative design, taking into account the way people want to live and move around.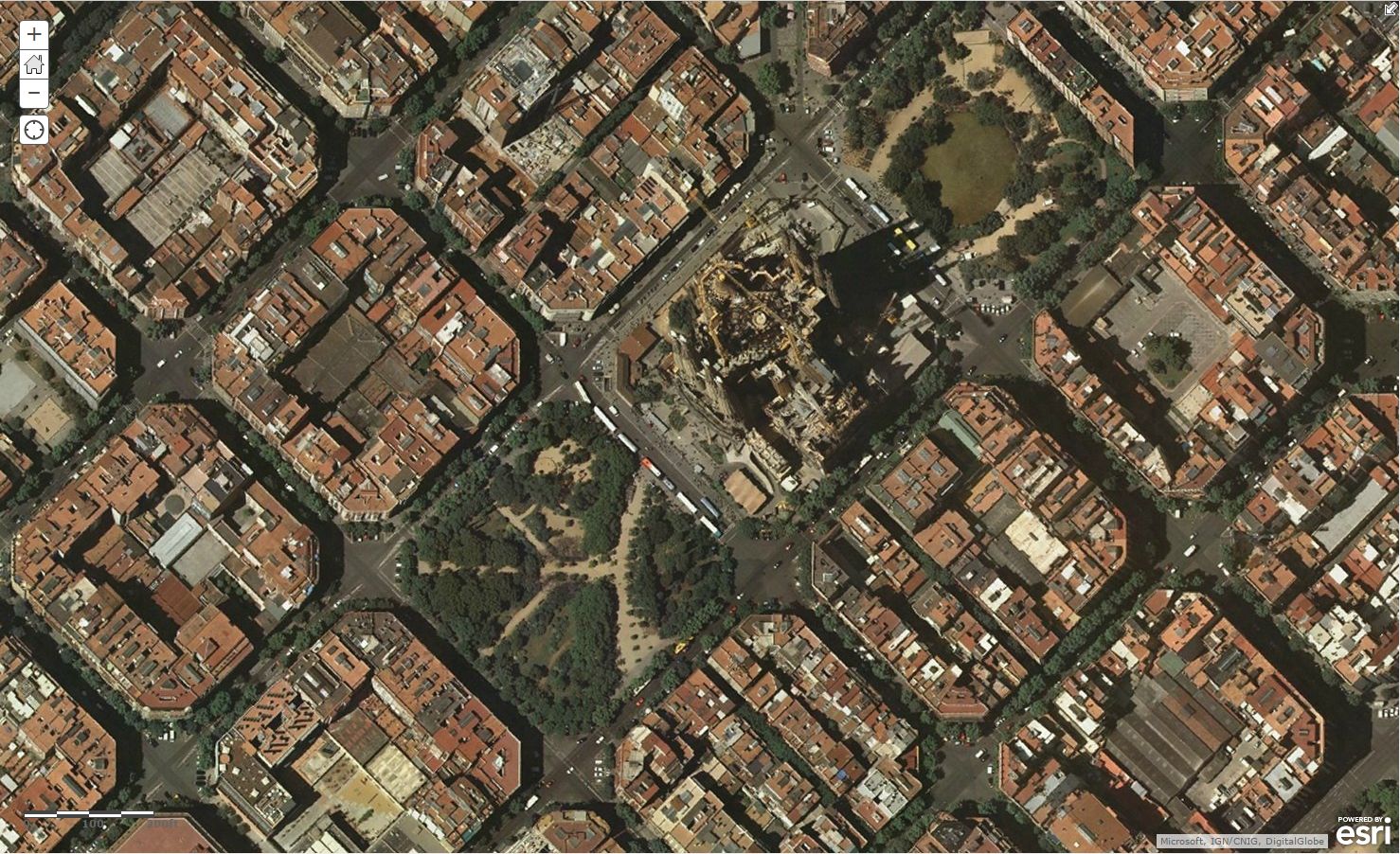 Well, that was funny.  I started this blog to share my Barcelona Viewcation experience, and by the end I have two sources quoted and conducted a mini-research project. LOL.  Hopefully you found it as interesting as I did, and perhaps learned a little about the design of Barcelona and urban planning in general.  By the way, in case you were wondering, I love old town Barcelona the best and that is where I typically stay.
If you have been to an interesting place where the imagery tells a different story than the ground view, let me know.  I'd love to take a Viewcation there!
 Ildefons Cerdà. (2015, May 4). In Wikipedia, The Free Encyclopedia. Retrieved 22:19, May 11, 2015, from http://en.wikipedia.org/w/index.php?title=Ildefons_Cerd%C3%A0&oldid=660780825
The Peculiar Architecture And Design of Eixample, Barcelona, (2013, July 06).  On Amusing Planet. Retrieved 20:19, May 11, 2015, from http://www.amusingplanet.com/2013/07/the-peculiar-architecture-and-design-of.html