Esri and Microsoft recently co-presented a webinar highlighting the value of using location in Power BI using ArcGIS Maps for Power BI. If you haven't watched it yet – go do so now! There was a ton of interest in what the visual can do and how you can get it, so we wanted to recap the top most-asked questions here for everyone to see.
1. What is included in ArcGIS Maps for Power BI? What is a Plus subscription? What if I'm already an ArcGIS Online customer?
We created this handy chart to help break it down (it can also be found here):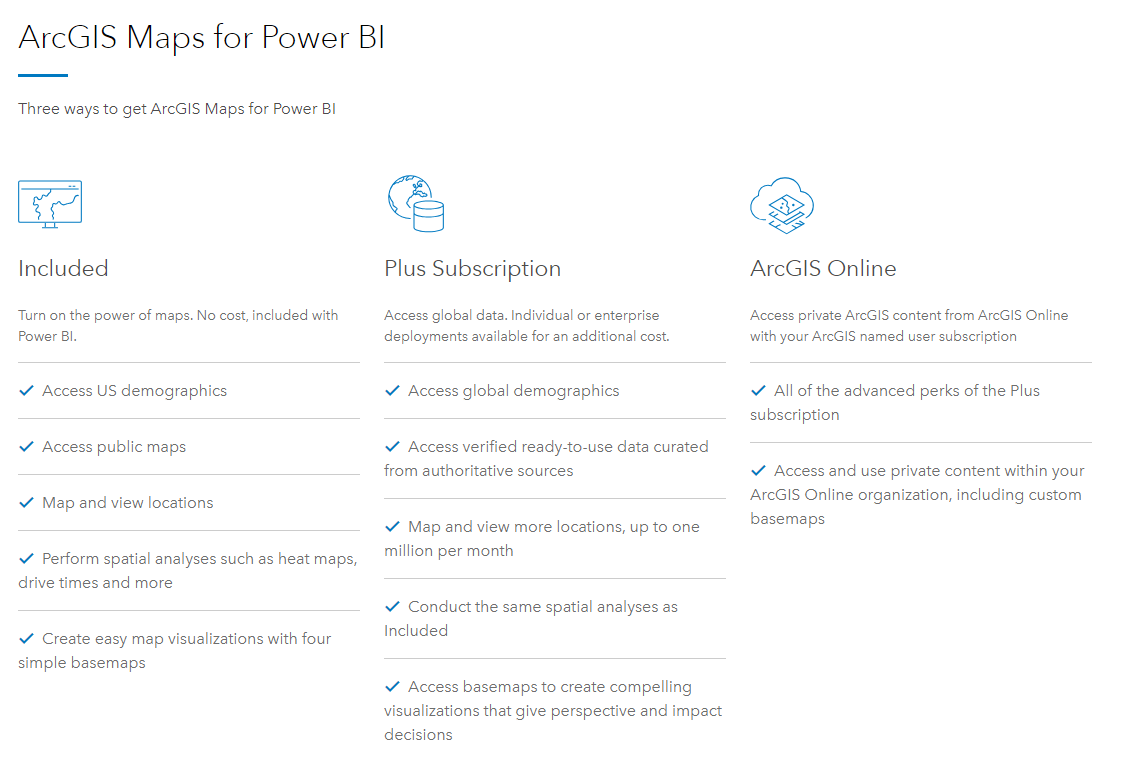 As you can see, there is a lot of great value included for free with Power BI. And, if you find yourself wanting more mapping goodness we have two other options:
ArcGIS Maps for Power BI – Plus subscriptions. Plus subscriptions are geared towards people and organizations that aren't existing Esri customers, but want more geocoding, access to global infographics, or more basemaps to choose from. You can sign up for an individual Plus subscription inside the map visual using the 'Sign up' link shown below, or you can contact Esri using the form

on this page

to purchase Plus subscriptions for your entire organization.

ArcGIS Online. Existing ArcGIS Online customers can log in to ArcGIS Maps for Power BI to get all the features of a Plus subscription AND the ability to use private feature layers and organizational basemaps inside Power BI reports. If you'd like to try ArcGIS Online, you can sign up for a

free trial

. Once you've got your account you can 'Connect to ArcGIS' as shown below.
2. I have shapefiles / GeoJSON / other geometries that I want to use in my maps on my Power BI reports. How do I do this?
ArcGIS Maps for Power BI can bring in custom geometries from ArcGIS Online as reference layers. Reference layers can have points, lines, or polygons and can be used for visualization or as a selection tool to highlight and filter other visuals.
To use your files as reference layers, you'll need to have an ArcGIS Online account that is able to create content on ArcGIS Online. Once you save your geometries to ArcGIS Online as a feature layer they will be discoverable inside ArcGIS Maps for Power BI.
You can find more information at the following locations:
Help uploading shapefiles to ArcGIS Online
Help adding a reference layer to ArcGIS Maps for Power BI
3. I see Esri provides demographic data to help better understand my Power BI data. What demographic information is available? Is it free?

Esri provides 10 US-based demographic reference layers (like the income layer in green above) for free. You also get 50+ US infographic variables that show you quick demographic stats (like the median income in the top right above) for free.
If you are a Plus subscriber or have an ArcGIS Online account, or in other words are a paid subscriber, you get access to thousands more infographic variables from across the globe. Paid subscribers also get access to Esri's Living Atlas, a browsable ever-growing collection of layers from around the world that you can use in your maps.
4. I got a scary warning message when I tried to use the visual and my IT guy is concerned. What is that about? Is Esri going to steal my data?
ArcGIS Maps for Power BI is technically a third party visual – meaning someone other than Microsoft builds it. As such, Microsoft and Esri both want everyone to be aware that they are using a map visual that was built by Esri and that for certain functions data may be sent to Esri for processing.
We have designed the ArcGIS Maps visual with user data and privacy in mind from the beginning. Esri doesn't store user data that is sent to us and we only send the information that is necessary for geoprocessing (not your entire dataset). To ease their concerns, send your IT person to trust.esri.com as well as our previous blog focusing specifically on data security in ArcGIS Maps for Power BI.
5. Can you share the sample file or PBIX dashboard so I can play around?
Absolutely! You can download the files from the webinar here. In the ZIP file you will find the PBIX used in the webinar as well as some shapefiles you can host in your ArcGIS Online organization and bring into your maps in Power BI. You will need Power BI desktop to open the PBIX file, so make sure you have that installed on your computer (and if you don't have it, you can grab it here). If you need an ArcGIS Online organization to try out this workflow, you can sign up for a free trial. Have fun!
Those were our top questions from the exciting webinar! We hope you found the answers helpful.  As a wrap up, be sure to check out how to get started, do more, or simply learn more about ArcGIS Maps for Power BI.
Commenting is not enabled for this article.