Originally posted by Dave Johnson, Esri Applications Prototype Lab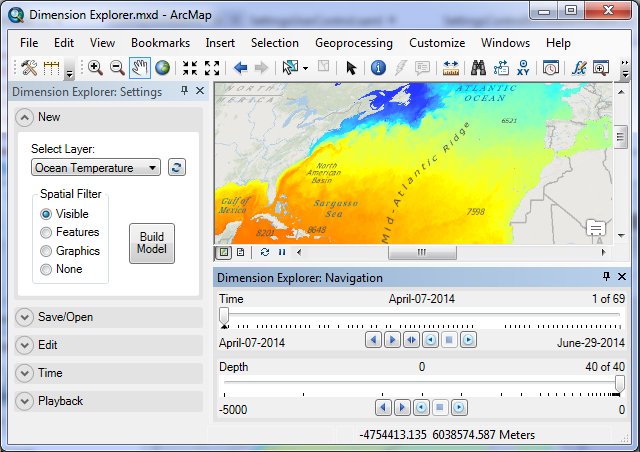 A new version of Dimension Explorer, an addin tool for ArcMap, has just been released by the Esri Applications Prototype Lab!
Dimension Explorer makes it easier to work with time-aware and multidimensional data in ArcMap 10.3.x by providing slider controls for navigation. It works by retrieving dimensional information from a map layer to build an interactive dimensional model that can be edited and saved in the map document. Dimension Explorer is the successor to the Timeliner addin for ArcMap, which also works in ArcMap 10.3.
Here's what's new in version 1.1:
map layers created with the Make NetCDF Raster Layer and Make NetCDF Feature Layer geoprocessing tools are now supported.
map layers with vertical dimension values defined as ranges (e.g. 0-10 meters, 5-50 meters, etc) are now supported.
export a map animation in ArcMap to a series of still images to create video animations with applications such as Windows Movie Maker and ffmpeg. various bug fixes and optimizations.
Read more, download the new version, and see a video animation at Dave Johnson's original blog post. Let Dave know what you think!