By Aileen Buckley, Mapping Center Lead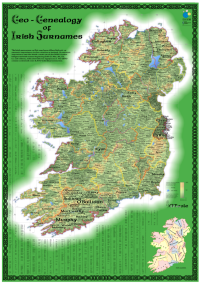 In celebration of St. Patrick's Day, we wanted to share an interesting map called "Geo-Genealogy of Irish Surnames". Some of you may remember it from the 2009 Esri International User Conference. This map won two awards in the Map Gallery Competition. It placed first in the "Most Unique" category, and it won the People's Choice Award. In addition, it received special recognition by the Cartography Special Interest Group.
It was compiled by Dr. Kenneth Field, Principal Lecturer in Geographical Information Systems at Kingston University London, and Dr. Linda Beale a Research Fellow in the Department of Epidemiology and Public Health at Imperial College London. These who have worked together on other maps in the past and we hope to see some of their work this summer at the 2010 Esri User Conference from July 12 to 16.
As you can see from the legend, this map shows the number of people in 1890 who had various Irish surnames. The larger the font, the more people who had that surname.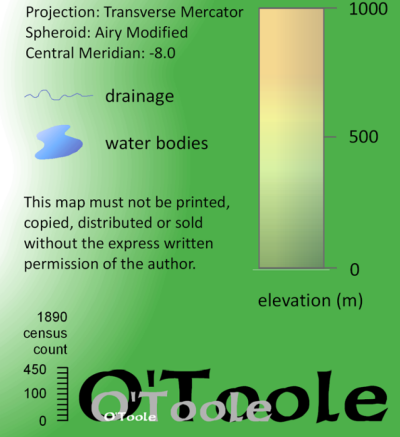 The map reader can find the approximate location of the various families in Ireland back in the late 1800s.  For some surnames, there is more than one enclave.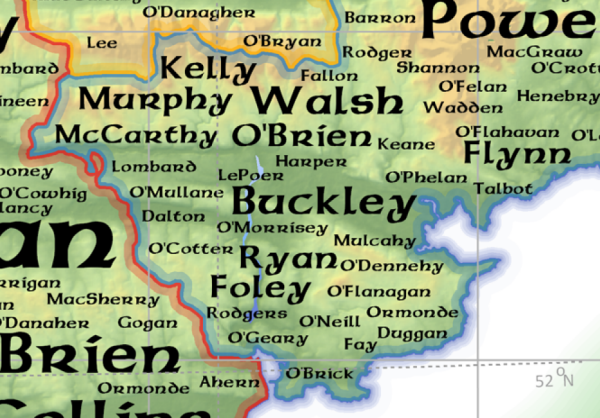 The map has an index that you can use with the reference grid along the sides to find the location or locations of the surnames on the map.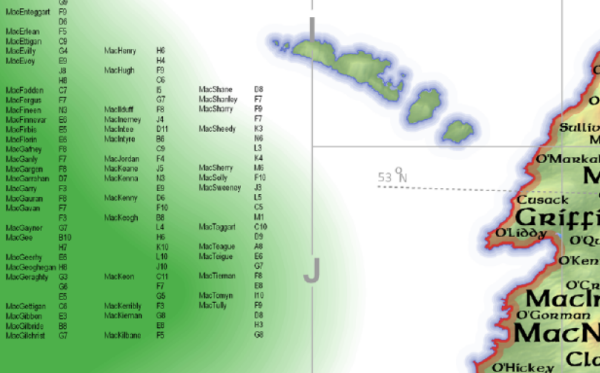 The map has some wonderful cartographic effects, including:
the double apparent coastal vignette, with a dark blue tint band along the shoreline and a white to green vignette for the ocean,
the gradient fill used to symbolize the lakes — this is an effect cartographers call "sun glints" because they look like the sun is being reflected ("glinting") off the water surface,
the decorative border that is an Irish chain,
the tint bands that outline each county in a different color,
the predominantly green layer tint used to show elevation, and
of course, the perfectly selected font used to label the surname locations.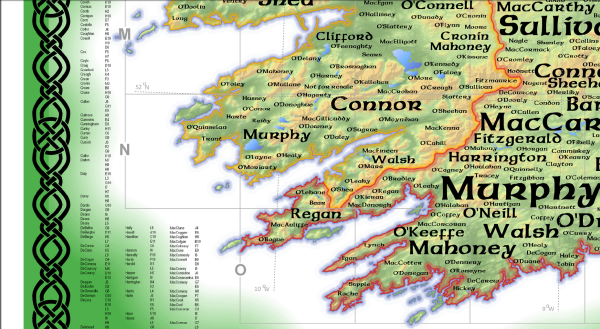 Overall, the map is eye-catching and well-executed — a great example of the beautiful cartographic effects you can achieve with ArcMap.  And a wonderful map to share with you today of all days!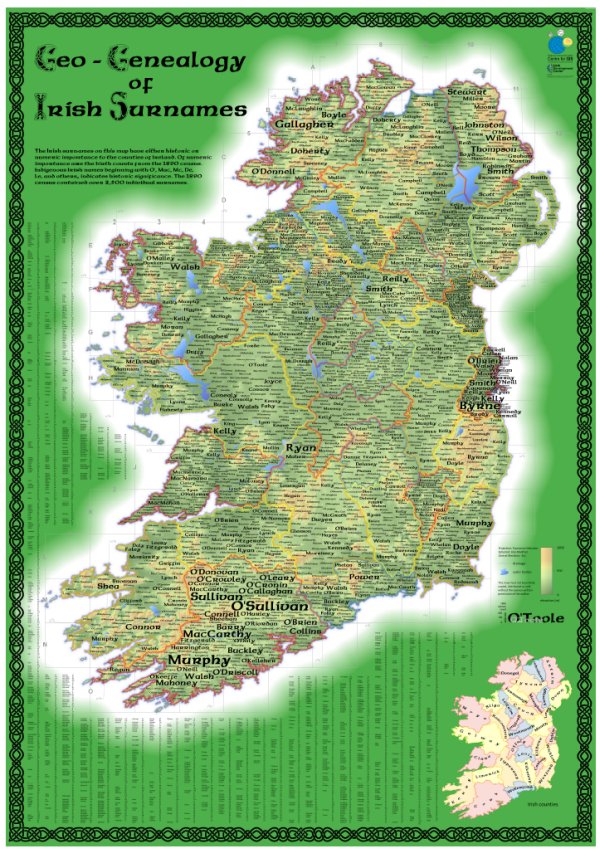 Thanks to Ken and Linda for sharing their map with us for this blog post!