Over the past few years, Esri has introduced several ways in which OpenStreetMap (OSM) data can be accessed in ArcGIS.  This began over 10 years ago when we added the OpenStreetMap hosted tile service to the basemap gallery.  More recently, Esri began to build and host our own OpenStreetMap Vector Basemap and make that vector tile service available through the basemap gallery, and in multiple map styles!  Most recently, Esri began to host a live replica of OSM data in ArcGIS Online and make that available as several live OSM feature layers that can be used for visualization and analysis.
Building on this work, Esri is pleased to introduce new OpenStreetMap 3D scene layers!  These 3D scene layers feature global buildings and trees, with trees presented in two styles (realistic and thematic). These scene layers can be used in Scene Viewer, ArcGIS Pro, and other ArcGIS apps that support 3D visualization.
OpenStreetMap 3D Scene Layers
Let's explore a few places around the world, starting at sunrise in beautiful Vienna, Austria.  In the web app below, click the 'Open slides' button in the upper right corner to select other saved places around the world or the search button below it to find other places.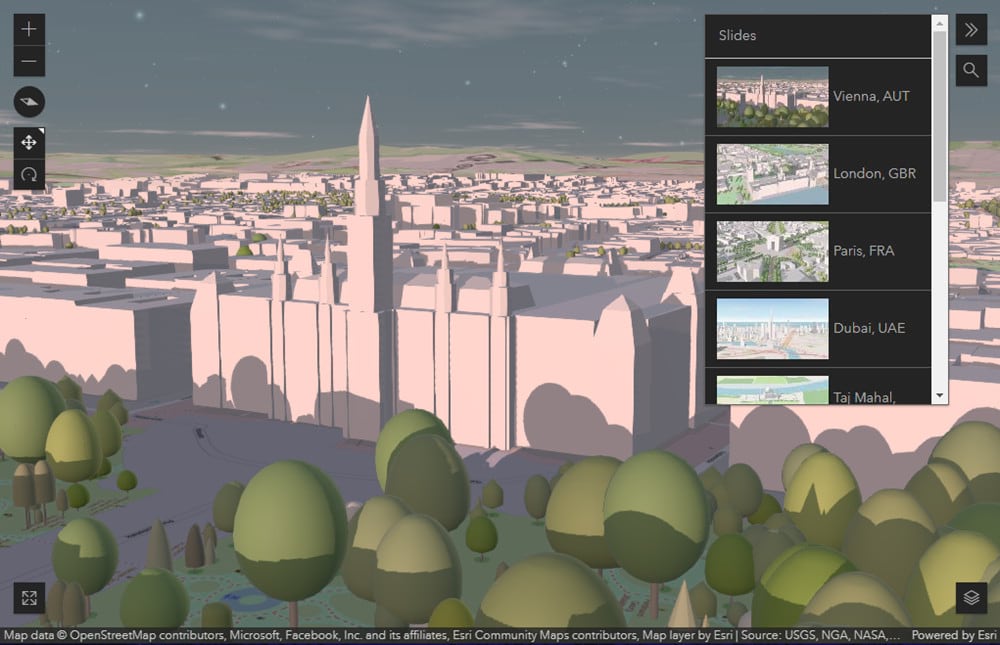 The OSM scene layers can be used along with other 3D content and capabilities in ArcGIS to create an immersive 3D environment that can support planning, design, and outreach activities.  You can use the global scene layers along with our global 3D terrain service and collection of vector basemaps to build a variety of 3D web scenes for use in web and desktop apps.  You will be able to supplement these web scenes with your own 3D objects.
Data Source
Like with the OpenStreetMap Vector Basemap hosted by Esri, these 3D scene layers are built using the OpenStreetMap Daylight Map Distribution.  The use of the Daylight distribution for the scene layers will help ensure consistency with the OSM basemap layers used in web scenes, and will enable Esri to include additional buildings data that is available as 'sidecar' files in Daylight.  This includes the Microsoft Buildings with many millions of buildings that are not part of the main OSM database, including millions of Esri Community Maps buildings that have been integrated.
Getting Started
To access the 3D scene layers, you can use the OpenStreetMap 3D Scene Layers group in ArcGIS Online.  The group includes a web scene referencing the layers, including several slides with example locations, that you can save and edit for your own use.  The group also includes the scene layer items, which you can add to other web scenes and apps that you build.  The 3D scene layers are also featured in ArcGIS Living Atlas.
The 3D scene layers are currently in beta release as we update them to include additional data (e.g. Microsoft Buildings) and refine the update process over the next few months.  During the beta period, we invite you to explore the scene layers and test using them in your non-production scenes and apps.  If you have feedback, you can share that in the comments on the scene layer items.
Enhance Data
As you begin to use the OSM scene layers, you may also be interested in adding or updating buildings and trees in the scene layers for your areas of interest (e.g. business campus, school campus, recreational area, etc.) or community (e.g. city, county, state/province).  If so, you can participate in a few ways:
1. Edit OpenStreetMap: If you would like to help enhance OSM data for your area of interest, you can sign up to OSM, get familiar with how to add data (e.g. simple 3D buildings), and then start using the RapiD, JOSM, or other OSM editors. As you make edits to OSM, they will quickly appear in the Esri-hosted OSM Feature Layers and a few weeks later in the OSM Vector Basemaps and OSM 3D Scene Layers.
2. Community Maps: if you have buildings data, ideally with height, you can share your data through Esri Community Maps and enable the new data sharing option. As your data is accepted and shared, Esri will also make the appropriate data available to OpenStreetMap. If you would like to add trees to both the Esri Basemaps and OSM, you can use the Community Maps Editor to create the data and then it will be made available through the Esri Community Trees layer accessible in OSM Editors (RapiD, JOSM).
3. ArcGIS Open Data: see the How to Participate section in the ArcGIS Data Support in OSM Editors article for details on how to share open data for use in OSM.
We hope that you enjoy using the new OSM 3D scene layers and that you help to enhance them by sharing your data or editing OpenStreetMap directly.  We are excited to see the web scenes and apps that you create with these new scene layers!