By Aileen Buckley, Mapping Center Lead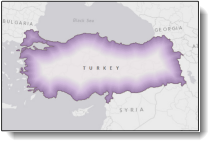 In light of the U.S. Thanksgiving holiday, we want to take the opportunity to thank all of you for your use and support of Mapping Center. Since the start of this year, we've received 500 Ask a Cartographer questions (almost 23% of the total number of questions we've gotten since we first opened this web site in 2007!) We've also received about 100 comments. Thank you for getting in touch with us with your questions, comments, concerns and suggestions!
To help you, we've posted over 60 blog entries. We've added new content to all our pages. We've also expanded our team, adding Dr. Kenneth Field to the fold in April.
We know we can do more, so we are hard at work redesigning the site to better help you. If you have any suggestions about the site design or content, be sure to send us your comments below. We'd be interested to hear what you think would help you.
We also want to take this opportunity to thank the many, many people who are responsible for helping you through this web site including the following (apologies if we have forgotten anyone):
Mapping Center Team members that keep the site up and running on a daily basis: Aileen Buckley, Jaynya Richards, and Ken Field.
Other Mapping Center Team folks who have contributed their great content to the site, helped with Ask a Cartographer, and helped with blog posts: Rajinder Nagi, Mamata Akella, Wes Jones, Mark Smithgall, Jim Herries, Mike Dangermond, and Natalie Feuerstein, Craig McCabe, and Alex Yule.
Esri folks who help us with Ask a Cartographer questions and reviewing blog entries: Ash Pengelly, Charlie Frye, Clayton Crawford, Clint Loveman, Craig Williams, Damian Spangrud, Damien Demaj, David Barnes, David Burrows, David Watkins, Deelesh Mandloi, Doug Morgenthaler, Forest Jones, Hardeep Bajwa, Hong Xu, Jay Sandhu, Jeremy Wright, Jim Shimota, John Cranfill, Kent Marten, Lauren Scott, Marc Olivier-Briat, Matthew Baker, Melita Kennedy, Michael Grossman, Nathan Shephard, Nawajish Noman, Rick Anderson, Rob Juergens, Scott Murray, Steve Kopp, and Wendy Harrison.
Our guest blog entry writers this year (so far): Wes Jones, Mike Dangermond, Jim Herries, Mamata Akella, Rajinder Nagi, Natalie Feuerstein, Mark Smithgall, Greg Tieman, Christine Hopkins, and Ismael Chivite.
Esri people who are helping us with the site redesign: Clint Brown, Catherine Jones, Thomas Chen, Bradley Wertman, Cassidy Bishop, Neal Dinoff, and Fei Liu.
The Info Services Team that keep our site up and running and help us with various bugs that you and we find: Curtis Rissi, Jeff Tharp, and Vince Ingram.
Esri Graphics folks who have helped us with the site: Fred Estrada, Kyle Heinemann, Rick Grady, Steve Frizzell, Steve Pablo, Steve Noone, and Stephanie Tieman.
Esri Press folks who have worked with us: Peter Adams, Kathleen Morgan, Dorell Sayre, and Avidahn Buckner.
Esri folks who have helped us with ArcGIS Resources content: Harlan Heimgartner, Suzanne Boden, and Mark Cygan.
Our administrative assistants who help us with, well, everything: Hilary Sessums, Nicla Natividad, and Sharon Pagan.
Thanks to everyone above, but mostly, thanks to you — our readers — because without you, none of this would happen!