Site Scan for ArcGIS is the end-to-end cloud-based drone mapping software designed to revolutionize imagery collection, processing and analysis. Maintain your drone flight history while capturing up-to-date imagery when needed. Securely process imagery in a scalable cloud environment and quickly share high-quality 2D and 3D imagery products throughout your organization.
The latest release of Site Scan Manager for ArcGIS is live and there are several enhancements and exciting new features to share with you! Enterprise Fleet Management has a redesigned new interface and is loaded with features that allow drone program managers an in-depth view of their drone operations and flight data. The new dashboard provides administrators with a high-level view of their organization's drone operations, and then you can take a closer look within the list views to see even more data.
With this release we have integrated a new processing engine, SURE for ArcGIS, which allows for more detail, sharper edges, and higher resolution textures within the 3D textured meshes produced by Site Scan. If you're not already excited, let's take a closer look at these improvements!
Enterprise Fleet Management
New Fleet Management Dashboard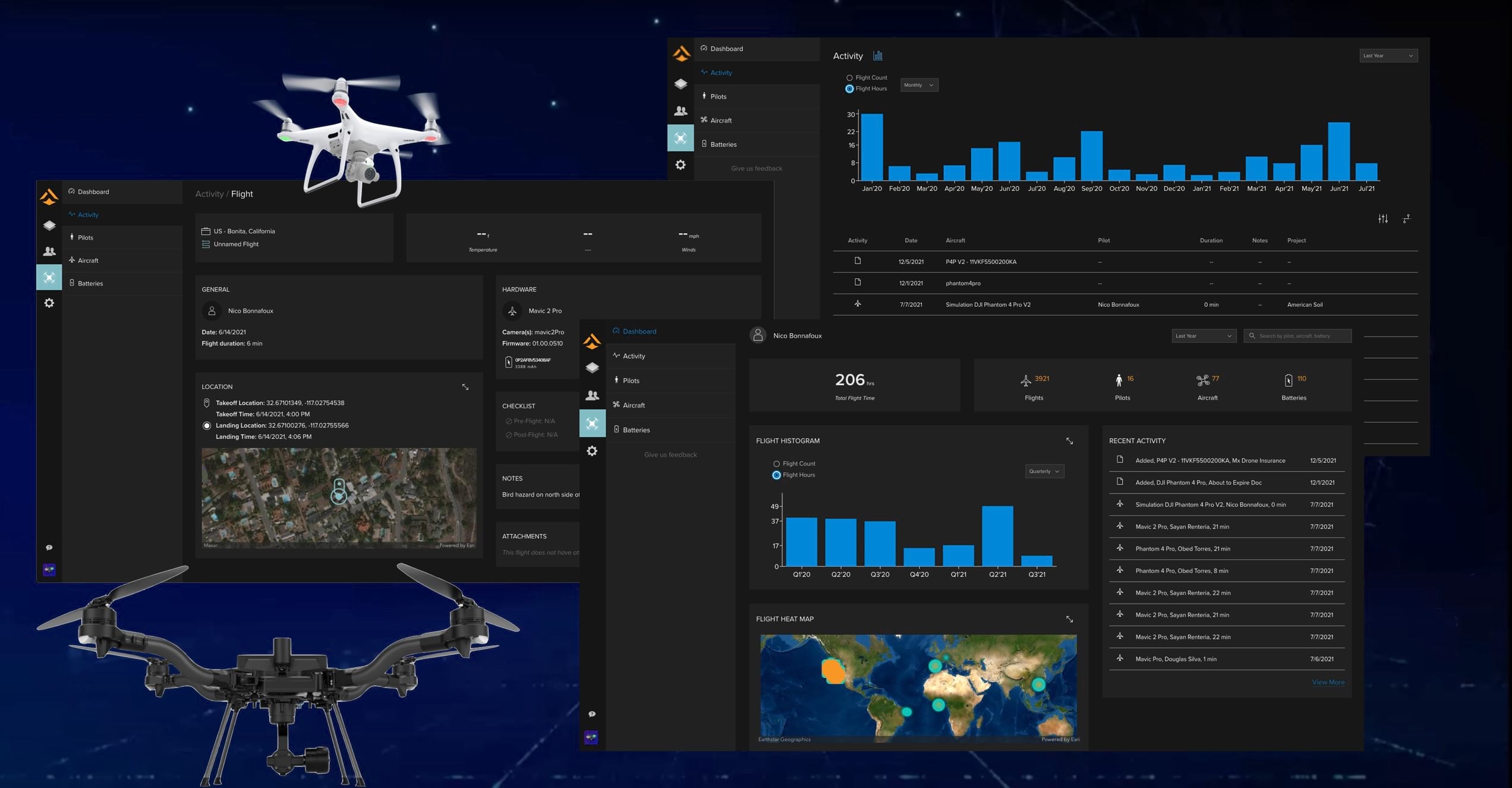 The team has been working very hard to give drone program managers better insight into their drone operations. The new dynamic dashboard provides a high-level view of their entire drone program. At the top are simple visualizations for the total flight time of your drones, how many flights have been flown, how many pilots are in the organization, the number of aircraft and the number of batteries to give you data at a quick glance. Clicking on any of the totals takes you to the list view with detailed data. The number of flights or flight hours are tabulated in a flight histogram that can be adjusted for daily, weekly, or monthly totals. The locations of your drones are automatically tracked in the dynamic flight heat map so you can easily see the locations of your organization's flight activity in one view.
The dashboard also includes a list of the 10 most recent activity items allowing you to click into any of the items or view more and go to the main activity list. This consolidated view allows for quick insight into your drone operations, including hardware and pilot data captured during flights. This data is automatically uploaded with every flight conducted with Site Scan Flight for ArcGIS, and you no longer need to rely on pilots remembering to upload the data.
Activity
The activity list view shows all the recent activity including flights and document updates. Selecting any of the data within the column will then easily pull up the data related to the pilot, aircraft, flight information, and the project associated with it. Clicking into any of the flights listed pulls up the detailed flight profile that documents the pilot, the takeoff and landing location, flight checklist, as well as hardware data. As all of this data is captured automatically with drones flown with the Site Scan Flight app, it offers better insight into your organization. You also have the option to add notes and attachments to individual flight profiles. Shortly after release, users will also be able to log flights for drones flown without the Site Scan Flight app, including pilot, drone, and battery data allowing Administrators to be able to maintain records of all drone activity, not just activity of drones flown with the Site Scan Flight app.
In upcoming releases, even more details about the drone related activities of your organization will be recorded, such as the full flight track of the drone, or weather information for each flight, incidents, and maintenance. A batch import functionality will make it easy to migrate any pre-existing records, and export options will allow generating reports.
Pilots
The pilots list shows a complete list of all your pilots as well as an overview of their total flight time, total number of flights, and total number of pilots. Now you can store certifications and required documentation for each pilot and Fleet Management will automatically track expiration dates. The document dates are color coded so you can quickly see when a certification is nearing expiration or expired. Clicking on any of the pilots in the list opens their Pilot profile which shows their recent activity, any documents or certifications they have, the projects they are connected to as well as their total number of flights and flight hours. The pilots view makes it easier than ever to ensure pilots are compliant and gives you greater oversight into pilot activity.
Aircraft
Opening the aircraft list shows important information for your drone hardware at a glance. Easily see all the data related to your entire drone fleet, including latest flight information, certification compliance, and total stats for the drone. Manage documents associated with each drone and their expiration dates, such as aircraft registration or insurance certificates. In upcoming releases, users will also be able to schedule maintenance on drones and log records of the maintenance performed, giving you a complete picture of your drone.
Batteries
In the batteries list and profile views, administrators can view all their batteries, serial numbers, latest flight information, and for flights flown with the Site Scan Flight app, battery capacity change over time. When opening the profile for an individual battery, administrators can get a detailed tracking of battery health and battery capacity over time, in addition the batteries' flight history. This can help determine when a battery needs to be proactively pulled from service and replaced allowing the organization to anticipate new battery needs and operate more safely. Most data can be manually edited to more accurately describe the battery, and soon after the initial release, you will be able to manually add new batteries.
SURE for ArcGIS Integration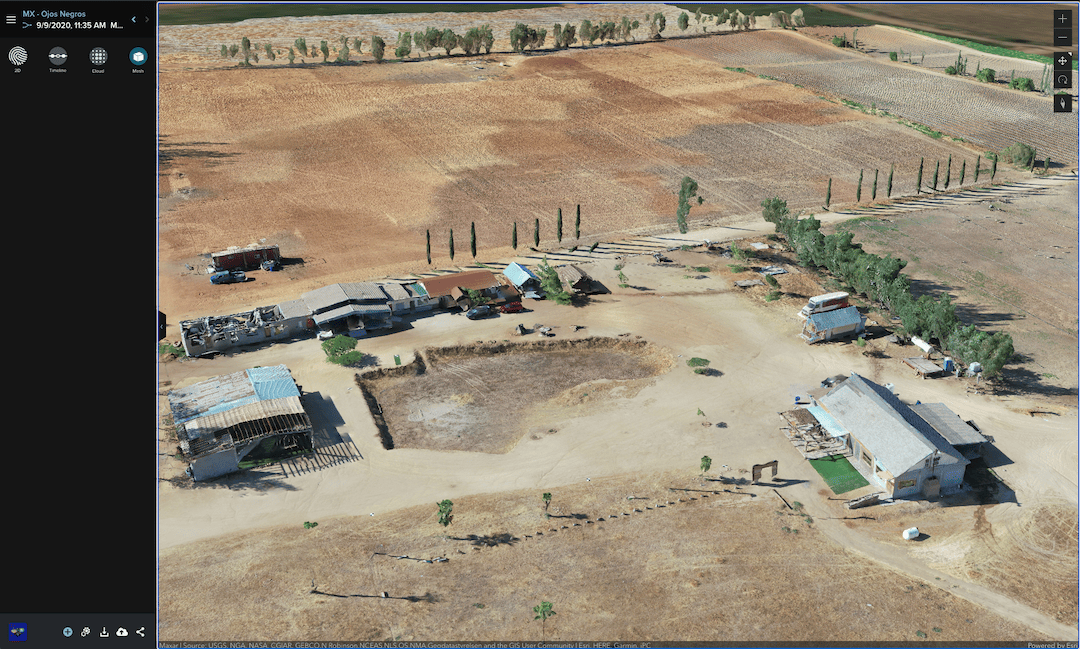 Site Scan is now using a new processing engine, SURE for ArcGIS, to provide 3D textured meshes. We're excited to have a processing engine built with Esri proprietary software that produces highly detailed meshes with a photorealistic look. You can look forward to more detail, sharper edges, and higher resolution textures in your 3D meshes. With this new integration Site Scan also generates georeferenced meshes that are natively compatible with ArcGIS making it easier than ever to use within your organization. To give better context to your 3D meshes they are now displayed in a new viewer using Esri Scene Viewer allowing meshes to be shown in a full 3D world context. You also have the option to apply a vertical offset to any 3D mesh, if necessary for more realistic viewing.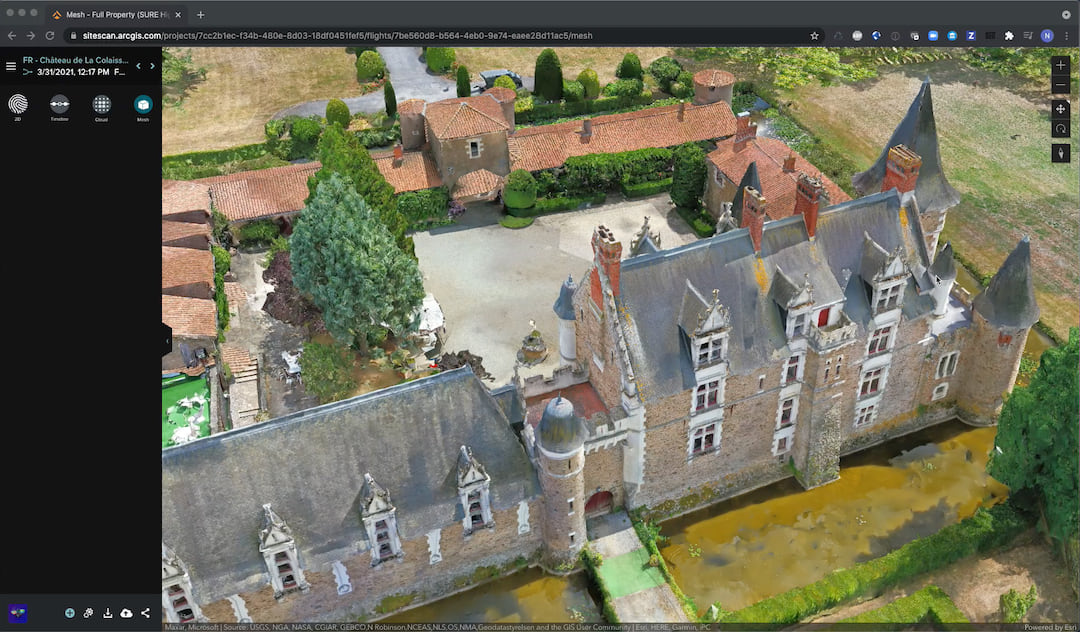 Terminology Change
Along with the improvements and changes made to Enterprise Fleet Management, an important change has been made to how the term "Flight" is being used within Site Scan. There is now a distinction between what is considered a "Flight" and a "Mission".
Flight: The event that occurs between the takeoff and landing of a drone. Used primarily within Fleet Management to record individual activity of a drone, pilot, and battery.
Mission: The imagery capture and its associated data (photos, GCP's, processed outputs, flight plan, measurements, etc.) A Mission is part of a "Project" and may have required one or multiple "Flights".
There will be a pop-up notification describing this change in terminology when you first log in after the release is live.
The team has been working hard to give you these improvements and we are excited to see you start using these new tools. Let us know what you think in the Esri Community!