ArcGIS StoryMaps is the professional storytelling tool that enables you to transform your geographic work into interactive content to inform and inspire others. It makes it easy to explain complex topics related to your knowledge and experience.
This month is a HUGE milestone for ArcGIS StoryMaps as we are introducing an entirely new content format! In addition, there are several highly-requested features that have been added. Here's a run down of what's new:
Briefings
We're excited to introduce BRIEFINGS: a new form of content you can now create in ArcGIS StoryMaps.
Briefings (beta) are a slide-based format that can be used to facilitate both in-person presentations and unattended communication. Just like stories are designed for long-form, scrolling storytelling (such as an article or report), briefings are intended to help you deliver your shorter-form content in a set of slides that you or your audience can click through. We built briefings to help support common workflows related to real-time communication and decision-making. And of course ArcGIS StoryMaps is integrated with ArcGIS, so you can bring in maps and GIS apps to provide geographic context to your briefings.
Even though briefings are new, you'll feel right at home in the new builder because creating a briefing is very similar to building a story. You may find briefings are even easier to put together than a story since there is limited space on each slide. Briefings encourage you to be concise in your storytelling and follow best practices for presentations. On each slide you can add text and familiar types of media like images, videos, embeds, and 2D and 3D maps. If you need to compare two maps or images, you can do that using the swipe block. As time goes on, we'll bring other familiar content types over to briefings.
For your first taste of briefings, enjoy this video from my colleague Will.
Briefings are in an early beta phase. Even though they are brand new, briefings already have a lot of features and capabilities for you to unpack. We'll be refining how they work and adding more functionality as time goes on. You may notice a few minor rough edges here and there, but we wanted to make them available so we can start to see how you utilize them and hear your feedback about what is most important to you. We encourage you to take briefings for a test drive and let us know what you think. If you run into issues or have suggestions let us know by sharing your feedback on the Esri Community.
Since the first release of briefings in mid-August we've already squashed several bugs and added these two new enhancements:
Navigate a briefing using the left and right arrow keys
Add a briefing to a collection (via the ArcGIS Content option)
If you're using ArcGIS StoryMaps on ArcGIS Enterprise, briefings will be included in the ArcGIS Enterprise 11.2 release later this year.
To learn more about briefings, check out the following resources:
Briefings tutorial …in the form of a briefing, of course!
More blogs and articles coming soon…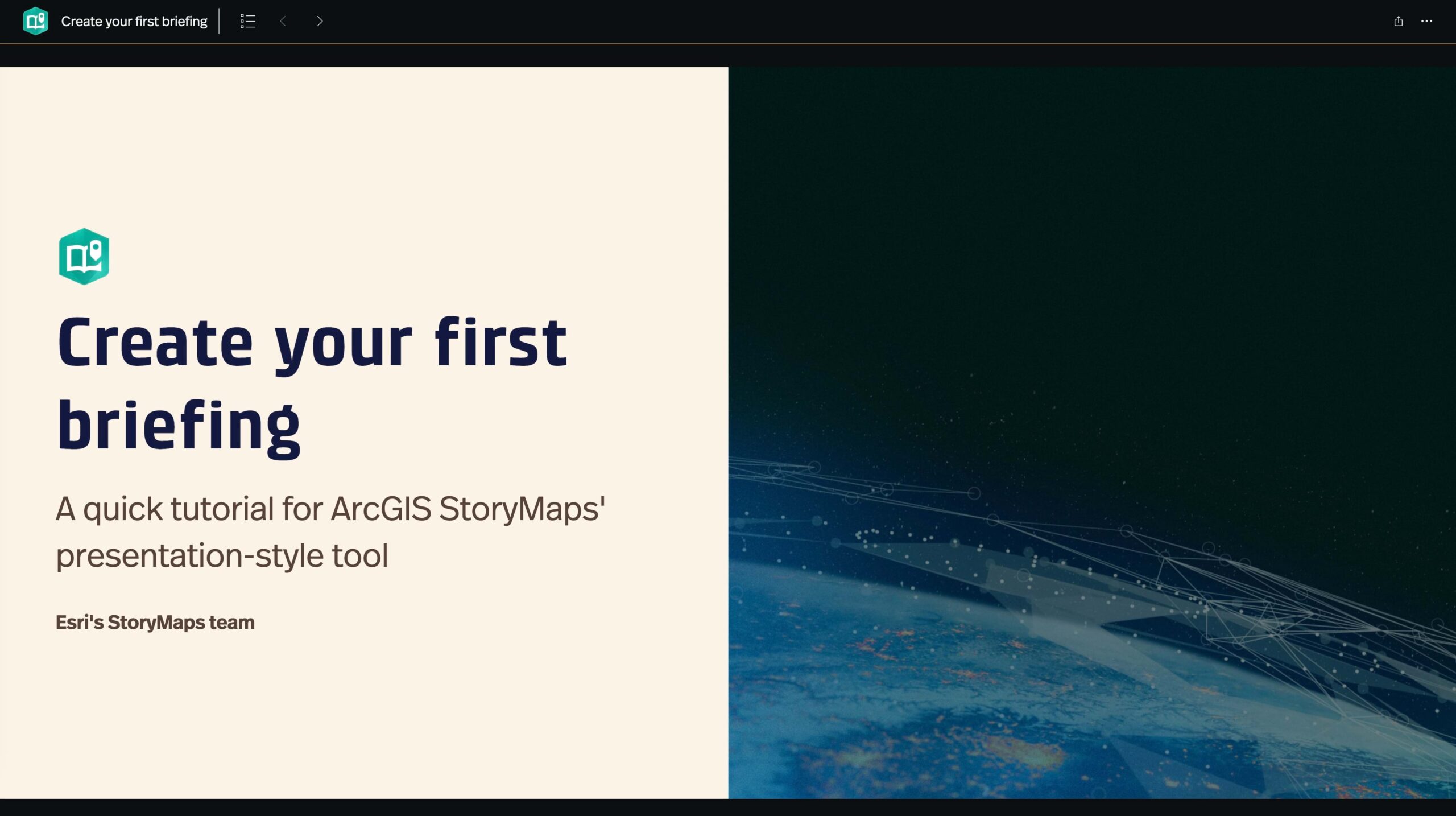 Add tables to a story
Tables (beta) are a new type of block that you can add to stories to help organize information in a tabular format. You'll find tables on the block palette with all the other types of content blocks. When you add a table, you have the option to add or remove columns and rows to adjust the size of the table. You can also format text inside the table cells using the familiar toolbar and keyboard shortcuts. Of course, tables are themed so they perfectly match the colors and fonts in the rest of your story, and the content inside them is accessible to your audience whether they are reading your story visually or with an assistive technology like a screen reader.
Check out the video below that shows how to add and edit tables. You can also see a table in the wild in this story: The Surprising State of Africa's Giraffes.
There are many different ways tables can be used, so we wanted to start with some basic features that will be useful for everyone. Tables, like briefings, are currently in beta, and we'll be listening to feedback and expanding what you can do with them in the future. Please share your feedback with us on the Esri Community. If you have an idea for an enhancement to the table block, please post it to the ArcGIS StoryMaps ideas board.
Fit a portrait image on the screen
There is a new image option that you can use to configure the display of portrait images.
Sometimes you have a image, such as a tall infographic, that you want readers to take in bit by bit as they scroll down the page. However, in other cases you may have a portrait image or photograph that you want readers to see all at once. Until now, there wasn't an easy way to address the latter situation. If you have a portrait image that you'd like to appear fully on the screen, you can now go into the image options and check Fit image to screen. Voila! The image will appear fully for your readers.
Curious about how this works? Review the video below.
New publishing options
You'll see two new options when publishing your content in ArcGIS StoryMaps. These will provide you with some additional flexibility to choose how your story can be used and how it can (or can't) be discovered by others. Read on to learn more about how these options work.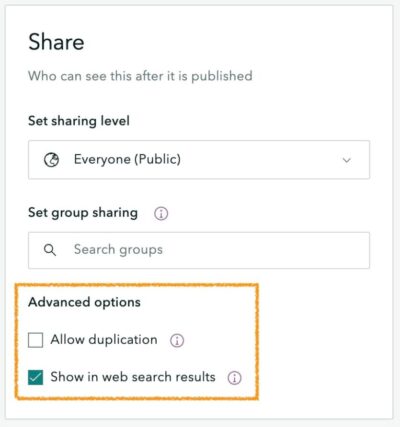 Allow others to duplicate your stories
Have you ever created a story that you wanted to serve as a template for others to be able to copy and modify? You could do this before, but it involved a lot of steps. One of those steps was creating a group with update privileges, which you need special permissions to create. Suffice it to say, this was difficult for a number of reasons.
Good news everyone! The workflow for letting others create a copy of your story is now a whole lot easier. When you publish a story, you can now check Allow duplication to allow anyone with access to your story to duplicate it. When someone else (who is logged in to their ArcGIS Online account) views the story, they will see an option to duplicate it in the header action menu. Or if one of your colleagues finds your story by browsing content in their organization, there's an option to duplicate right on the item card. Picking this option will create a copy of the story in their ArcGIS account that they can modify as needed.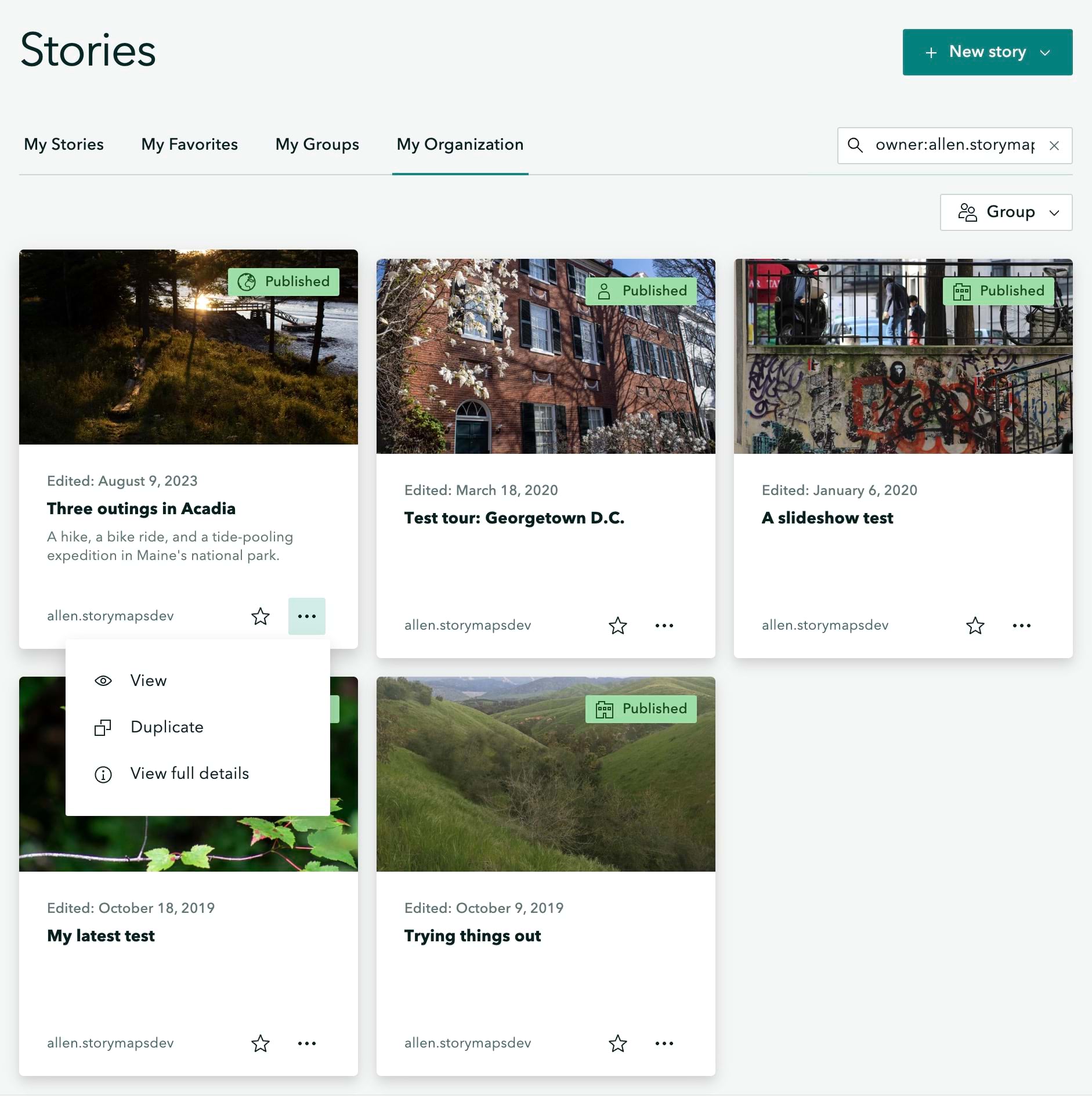 By the way, this option is also available when publishing briefings, collections, and themes. For more information, see Allow duplication: a modest little checkbox, a world of potential.
The next section describes the other new publishing option, and the video at the end of that section shows how both of these options work.
Opt out of web search indexing
In most cases, it's a big benefit that your ArcGIS StoryMaps content is registered with search engines. In fact, our team does a lot of work behind the scenes to optimize performance and follow accessibility and semantic best practices to improve search engine rankings to help your content be found by more people. However, we know that there are some situations where you do not want your content to appear in search results. Sometimes you may have embedded a story in your organization's website and you don't want to confuse people by having the story and your website appear in search results.
Now you can choose to opt out of having your content registered with web search engines. When publishing, simply uncheck Show in web search results, and your content will have information added to its HTML that will instruct search engines to not index it. It's that easy!
More featured themes
Featured themes made their debut in ArcGIS StoryMaps back in May, and this month you'll find five new entries in the featured theme gallery. One of the new themes is High Contrast  and it will ensure your story is accessible. It's based on a theme our team created for a story on accessible storytelling (Getting started with accessible storytelling), and it utilizes one of the enhanced contrast basemaps from the ArcGIS Living Atlas.
Featured themes can be used to spruce up your stories as well as your collections and briefings! The new Presentation theme looks particularly great when used with briefings. The new Bulletin theme can be helpful when communicating new information to the community. To round out the new additions there are two school-based themes (Back to School and Science Report) since many people around the world are gearing up for the start of a new academic year.
We hope you enjoy these new themes and are inspired to use them or create your own!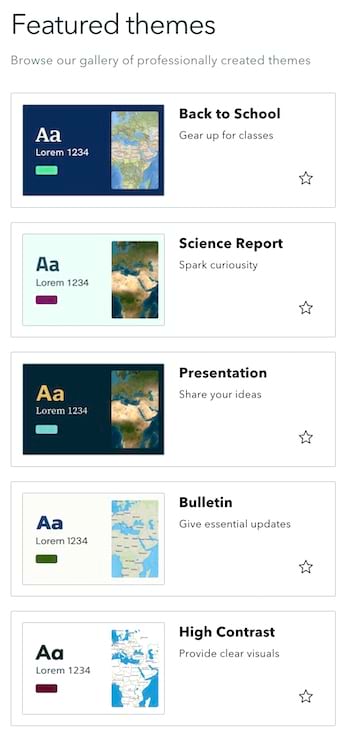 And more…
In addition to everything above, we've also continued to improve the accessibility and stability of ArcGIS StoryMaps over the past several weeks. And as mentioned, we're already working on improving and enhancing the two new beta features that were released this month, so look out for more updates over the coming months.
For a complete list of changes and fixes in all ArcGIS StoryMaps releases, see the Release notes.
Thanks to Will Hackney for his contributions to this post.
Banner photo by Mikael Kristenson on Unsplash