ArcGIS StoryMaps is updated regularly with new features and capabilities. Read on to learn about what's been added this month…
StoryMaps Gallery
Before getting into what's new in the ArcGIS StoryMaps builder, we wanted to share some other news. If you have been using StoryMaps since the days of the classic templates you may recall the amazing gallery of classic stories that was available to help you find great storytelling examples. A few weeks ago, we launched a brand new gallery filled with stories created using ArcGIS StoryMaps.
The new gallery is curated by my stellar colleagues on the StoryMaps editorial team and contains dozens of fantastic stories you can peruse to get inspiration and ideas. There are filters to find stories and collections by topic, industry, and even language. Be sure to check out the "our picks" topic for some of our team's absolute favorite stories. Click the image below to browse the new gallery and get inspired!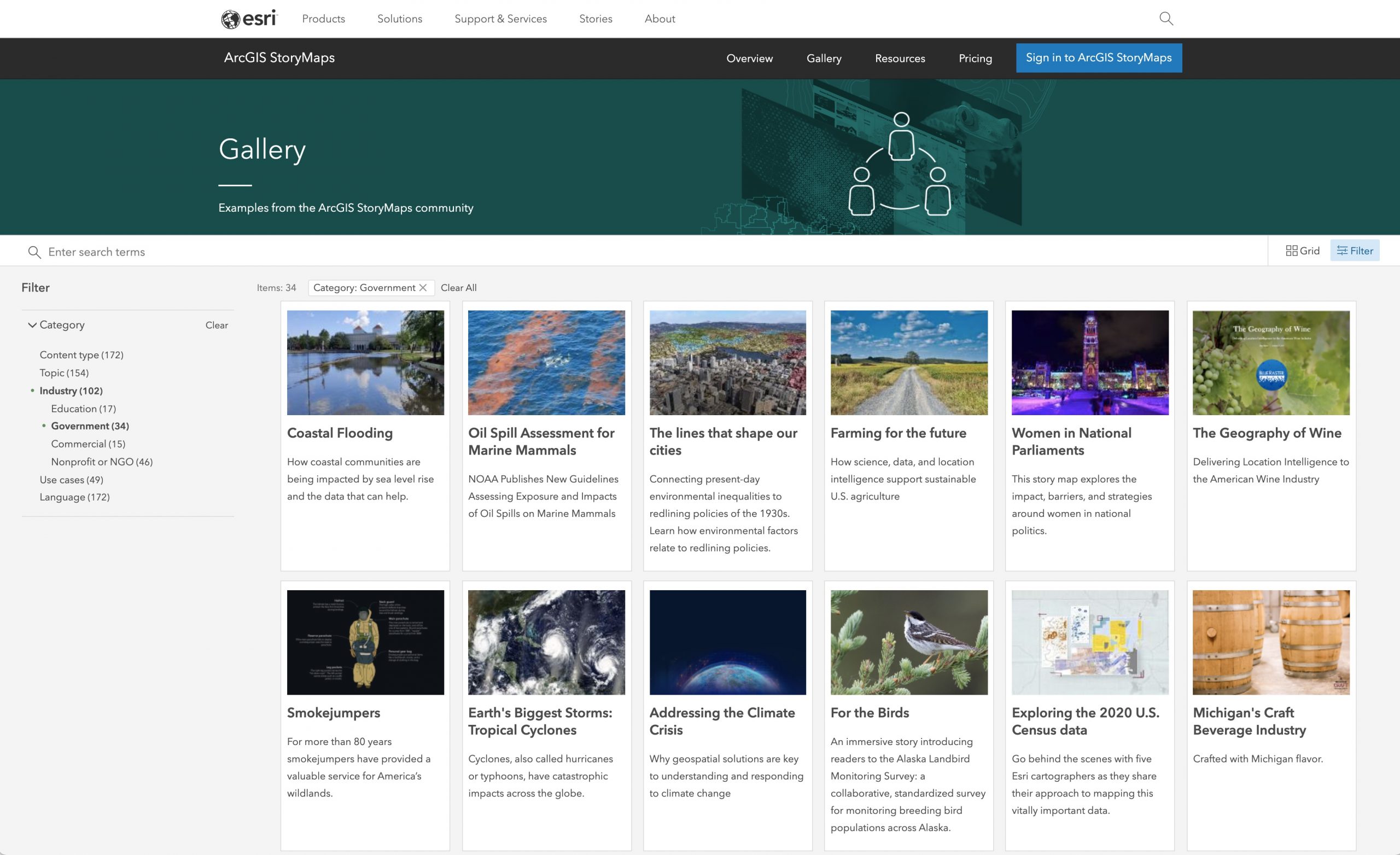 You can visit the gallery whenever you're looking for inspiration. It's easily accessible from the Quick links section in ArcGIS StoryMaps.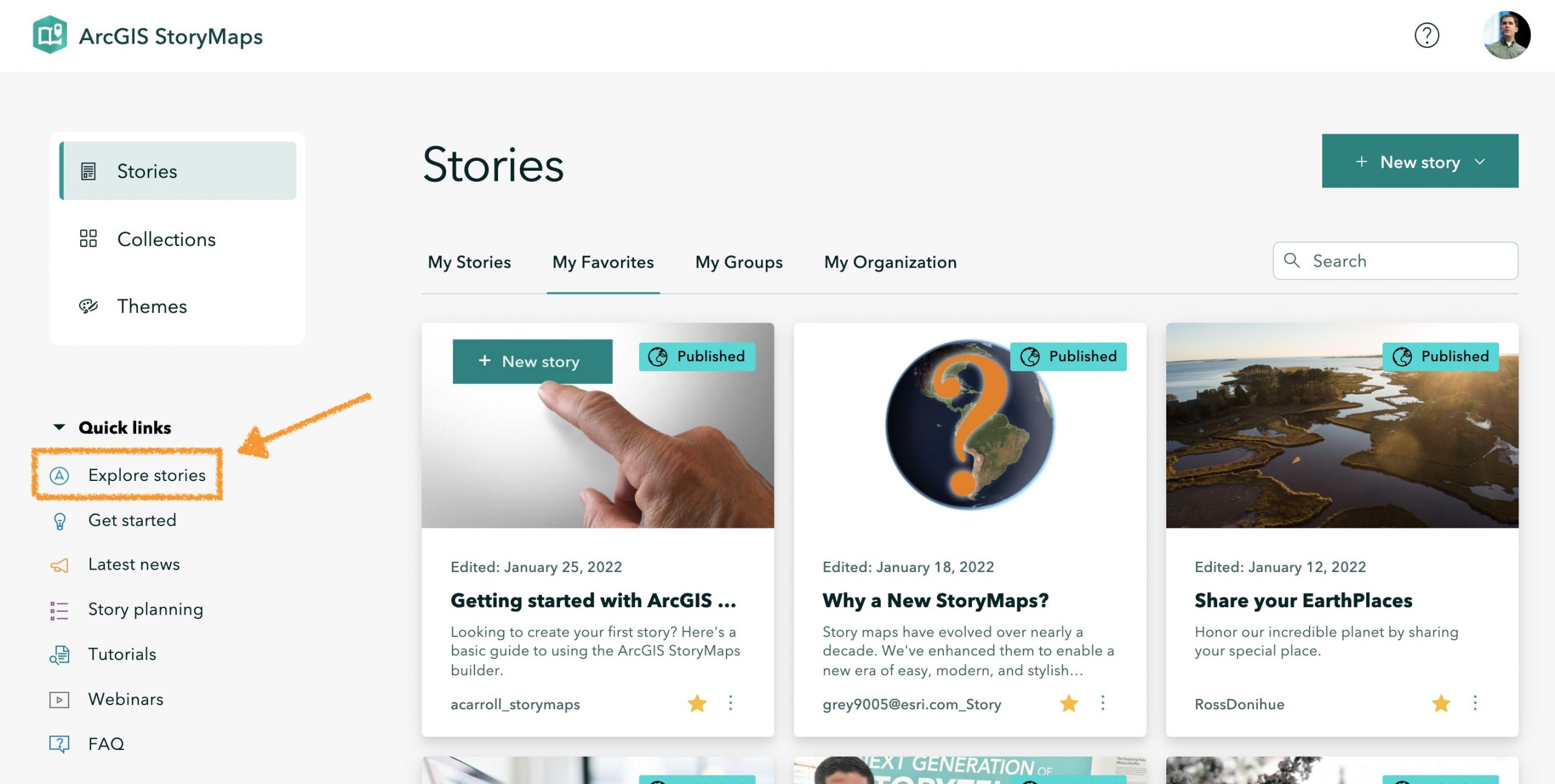 New text editor
We've been working behind-the-scenes for a while on a completely new text editor for ArcGIS StoryMaps. Over the last few months, we've released several pieces of work from this project that didn't rely directly on the new editor including the ability to drag and drop text blocks, improvements to the appearance and behavior of text wrapping around floating media, and support for map actions in large paragraphs.
In this month's update, we've switched over to the new editor and made everything else we've been working on available. You may not immediately notice any significant visual changes…and that's a good thing! We didn't want this transition to be disruptive. But as you use the story builder you'll begin to discover new features and improvements that will make the experience of writing stories much better. Some of the most requested capabilities that are now available with the new editor are:
Multi-level lists
Superscript and subscript
Single-spaced text
Improved hyperlink configuration
Formatting shortcuts
You can see a few of these features in action in the video below that my colleagues Will and Du put together, and the gray box at the end of this section outlines all the new text editing tips and tricks.
You'll also notice a much better experience when pasting text in the story builder. The format and structure of original text are better preserved when pasting selections from elsewhere within a story, other web pages, and other web-based editing apps. Incoming text can be formatted in many ways, especially by desktop-based apps, so please let us know on the Esri Community if you run into issues pasting text.
The new editor also brings a lot of smaller enhancements and updates:
Better keyboard navigation (e.g., move between blocks using the arrow keys)
Link detection on paste
Support for link-style map actions within lists
Accessibility improvements
Many, many, many fixes and stability updates
One more thing worth mentioning about this project is that we've made significant under-the-hood changes to integrate a new editor framework that can be extended. This opens the door for adding more requested features such as formatted code blocks, strikethrough, alignment, and more. So stay tuned for more text-related features coming in 2022!
Create a swipe block with express maps
In addition to being able to compare two web maps or two images in a swipe comparison, you can now create a swipe using two express maps. This can be helpful for sketching simple "before-and-after" maps or creating a quick comparison between two basemaps. When using express maps, there's no need to create and manage two web maps in your content just to create a quick swipe for your story.
Check out the video below to see this feature in action in a sidecar media panel. Of course you can also add a swipe block inline in the main part of your story.
And more…
The last ArcGIS StoryMaps update was before the new year, and since then our team has taken some time to focus on maintenance and stability. We've squished a bunch of bugs and taken care of some under-the-hood technical stuff to make things run more smoothly. You can review the release notes for a complete list of updates and fixes in every update.
Thanks to StoryMaps editorial team members Will Hackney and Ashley Du for their contributions to this post.
Banner photo by Dries Augustyns on Unsplash