An update to ArcGIS Survey123 is now available. Along with a helpful new feature, snapping in the web app, it includes focused fixes in the website, web designer, Connect, and the field app.
Snapping in the web app
Let Survey123 connect the dots for your users making it much faster to capture geographic features. With snapping enabled in a map question, when drawing a point, line, or area, you can now snap to existing features that are visible on the map by clicking on them. Orange construction lines – perpendicular angles and parallel line indicators – automatically appear to help guide the drawing. Toggle on "Enable snapping" to activate this helpful, time-saving feature.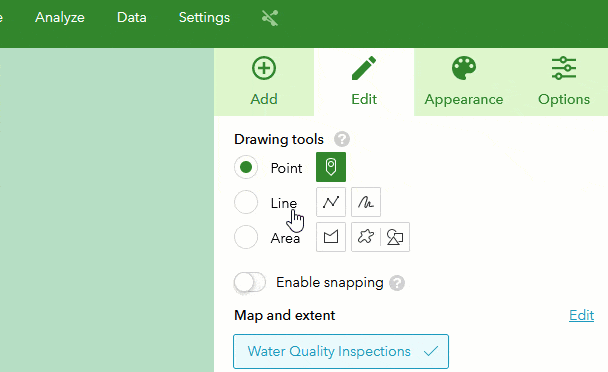 Fixes and enhancements
Survey123 Connect
BUG-000144210 The scroll bar returns to the top after releasing the mouse-click under when browsing the 'Community' style XLSForm.
BUG-000149513 Domain Names loaded from feature services are not sanitized for XLSForm rules.
Survey123 field app
DE-000005585 DE-000005449 BUG-000148858 The custom URL scheme does not open the form for the selected feature if the previous form is closed by clicking 'Close and lose changes'.
BUG-000148047 Enabling rotation lock on iOS causes landscape photos to be saved as portrait.
Survey123 website and web app
BUG-000149232 Surveys created in the ArcGIS Survey123 website using non-required drop-down questions display 'Choice #' in the survey data when a null response is submitted and, when designing the survey, a default response is selected prior to filling in the response options.
BUG-000150648 ArcGIS Survey123 geotrace or geoshape question intermittently does not load basemap when opening survey in a web browser.
BUG-000148769 When editing a record within the ArcGIS Survey123 web form, the start time is removed from the record either from the table or the form view. Editing within the field app does not produce the same result.
BUG-000144214 Setting an input mask in ArcGIS Survey123 Connect give error "hubErrCheck.inputFormatInvalid".
BUG-000149623 When the same name is used for more than one report, the report item displays with the same name in the ArcGIS Online content page while the actual report has the current timestamp, in the YYYYMMDDHHMMSS format, appended to the report's name.
BUG-000136143 When creating ArcGIS Survey123 reports using the Microsoft Word template, the following error message is returned, "word found unreadable content", when an annotated photo is added to the report template.
ENH-000140382 Include an option in the Survey123 Report user interface to cancel an ongoing feature report export job.
BUG-000149913 In ArcGIS Survey123 Connect version 3.14, when calculating from a feature layer for the relevant table, information is written to the first record, but not to another record after the first record.
What's coming next
Some exciting features we're making progress with include:
CAPTCHA for web surveys
pulldata("@layer"): A new XLSForm function to help you query feature layers and tables without requiring the use of custom JavaScript functions.
Location sharing, similar to what is in QuickCapture and Field Maps.
Smart assistants – Machine learning for image classification and object detection.