[Originally posted in GeoNet]
Survey123 for ArcGIS version 3.6 is now available across  all supported platforms. This new release brings important fixes, new features and enhancements to help you build even better smart forms.  Lets start with a short 2 minute video with some highlights:
Lets continue with additional details:
Lines and polygons
You can now work with line and polygon GIS features within the Survey123 apps. This is possible through the new geotrace and geoshape XLSForm question types, which you can incorporate into your surveys through Survey123 Connect for ArcGIS.
Geotrace and geoshape questions are similar to geopoint questions in that they are shown in your form as a map. The only difference is that with geotrace and geoshape you can create and update lines and polygons respectively.
Support for geotrace and geoshape is available in both the Survey123 field and web apps. That is, you can work with lines and polygons from a web browser and also from the native app. The website has also been updated so you can view, filter, analyze and even create feature reports with line and polygon data.
There is quite a lot to know when working with lines and polygons in Survey123. You can find more details in the Survey123 Tricks of the Trade: Lines and Polygons GeoNet blog post.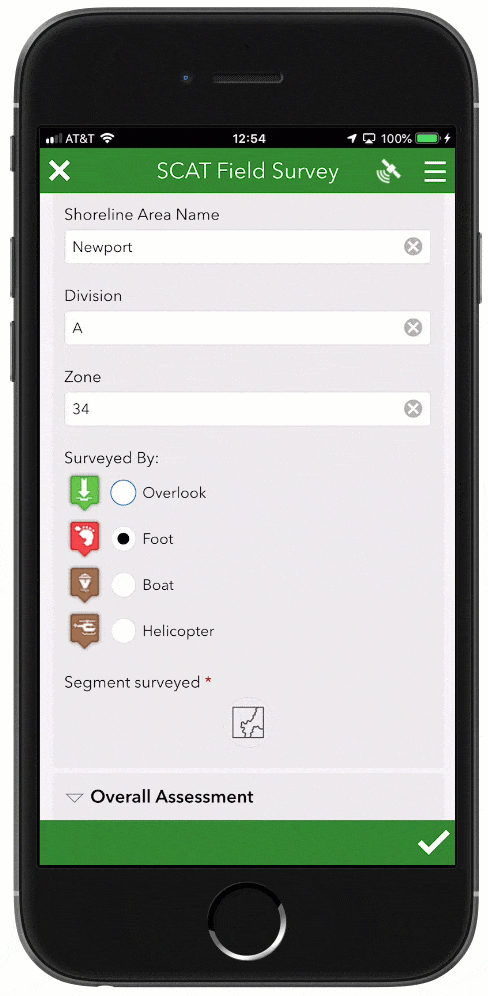 Single choice grids in the field app
We introduced single choice grid in the Survey123 web designer and the web app at version 2.8. We are now expanding support to Survey123 Connect and the field app. Single choice grid allows you to compact series of choice list questions, reducing the need for end-users to scroll up and down the form. They can also help you make your forms more easily readable. The key to using single choice grid is a sequence of more than 2 or 3 questions sharing the same list choices. In XLSForm jargon: A sequence of select_one questions sharing the choice list. This new appearance is ideal when you plan on using forms with a tablet, although keeping labels short and choices limited can give you good results even in smart-phones.
In the next animation you can see a single choice grid compacting a set of 5 building condition questions. Note how the choices are labeled just once for the entire set.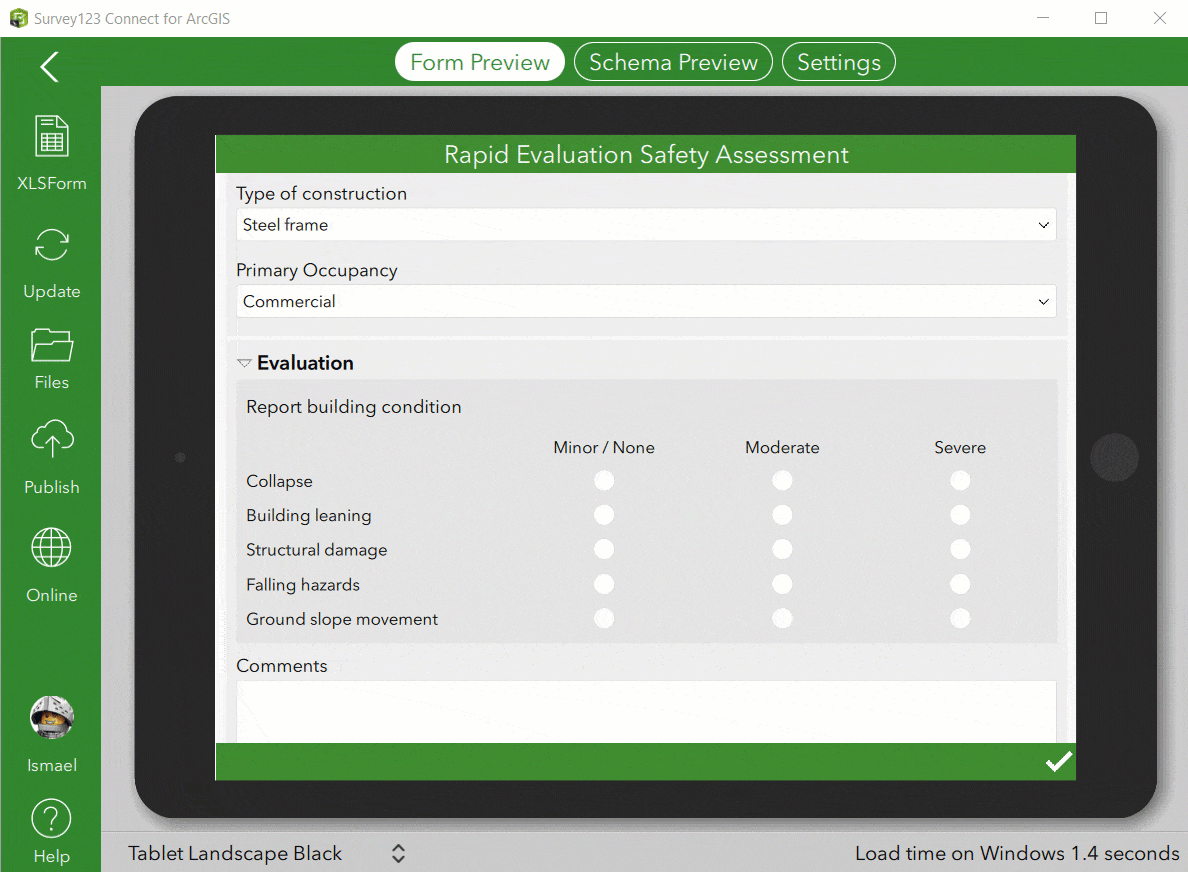 Feature report enhancements
Survey123 feature reports allow you to create high quality printable documents from your Survey123 data. The layout, content and look and feel of your reports are defined in a Microsoft Word document template. For a basic introduction to Survey123's feature reports, refer to the Understanding Survey123 Feature Reports blog post.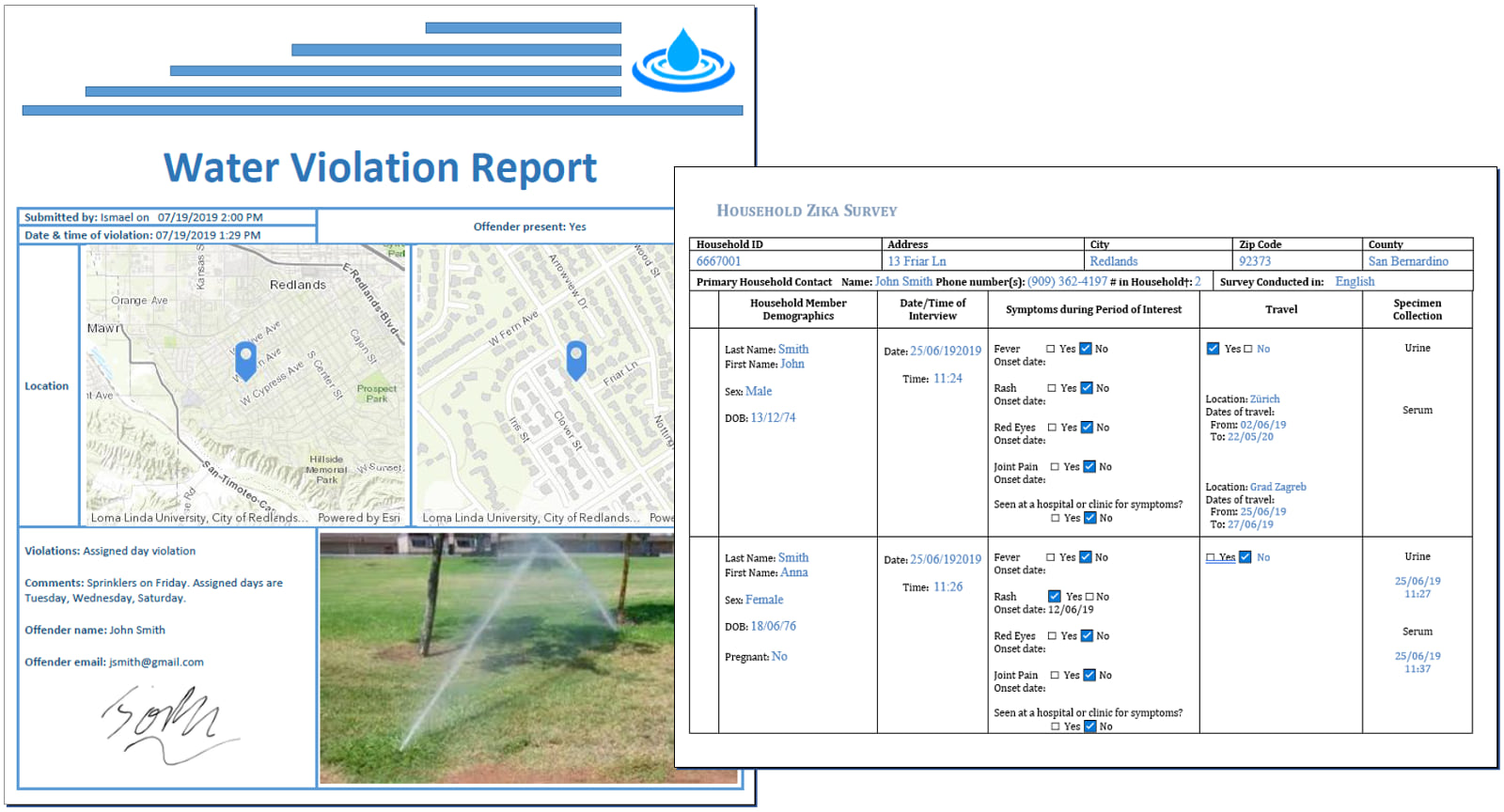 The feature report service has now better syntax validation and extra expressions to help you bring more data into your reports. Check the Feature report templates help topic for more details on all the available syntax.
The big news with this feature report capability is that as anticipated, the grace period for this premium ArcGIS Online service as ended. Starting with this ArcGIS Online update, every feature report requested will consume 2.5 ArcGIS Online credits.
View-only web form
In most cases, you want to use a Survey123 form to help people capture data. Using web form URL parameters, your survey can be launched with some predetermined responses. You can also use URL parameters to load data from existing records into a survey and let people update that information. With this update, you can also open a survey in read-only mode. This can be done in two steps:
Go into the Collaborate tab in the Survey123 website and share your survey results (Viewer tab) as appropriate.

Build a URL setting the mode parameter to view, and pass the objectid of the record you want to display.
https://survey123.arcgis.com/share/1cb28b212b5542acbbdbaa35feba0765?mode=view&objectId=10
If you get an error like shown below, make sure  you share your survey results through Collaborate as described in step 1 above.

As the mode=view parameter is only introduced with 3.6, you will need to republish old surveys to take advantage of this feature with them. Alternatively, you could also add the version=latest parameter to dynamically upgrade your survey when it loads in the user's web browser. However, it is generally best to republish the survey with the latest version.
Extended XLSForm support in the field app
With this update, we are introducing a handful of very specific enhancements to our XLSForm support in the Survey123 field app. These new features are currently not supported in the Survey123 web app. Demand for these types of capabilities is much more general among Survey123 field app workflows, so we are introducing them in that context exclusively for now.
Range Question
The range question is designed to restrict integer or decimal user input to a well defined range. If you setup your survey on top of an existing feature layer, range questions are a perfect fit for fields with a range geodatabase domain. Range questions display in your form as a horizontal slider, ideal for touch screens, although when the control has the focus you can also change its values using the left and right arrow keys.
In the screenshot on the right, you can see a range question being used to help users document pH values on a water sample. Values can be easily set between the pH range of 0 (acidic) and 14 (alkaline).
Through the XLSForm spec, you can dictate different aspects of the slider such as the minimum and maximum accepted values and the colors of the control. Like other XLSForm questions, you can apply calculations, data validation constraints, default values, etc.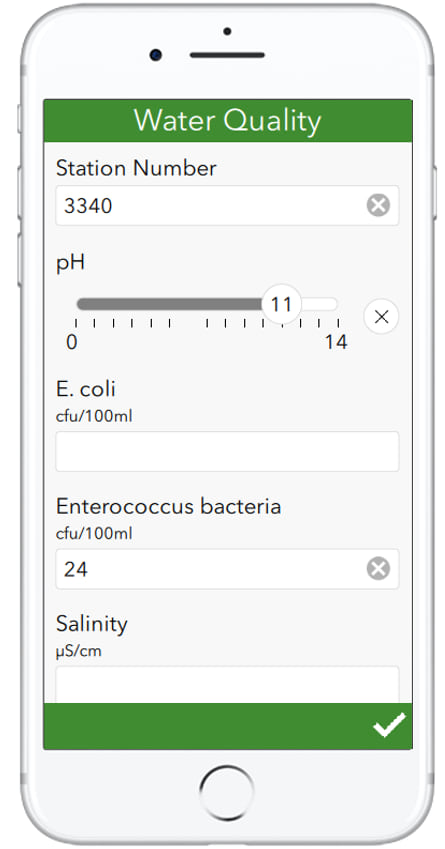 Pictorial lists
There are a few common ways to represent a list of choices: a drop-down list, horizontally, vertically… etc. Carefully choosing the best style for a list, is important. A horizontal arrangement is a good choice for short lists, reducing the need for users to scroll the form up and down. Vertical lists present options in a very clean way, but if you have many choices, a drop-down list will save users time, particularly if you enable auto-complete.
There are some cases, where a pictorial representation of a list is by far the best option. Brett Stokes put together a nice collection of examples, which you can see in the animation below. In all these examples, making selections over the images comes more naturally than making the selection over a traditional list of choices. It is more intuitive, can be less prone to errors and quicker for the user to make their selection.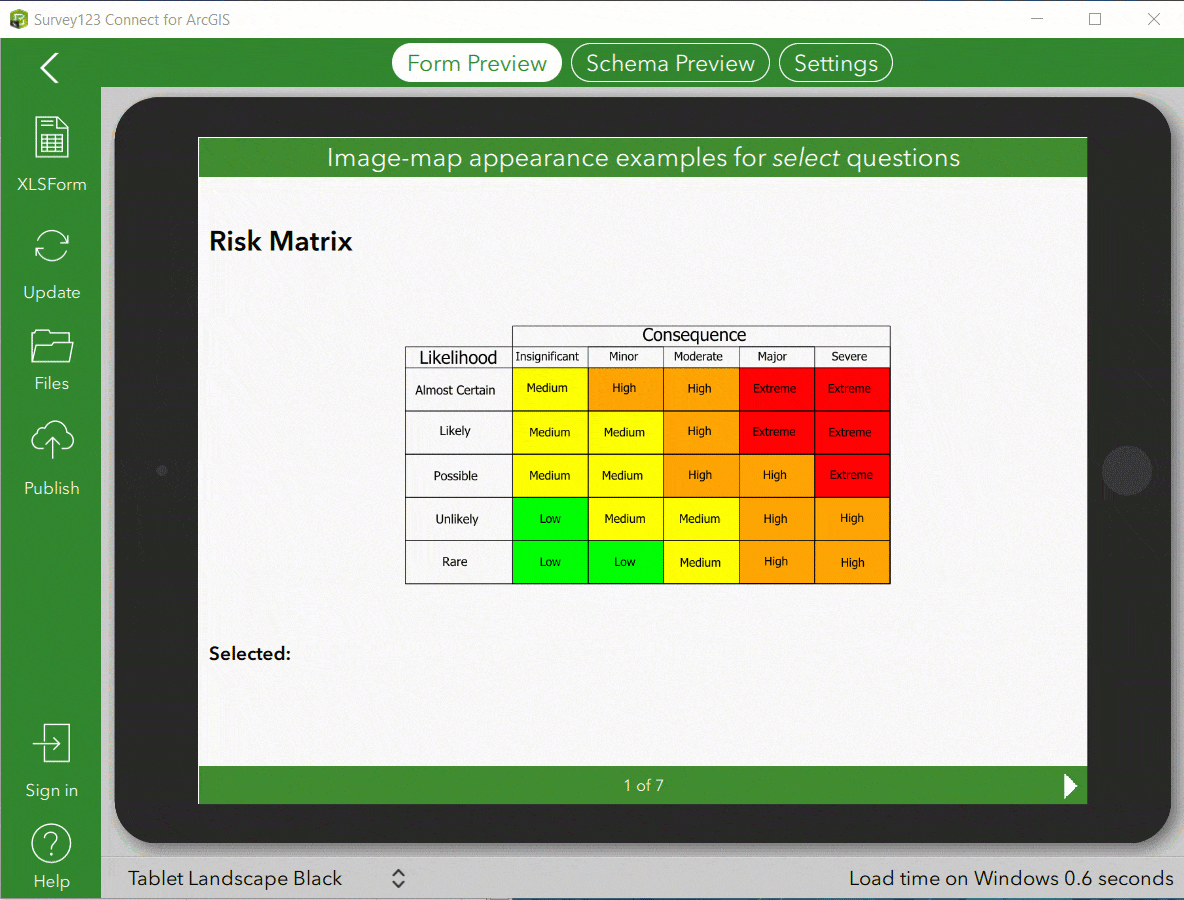 To learn about including selectable images in your smart form, refer to the Using the image-map appearance in Survey123  post by Brett. Well worth a read!
Other Fixes & Enhancements
Last but not least, this  update is loaded with many fixes and other enhancements. A complete list can be found in our Release Announcement in GeoNet.
Our next update is planned for December. The Survey123 Early Adopter Program will host as usual all the new features in the next release so you can give us your feedback!  If you wish to learn more about Survey123 or have questions, visit our GeoNet Survey123 Group.
Commenting is not enabled for this article.