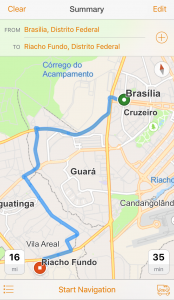 Navigator for ArcGIS now features 20 new maps of Latin America at the regional, country, and territorial levels:
5 new regional maps for the Andes, Caribbean, Central America, Guianas, and Southern Cone
15 new country and territory maps for Argentina, Bahamas, Brazil, Cayman Islands, Chile, Colombia, Costa Rica, French Guiana, Guadeloupe, Martinique, Panama, Peru, Saint Barthélemy, Venezuela, and Uruguay
This is the fifth and final global region that Navigator supports. Navigator now includes maps for all regions of the globe: Africa, Asia Pacific, Europe, the Middle East, North America, and with this release, Latin America!
Now organizations throughout the world can use Navigator to get where they need to be more efficiently and reliably. Check out the Navigator coverage map to see what maps are provided for your area.
All the maps are available through ArcGIS Online to users with a Navigator for ArcGIS license. Don't have a license? Get a free 60-day trial on Navigator's ArcGIS Marketplace listing.