Organizations need to provide their employees and visitors with a means to navigate buildings; find assets, amenities, people, and indoor locations; and report building-related issues. Additionally, employers need the ability to coordinate the use of common spaces such as meeting rooms, collaboration spaces, or shared work spaces like office hotels. With ArcGIS Indoors, you can provide your staff with a frictionless mobile and web experience so that they can get the most out of their indoor environments, reduce frustration, and save time by quickly finding what they need. 
Increase company productivity and motivation
Help employees focus on their work. Save your employees time and effort by easily finding other employees, collaboration spaces, events, and assets. Keep your work space comfortable for its occupants, improve overall employee satisfaction, and drive employee retention.
Help visitors find where they need to be
Campus visitors, especially those visiting for the first time, may become frustrated trying to navigate complex buildings. ArcGIS Indoors can be enabled for visitors to your workplace so they can find who they need to meet, where they need to go, and exactly how to get there.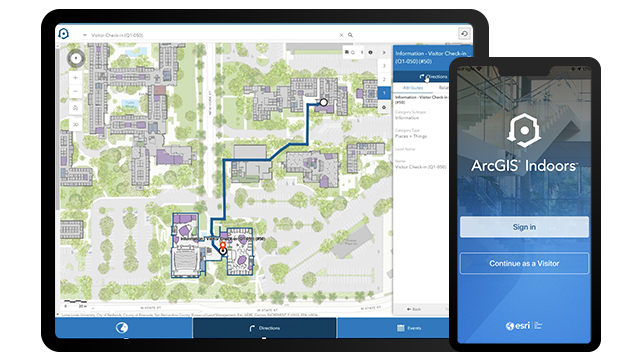 Save valuable time for key staff
Facilities workers and IT staff often spend much of their time locating where work needs to take place. With ArcGIS Indoors, employees will know exactly where a work order was requested. The time saved will allow them to process work orders more efficiently.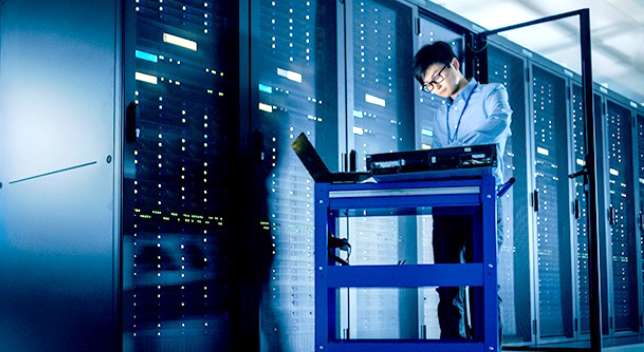 Book meeting rooms
Promote real-time collaboration with real-time meeting room reservation that helps employees find available space nearby.
Maximize use of limited space
Office hoteling allows employees to reserve work space on an as-needed basis. Increase your staff-to-workplace ratio and provide a highly collaborative work environment.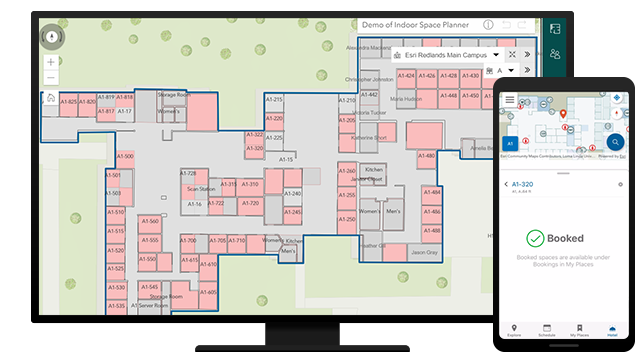 Know your indoor location
Use Esri's indoor positioning system to know where you are indoors and outdoors through a blue dot experience on an indoor map. Share your location with others so colleagues can find you, even as you navigate to different work locations.