ArcGIS Workflow Manager is an easy-to-use, scalable enterprise workflow management system that automates and simplifies GIS and non-GIS work. Its tools help you manage people, processes, software and data products in real time through standardization, centralization and repeatability, allowing you to improve production efficiencies and save resources.
Benefits
Geo-enablement
---
Effectively add a spatial aspect to your workflows
Application integration
---
Integrate GIS & business apps in one place
Scalability
---
Manage work across small groups or global offices
Reliability
---
Standardize & centralize project information
Geospatial data management
---
Automate versioning, geoprocessing & archiving
Communication & reporting
---
Get or send alerts. Provide real-time work status
Who uses Workflow Manager?
---
Easy-to-use, scalable enterprise system automates and simplifies management of GIS and non-GIS work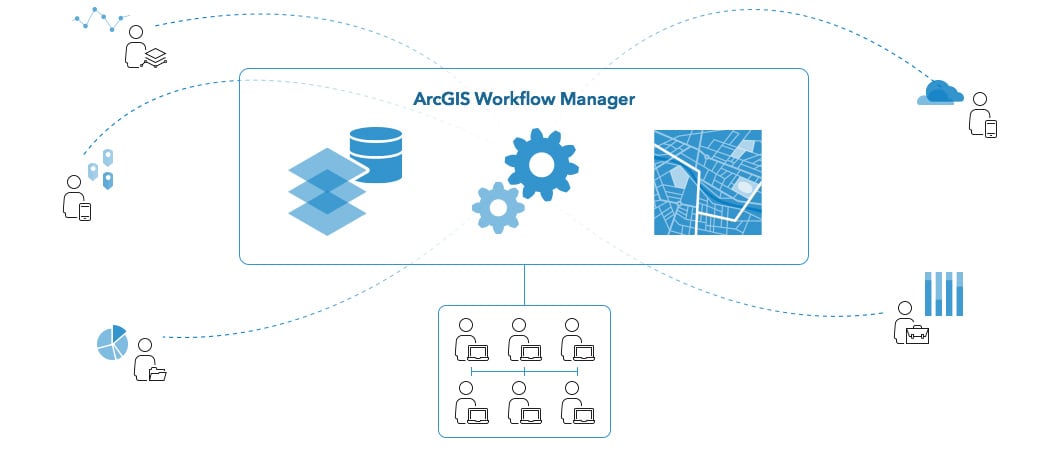 Part of ArcGIS
---
Workflow Manager extends ArcGIS by providing tools for ArcGIS Pro and ArcGIS Enterprise.
ArcGIS Pro
Manage work and data processes
Load standardized map templates
Repoint map layers to current version
Restrict users outside set location
ArcGIS Enterprise
Visualize & monitor progress
Manage & run non-mapping steps
Create reporting dashboards
SUCCESS STORY
Los Angeles City Officials Increase Productivity
---
The City of Los Angeles Department of City Planning gains productivity and improves end-user satisfaction through reliable decision-making.
Buy ArcGIS Workflow Manager