This week Esri exhibited and presented at the 2021 SAF National Convention. The virtual event took place November 3-6 with a theme of "Forests for all" highlighting the services that forests provide as ecosystems and as green infrastructure to our communities.

The 2021 program offered a hard look at some of the challenges facing forestry today including conservation and sustainability practices, and inclusiveness.

Esri had the opportunity to introduce two sessions, a Meet and Greet session, and in particular a 60-min Innovation Zone presentation.
Student Meet Up
Mike Bialousz highlighted Esri and GIS to attending students as an important tool and service in their future careers. Additionally, specialized student training for ArcGIS Online, Field Data Collection and ArcGIS Pro and Spatial Analysis.

Students were given information on Esri internship, assistantship, and career path opportunities. Handout
Friday Focus-On Session: Shifting the Discourse on Forest Health and Resilience
Managing forest lands is increasingly difficult with changes in climate change, ecological pressures, and pest and pathogen infestations. Sunny Fleming was able to introduce and reiterate how to mitigate the impacts of forest resilience and health with the strategic application of Esri's technology. It was an excellent way to kick off a panelist discussion that focused on the interface of policy and science to achieve resilient and healthy forests.
Innovation Zone: Stewarding America's Forests with Science and Technology at Scale
Esri, in cooperation with the USDA Forest Service Forest Inventory and Analysis (FIA) program, presented a panel style innovation zone presentation. The Innovation Zone discussed cloud based raster data from FIA, new reporting and dashboarding tools from the Forest Service, and an introduction and review of the all-new FIA Geospatial HUB. Along with stories of on-the-ground success with analytical services from Tennessee Divisions of Forestry. Esri and the FIA program have worked together for over 6 years. To radically reorient analysis, reporting, and knowledge delivery built on the FIA database (FIADB); the database of record for US forest data and statistics. Handout

Presenters: John Steffenson (Esri), Christopher Oswalt, Cara Leitheiser, Randy Morin (USDA Forest Service, Rachel Greene (Tennessee Division of Forestry)
Interview with SAF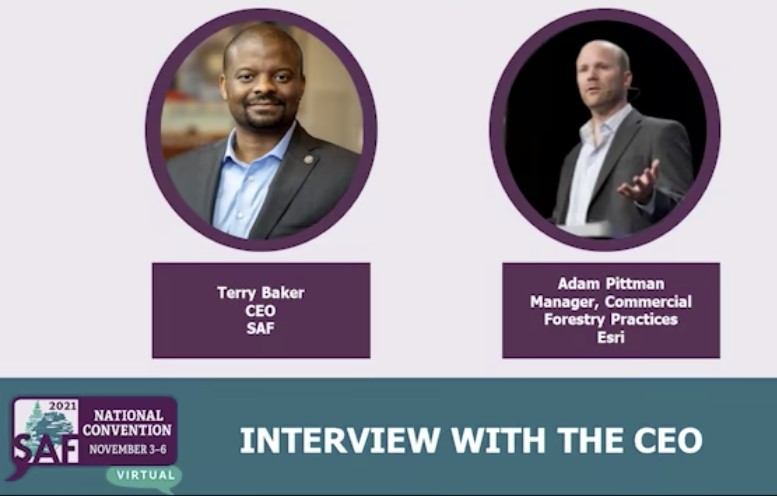 Adam Pittman spoke with Terry Baker to discuss the conference key themes and the importance of a partnership between SAF and Esri. The 5-min interview was recorded and featured during the convention.
When you look at the tools & techniques & applications that Esri provides; it really gets down to the piece of the plenary at the convention which is The Value of of Forests.
SAF 2021 provided a great opportunity to collaborate with the Society of American Foresters and with USDA Forest Service, Tennessee Division of Forestry. As well as providing a platform for Esri technology in the hands of our customers and partners.