Substance use disorders, such as opioid misuse, affect millions of Americans every day and can have a significant impact on a community and its resources. Since substance use disorders have become a national epidemic, local governments have been on the frontlines of this health crisis. But improving education, prevention and treatment efforts in the community requires accurate data and collaboration among county leaders, public health departments, mental health providers, medical personnel, and community-based organizations.
In observance of International Overdose Awareness Day, I wanted to highlight Esri's complimentary ArcGIS Solutions for Opioid Epidemic Outreach, a collection of tools and capabilities for organizations to better understand where substance misuse disorders are impacting their community, easily inventory resources available, and highlight patterns and trends that could provide insight into overdose prevention opportunities. We have maintained and updated these solutions, as the crisis surged and evolved into substance misuse. Substance use disorders were amplified by the pandemic and continue to devastate our communities, so it is important to remain aware of the tools and solutions available to you.
Analyzing Overdose Patterns
Understanding where overdoses are occurring can help tailor efforts and response to communities being impacted the most. Opioid Awareness Maps allows you to aggregate overdose data into reporting areas, such as county boundaries, or anonymize the data, which is then visually displayed on a map. These maps can then be shared via an information hub for the public to easily access.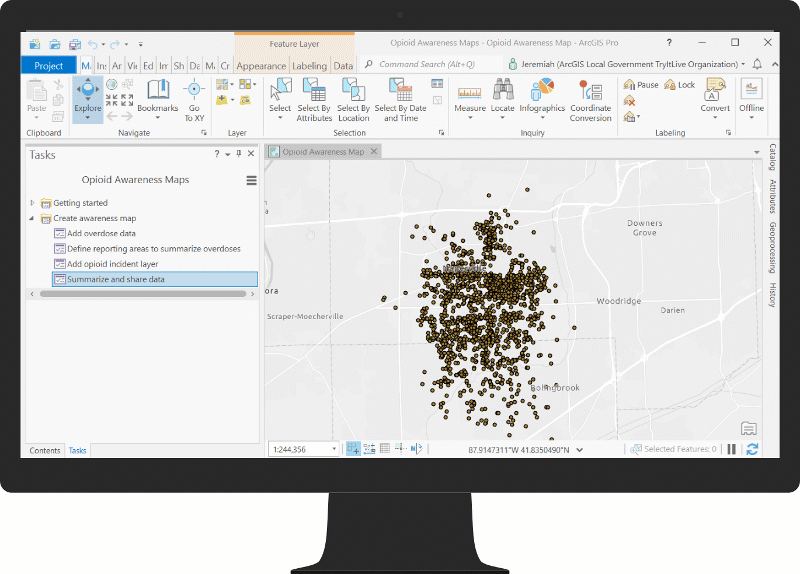 Promoting Opioid Prevention and Treatment Resources
Available treatment and prevention resources in a community can at times frequently change. New providers become available, business hours can vary, or even contact information can change making it difficult for those seeking help to find the resources they need. Various locator apps such as the Drug Drop Off Locator, Pain Management Locator, Opioid Treatment Locator, and the Naloxone Locator can be used to highlight available resources that the public can access.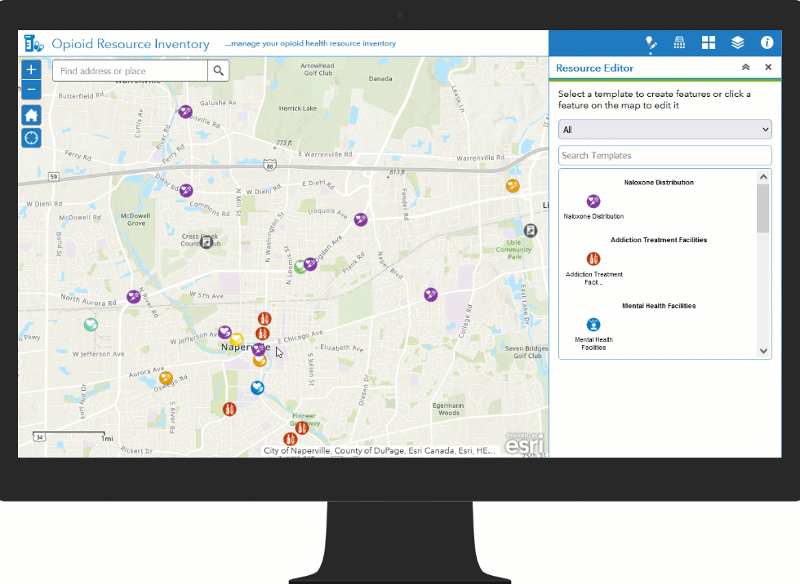 Increase Public Awareness with a Public-Facing Hub Site
Although, local governments are on the frontlines in combatting this health crisis it is important to involve and educate the public on which communities are being impacted the most, where resources are located, and overdose data that can be used to base outreach efforts upon. The Opioid Epidemic Outreach is a public-facing information hub that can be used by health and human services agencies to communicate the extent of the health crisis in their community along with available resources. From this hub the community and stakeholders can monitor key overdose metrics, assist with various volunteer activities, and find locations where they can drop off drug paraphernalia, all in one central location.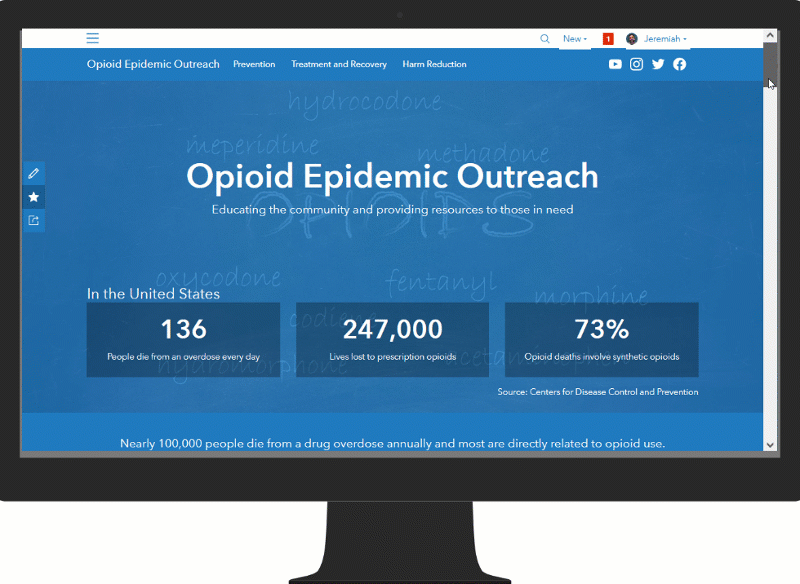 The Geographic Approach is Essential in Responding to Substance Use Disorders
GIS provides local governments with the tools needed to strategically respond to health crises. Substance misuse specifically, is a complex crisis that almost seems infeasible to address. However, GIS provides you with the solutions you need to create tailored location-based tools allowing you to visually see the problem in real-time, allocate resources to where they are needed most, and keep the public and stakeholders informed. With GIS your organization can better understand how and where substance misuse is affecting your communities, allowing you to help your residents with the most need.
The ArcGIS Solutions for Opioid Epidemic Outreach are free for all Esri users. Download them today.