Transforming Houston Public Works Geospatial Technology
I had the pleasure of participating in the 2022 Esri Gulf Coast User Conference November 9-10 in Houston, Texas. The plenary session included two amazing presentations. One on real-time flood inundation mapping detailed in this blog post. The other presentation was on Transforming Houston Public Works Geospatial Technology presented by Houston Public Works Director Carol Haddock and GIS Manager Anthony Powell.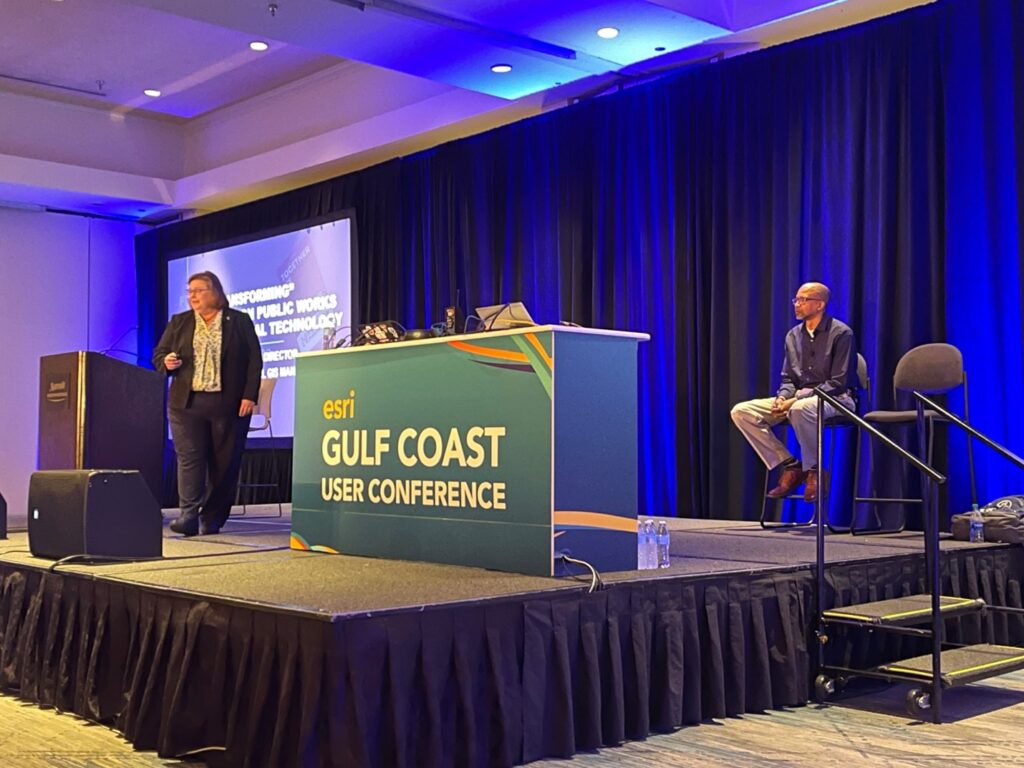 The goal of the presentation was to show that, "…GIS technology is more important than ever and it's changing and expanding every day. We are here this morning to share with you how the Houston Public Works Geospatial teams are TRANSFORMING its GIS technology to better support the department and better service the citizens of Houston."
The presentation began by highlighting some statistics about Houston Public Works (HPW) such as:
They maintain 16,000 lane miles of streets,
3,900 miles of storm drains,
2,450 traffic signals,
2,800 miles of roadside ditches,
They treat 163 billion gallons of water per year,
They send out 5.8 million water bills per year,
They manage 467 types of permits,
They have an annual budget of $2.4 billion, and
4,000 employees.
You can see more information about HPW in this video. This diagram helps illustrate the public infrastructure they are entrusted with: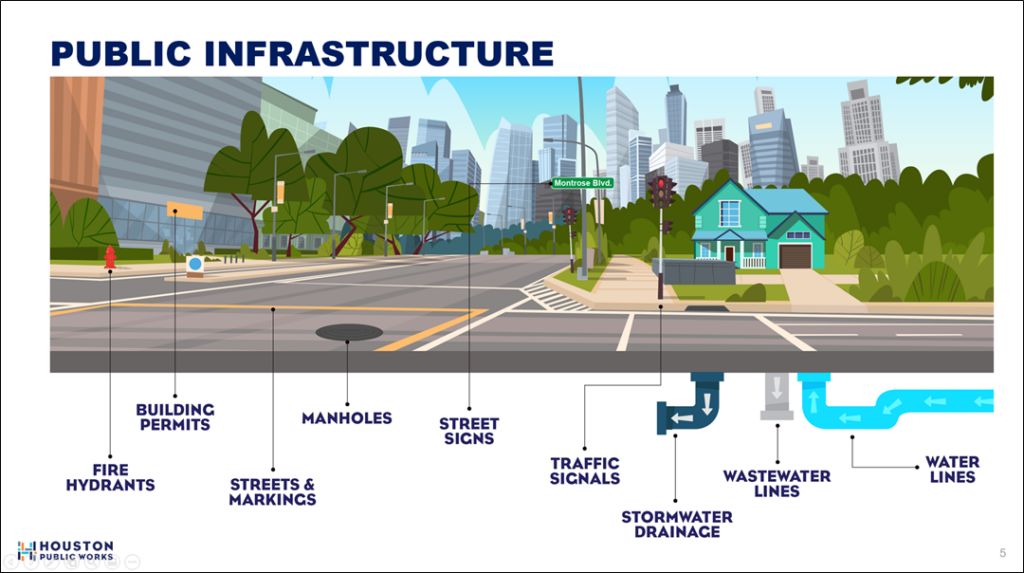 HPW divides their work into the following Service Lines:
Capital Projects
Customer Account Services
Houston Permitting Center
Houston Water
Transportation & Drainage Operations
In addition, they serve Emergency Operations, the Directors Office, Mayor's Office, and the City of Houston Citizens.
HPW has been using GIS to support their operations for over twenty-five years. This presentation showed how they are modernizing and expanding their geospatial services to create a modern, mission-critical, enterprise IT business system. This includes a robust enterprise system architecture that follows industry best practices and utilizes cloud technology from Esri and Amazon that provides a secure, performant, and scalable platform to serve their users via many applications like these:
Capital Projects applications include a Project Location Map, an application that helps deconflict projects based on location, an Interagency Coordination Assessment Tool that allows the City to coordinate with other agencies in the region, and a dashboard the Mayor uses to track the street rehabilitation initiative.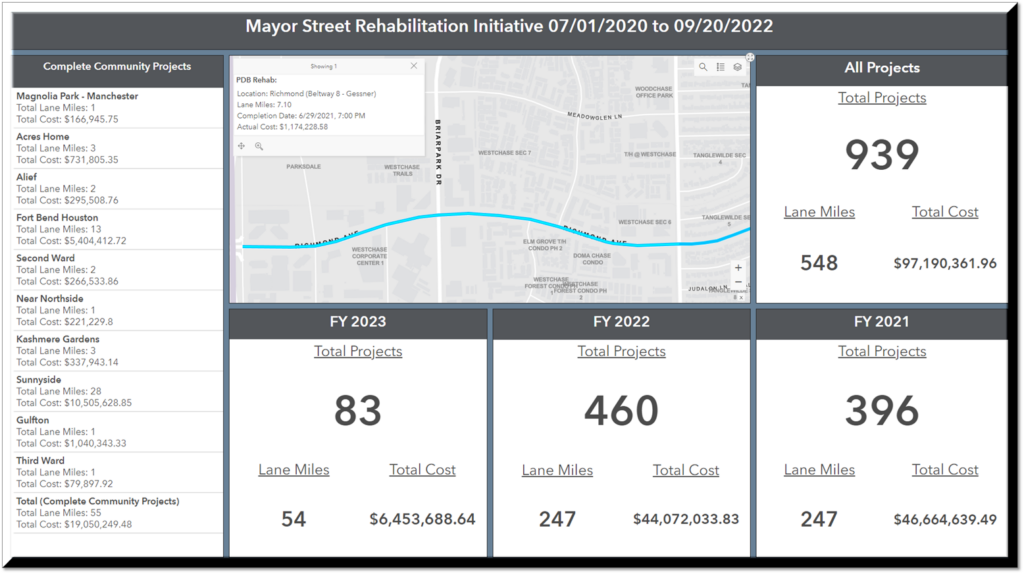 Applications supporting the Houston Permitting Center include a Water Capacity Reservation application that allows land development permittees to reserve existing water system capacity for their proposed developments, as well as a mobile application used for Plat Review Inspections.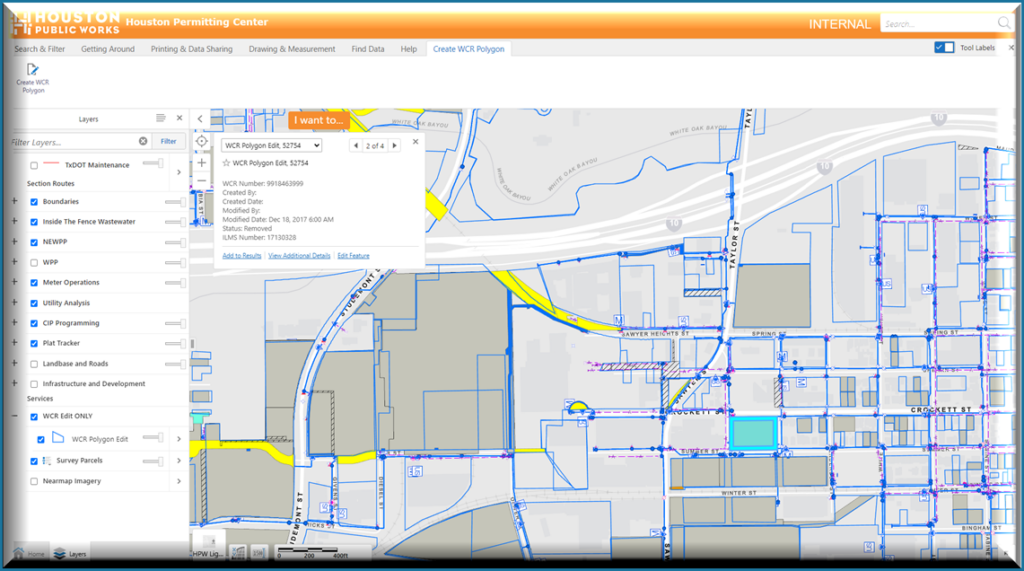 One of the applications for Customer Account Services is the Customer Drainage Charge Solution application that allows the user to calculate the storm drainage bill based on impervious surface measurements.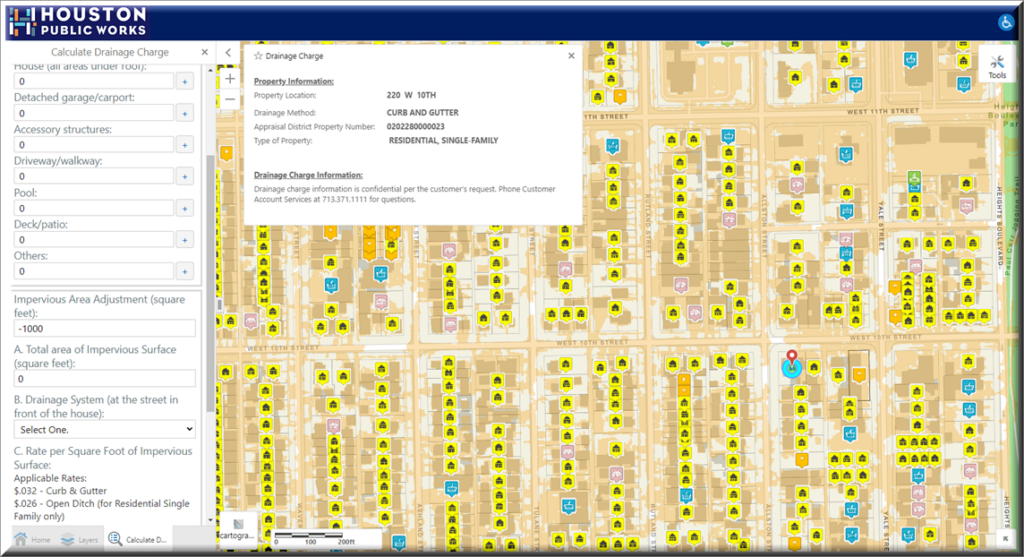 Transportation and Drainage Operations applications include a Street Pavement Assessment Program application, integration with their Cityworks Work Order System, and the use of drones to collect aerial imagery used for tracking project status.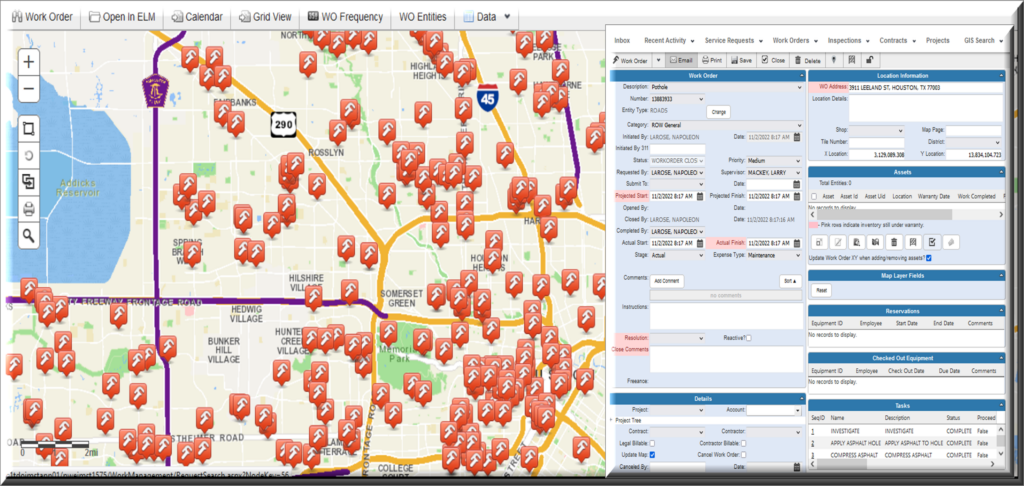 For Emergency Operations there are several applications including a Hub site that provides a set of integrated spatial solutions used to direct and coordinate operations. Other applications consist of a real-time Emergency Operations Service Request Dashboard, two-way integration with Waze that allows for real-time monitoring of crowdsourced data and planned road closures for better routing, an application used to track the status of underpasses using real-time data from the wastewater SCADA system integrated with the Verizon Fleet AVL feed, and dispatch and mobile applications used to coordinate damage assessments.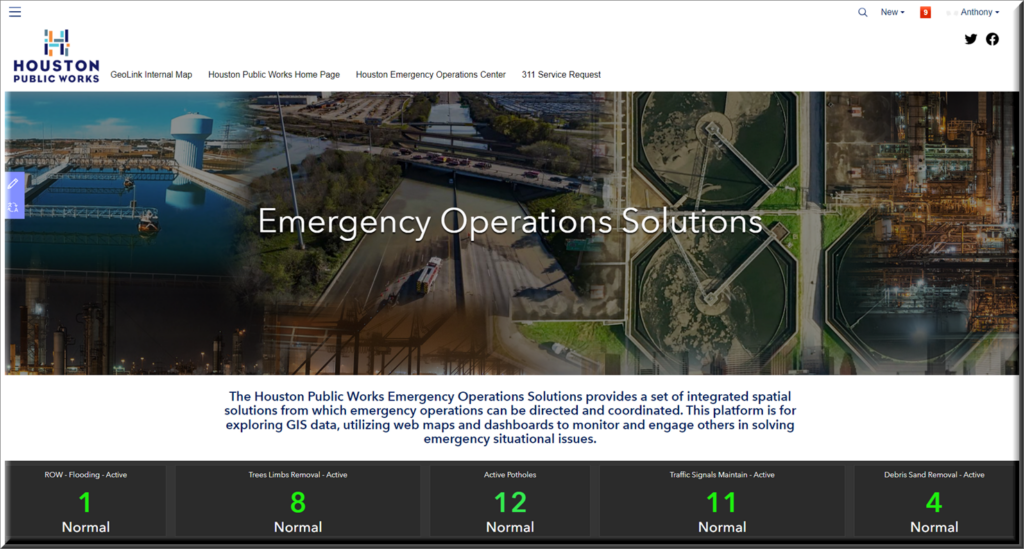 Other initiatives include the implementation of a GIS electronic data deliverable program that helps HPW more efficiently update their data by providing templates and documentation for organizations providing infrastructure design services to the City that allow them to upload GIS-ready data that can be automatically used to update existing data layers. Future projects include updating their utility databases to the Esri Utility Network Model to allow for more intelligent digital modeling of their networks, implementation of ArcGIS Velocity to update their integration of real-time data feeds to this cloud-based solution, development of a 3D digital twin, and the use of artificial intelligence with imagery to detect changes in the community that affect operations and provide for better planning.
This multi-decade journey of HPW to evolve their GIS to better serve the organization and the public does not happen by accident. HPW dedicates resources to a GIS Business Strategy as well as formal organizational governance. They work together with Esri staff subject matter experts and partners to ensure that their GIS follows best practices and stays up to date while delivering business value and increasing the level of service to the public.
While HPW is one of the largest Public Works departments in the U.S. with significant resources, their realization of an enterprise GIS vision for public works is applicable to any sized agency. The technology they have used to build their GIS is flexible, scalable, and sustainable. Their geographic approach to public works has yielded a mission-critical, enterprise IT business system supporting the entire extent of their operations and provides the foundation for better decision making and smarter government. They have not only transformed their GIS, but they have also transformed their organization and the community.
For more information on how GIS can help your public works organization, please visit our resources here: https://go.esri.com/GIS4PW