As a former Esri partner myself and as someone who now spends all of my time working with our partner community, I am always working to elevate and alert our users to our partner community. During a recent interaction with some of our most active and innovative customers, it occurred to me that our customers may not have a solid understanding of how to determine the best partner to work with. In particular, greater focus needs to be given to the Esri Partner Specialties, why we have them, what this means for you, our customers, and why you should be making 'meaningful connections' with Esri partners who hold these specialties.
Over the next several blogs, I'd like to highlight the Esri Partner Specialty Program, the different types of specialties and where you can find, connect, and match with these key partners. I will also showcase examples of the inspiring work of partners with specialty designations to demonstrate the value and ROI these partners bring to our user community.
So, let's get started. In this blog, I will provide an overview of the program, the different specialty designations and why it's so important to you and your success to work with Esri's specialty partners.
First and foremost, partners who hold specialty designations are really our best, brightest, and most aligned partners who can help you achieve your goals and vision with ArcGIS!
The Esri Partner Specialty Program validates, recognizes, and promotes those partners who are aligned around a specific technology, industry sector or both. Esri specialty partners are required to maintain their skills and are assessed on that knowledge to keep current with both the evolution of the technology and our shared business goals. 
Three Types of Specialties
We've organized our specialties into three types: Foundation, Technology, and Industry. Release Ready is the foundation of our specialty designations and is the starting place for all aligned partners. This specialty validates that these partners are current on and can sustain pace with Esri technology.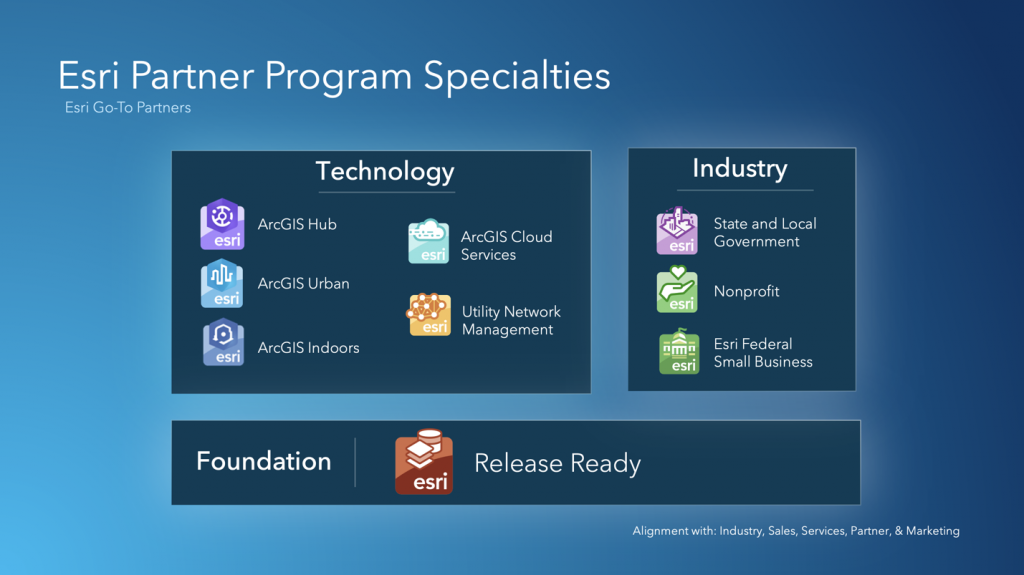 Technology specialties are focused around specific Esri products. Partners that carry a technology specialty are expected to be subject matter experts (SMEs) for that specific offering, its capabilities and their ability to present both a business and technical understanding of both.
Industry specialties promote partners who are aligned to a specific business sector, and understand the unique needs, nuances, and workflows of users in that sector. These partners have developed, maintained, and sustained offerings, services, and expertise in that specific area of focus. At the start of 2020, we evolved the ArcGIS for Local Government specialty into the State and Local Government Specialty, and also launched a new Nonprofit Specialty−both created to meet the demands of our customers who depend on highly aligned partners in these two markets.
Where Your Next Partner Search Should Begin
Whether you are looking to compliment your ArcGIS work with solutions, services or content, or want to identify the best partner to support your specific mapping and content requirements, you should engage with the partners who hold Esri Partner Program Specialty designations.
So, how do you find these partners? Always keep your eye out for Esri business partners with a specialty logo (which are shown in the image above), or head over to the Esri Partner Directory and filter by 'Specialties' to connect with key partners to help you achieve your goals!