Recent Graduates Talk about Skills and Technologies You Should Focus on When Studying for a GIS-Related Career
When it comes to what classes, training, or coursework to focus on while completing a GIS certificate or degree program, advice is not hard to come by. Some of it can be right on, and other suggestions can be wrong.
"You should learn Python." "You should be programming." "Focus on desktop GIS."  So what's the right mix of skills and software that students should concentrate on to land themselves a job after graduation or earning a GIS certificate?
Looking for opinions, I was struggling to find the voices I really want to hear from—recent graduates. I have always valued the perspective of "newly minted" graduates who are working in the field. For many of them, there is a wealth of software, skills, tools, or resources that they have found incredibly valuable in their professional career. Yet there are software, skills, and technologies of which new hires are only first exposed to on day one of a new job.
So I reached out to three recent graduates (individuals who completed a degree in the last one to two years) for a question and answer session to get their input. They included Jack Nessen, GIS manager at Mass Audubon, who earned a master's degree in geography and sustainability from Salem State University; Catherine Cronlund, a GIS coordinator for Baldwin County, Georgia, who received a bachelor of arts degree in geography and a GIS certificate from Georgia College and Daniela Ferrante, a GIS analyst for Hancock Natural Resource Group, who earned a master of science degree in parks, recreation, and tourism management from North Carolina State University and a graduate certificate in geospatial information science from the North Carolina State University Center for Geospatial Analytics.
Question: What do you do on an average day at work?
Jack Nessen: [It consists of] upper-level managing of applications, systems, data, the enterprise environment, ArcGIS Online, and public GIS.
Daniela Ferrante: It changes day to day, but here are some of the tasks I commonly work on:
Manage and conduct spatial and descriptive resource information system updates with forestry management activities, inventory data, and other forestry information
Provide technical support, such as mapping and analysis, to foresters for the compilation of annual harvests and forest establishment
Conduct quality control with respect to stand information
Train foresters on how to use our GIS web apps
Create and maintain a comprehensive user guide to help foresters navigate and use our GIS web apps
Catherine Cronlund: I digitize data for various county government departments such as E-911, public works, planning and development, and the tax assessor's office. I build web applications with this data as well as join data. I am responsible for any data/map requests. I am also in charge of the address authority for my county, which includes maintaining the address database and all new road names for the county.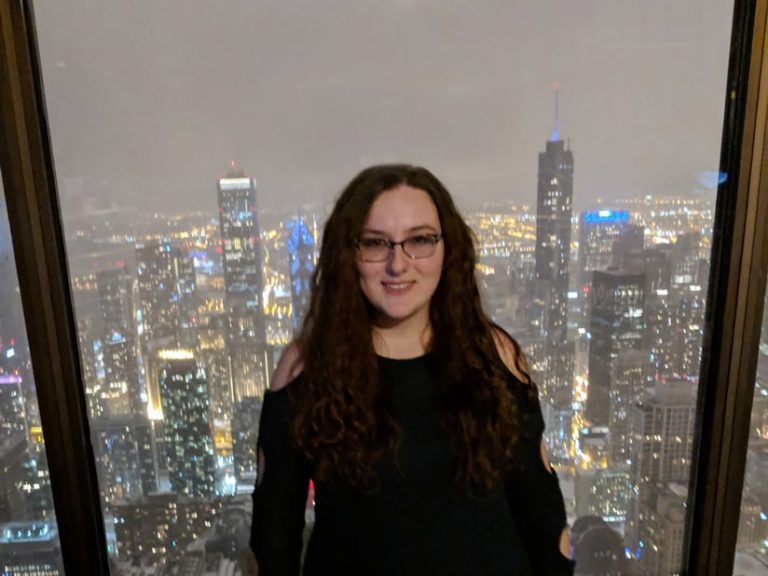 Question: What skills or technology did your degree program introduce you to that have been valuable?
Nessen: [I was introduced to] web mapping, soft skills, ArcGIS Online, statistical analysis, and ArcGIS Pro.
Ferrante: Some of the classes I took during my [time as an] undergrad and [when I was pursuing a] master's degree provided me with a basic knowledge of GIS—specifically ArcMap, ArcGIS Pro, and ArcGIS Online. During my time as a graduate student, I learned how to think critically and seek out information to fill existing knowledge gaps. Additionally, I gained scientific writing and communication skills from doing research, which I leverage daily in my current position.
Cronlund: I was introduced to] the suite of ArcGIS products in general. [I learned about] the foundational understanding and building blocks of GIS such as projections, coordinate systems, datums, and file types. I have found that it is just as important to understand why something works [as it is to be] able to perform the task. The building blocks of GIS have been vital for me to solve problems and issues with the data I work with. My program also introduced a slew of tools and [showed me] why and how there is not just one way to get the same end product. It just depends on what you do with the data—[that's what] matters the most. Also, my program made it a point to introduce as many products as possible, even if it was just an overview, so we [would know that the products] existed.
Question: Is there anything that you wish you had been introduced to during your degree program?
Nessen: [I would have liked] more work with unmanned aerial vehicles (UAVs) and remote sensing. Also, [I would have liked] more [of a] focus on ArcGIS Pro instead of ArcMap.
Ferrante: I really would have liked to learn Python, SQL, and R. Unfortunately, there weren't any opportunities to learn that in my program.
Cronlund: I wish we were required to take a scripting class/course. I do not think it would really matter in the long run which scripting language as long as it was/is compatible with GIS. I would have been able to solve some of my issues more quickly if I knew what I was looking at when it came to scripting.
Question: What advice would you have for students currently enrolled in a GIS program?
Nessen: Learn ArcGIS Pro as soon as possible, and don't be afraid of ArcGIS Online and creating web applications for the public.
Ferrante: My advice is to seek out opportunities to diversify your skill set and apply your knowledge. Specifically, I would encourage students to look for GIS-related research/internship opportunities. In my junior year, I worked a part-time remote job as a junior geospatial analyst for VSolvit, and in my senior year, I worked as a GIS research assistant for the international studies department at my university. I also incorporated geospatial analysis into my research design for my master's thesis. Any real-world experience that students can gain through internships/research is very valuable, especially when they start looking for jobs.
Cronlund: Ask every question you have in your mind. Once you're out in the professional world, it is sometimes harder to find answers for free. The GIS community at large is generally really helpful, and I can find the majority of the answers I seek in online forums. However, it is completely different than having someone [whose brain I can pick] in person/directly. Take as many different GIS courses [as you can] to find your niche. Apply for a GIS internship, and treat it like a semester-long interview. It will help you in the long run because it will give you connections and experience once you graduate—and who knows, you could get a job offer out of it.
Read more student stories about GIS in higher education: