The Los Angeles Geospatial Summit is an annual event hosted by the USC Dornsife Spatial Sciences Institute where students, industry leaders, and young professionals come together for one full day of technical sessions, Lightning Talks, workshops, networking, and more. Every year a student poster competition is held where both graduate and undergraduate students submit a poster of their own geospatial research project.
"The student poster presentations have been an integral part of our annual Los Angeles Geospatial Summit since our first summit in 2010. This year we introduced the competition element and are grateful to Esri for its support in recognizing an outstanding example of student research and geospatial visualization."

—Susan Kamei, Managing Director—Spatial Sciences Institute, USC

Spatiotemporal Analysis of Snow Crab
The winning poster that is chosen may be done by a single student or group of students. Prizes are awarded for the most innovative use of technology that is most strongly communicated using a map component where an appropriate solution was proposed. Bryna Mills, a graduate student from the University of Southern California, was chosen as one of the the winners of the 2021 Student Poster Competition, held virtually this year, for her research project: An Exploration of the Spatiotemporal Distribution of Snow Crab in the Eastern Bering Sea: 1982-2018.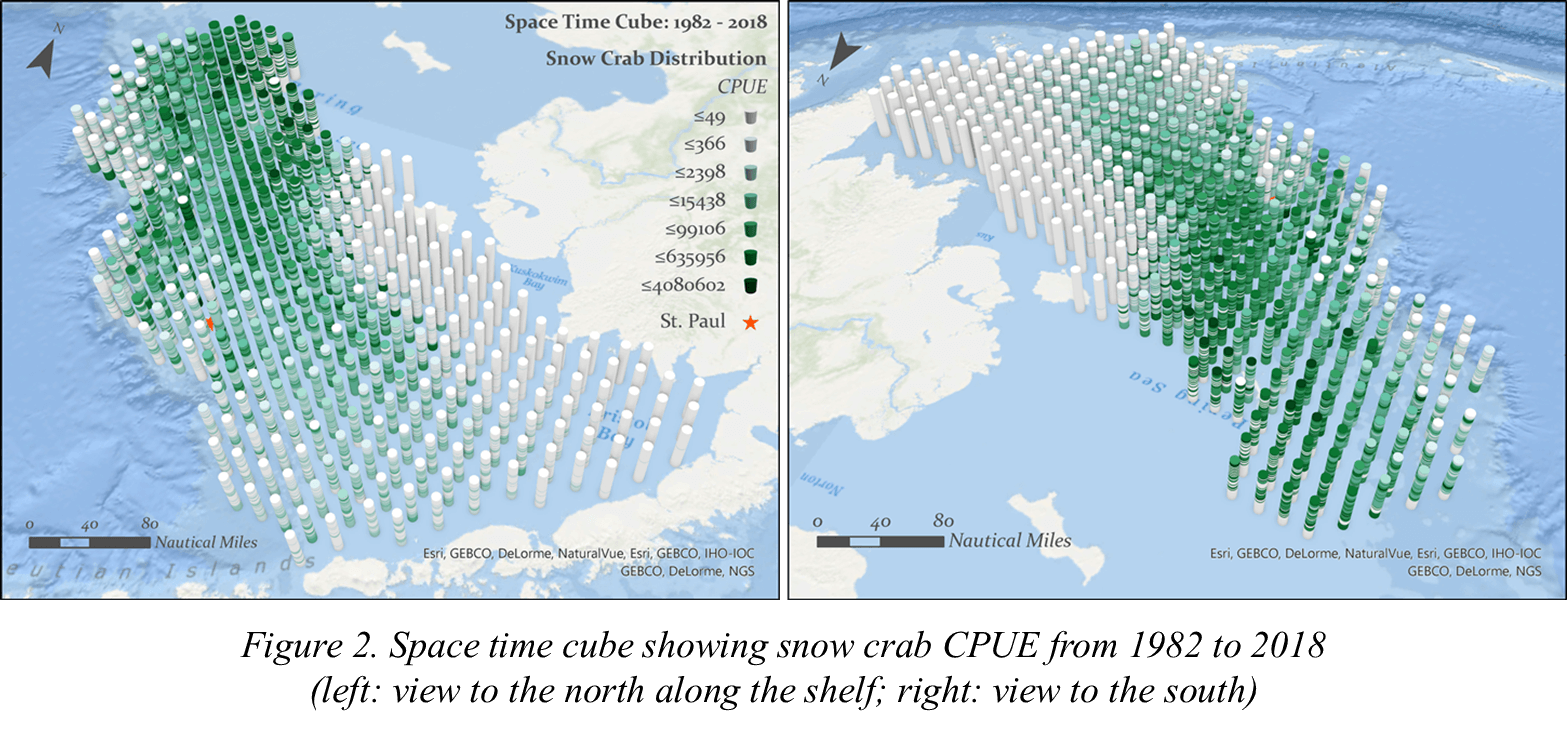 "Bryna's poster stands out among others as she creatively used the space-time cube to visualize and analyze the spatiotemporal data of the snow crab, to understand their abundance and distribution pattern over space and time, and whether climate change has an impact on it."

—Canserina Kurnia, Senior Solution Engineer—Education, Esri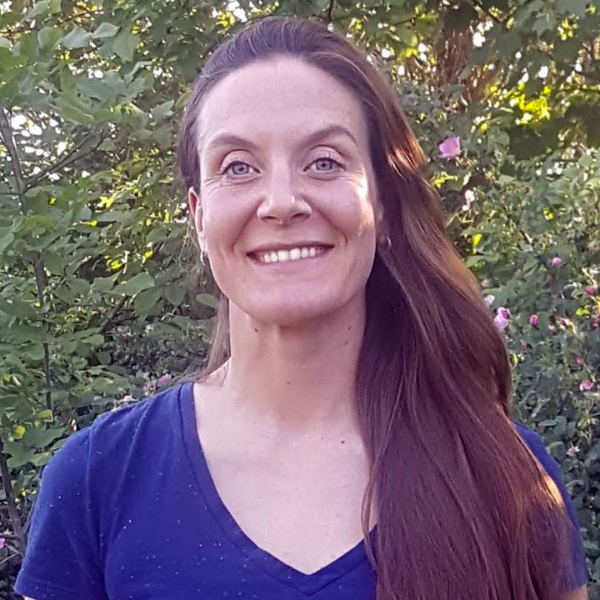 Introduction to GIS
Mills was introduced to geographic information system (GIS) technology in 2013 through an introductory course during her undergrad coursework in marine biology. She then spent the following years working in Alaska for fisheries, collecting data as a field biologist. In 2018, Mills joined the master's program at USC, where a spatial analysis course made a larger impact. "I am a visual person, an illustrator, I like to see things . . . [and] GIS is perfect for that," Mills stated. She also participated in the 2018 Esri User Conference as a student assistant.
As her interest continued to grow, Mills wanted to stick with the technology and do more GIS-focused projects. By furthering her own education and experience through self-learning resources available online, such as Esri Academy, Learn ArcGIS, and Esri Documentation, and focusing on ArcGIS Pro during her master's program, her passion for GIS helped frame her thesis early on.
"GIS lets me integrate, analyze, and visualize data, providing a full life cycle platform to go from data point to communication to decision-making. I don't know why anyone wouldn't want to use this!"

—Bryna Mills, Graduate Student, USC
Combining Passion with GIS
Through Mills's work as a field biologist, she wanted to further explore and map the shift changes of snow crab distribution. Mills applied the space-time cube analysis to the 37 years of data to help gain a sense of the temporal changes and trends and their abundance and distribution. Mills also explored different aspects of these ecosystems and if there was a species shift due to climate change. By looking at ecological variables and the regression model at a local vs. global scale, this helped Mills visualize the patterns and understand the movement of snow crabs within the Eastern Bering Sea.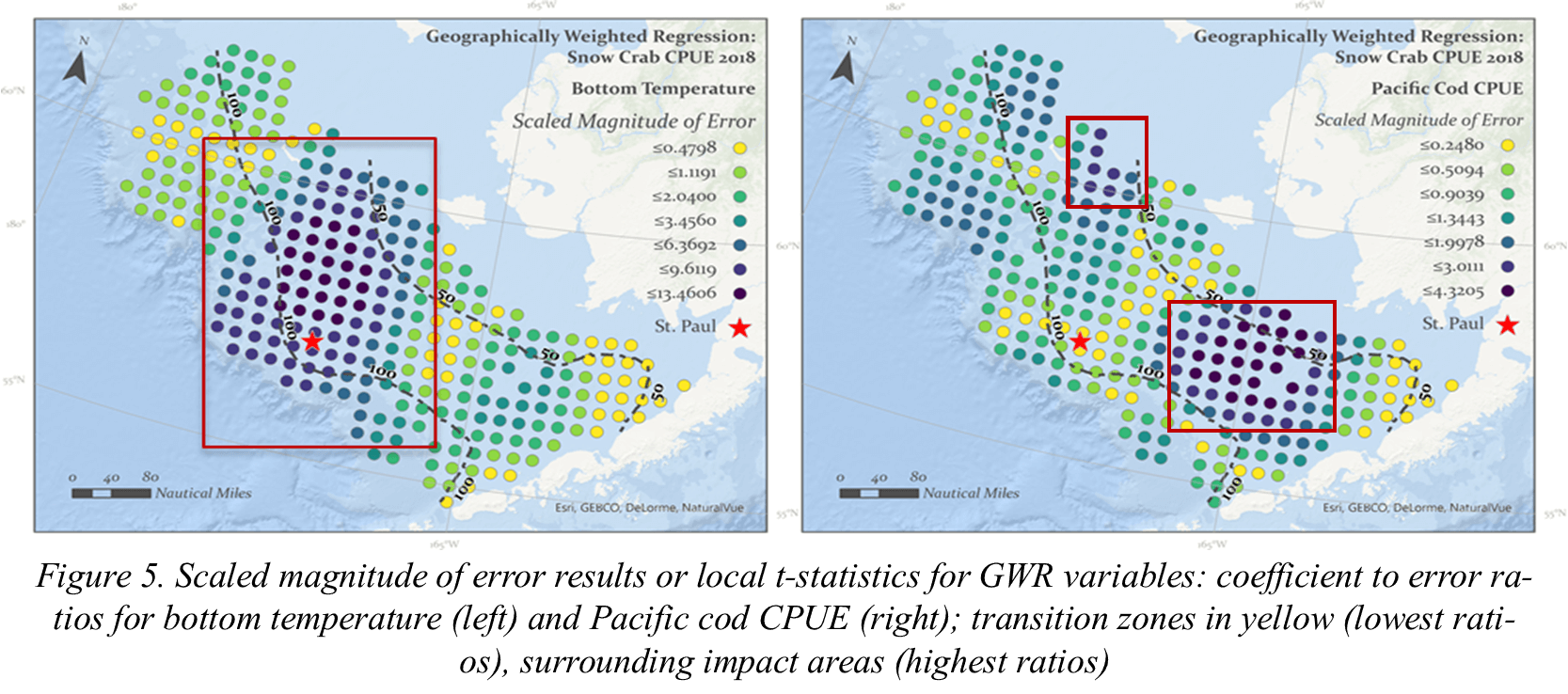 "I was shocked and surprised to hear the great news that my poster won the competition! My adviser talked me into submitting it and I am glad to receive that encouragement."

—Bryna Mills, Graduate Student, USC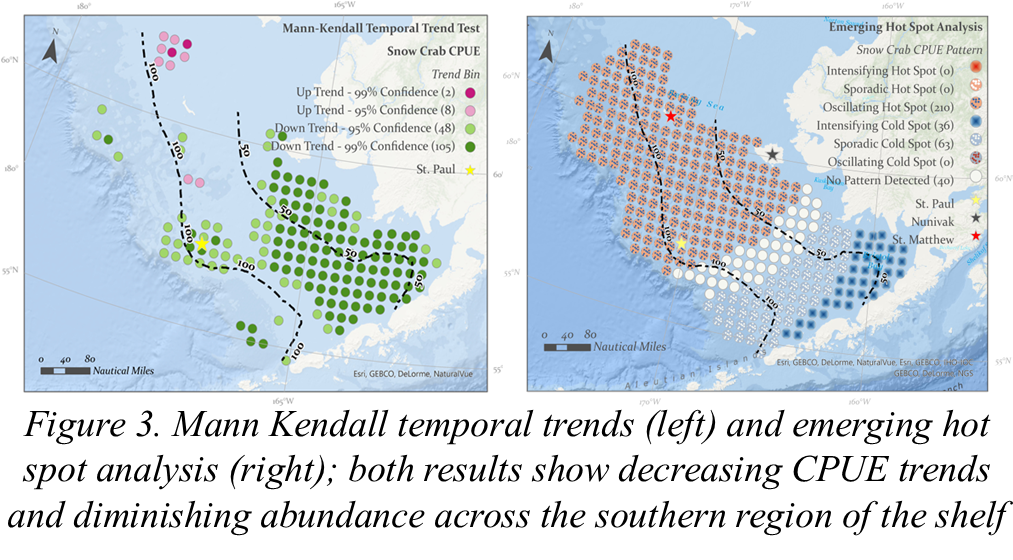 Mills's work is an excellent example of just how essential GIS can be in understanding the world around us and how species may move due to human- or climate-made impacts. This project earned her one of the top spots at the virtual poster competition at the 2021 LA Geospatial Summit. Mills thrives on continuing her GIS learning journey by adding Python programming and Web GIS into her skills.
GIS is just awesome! It enables anything you want to do with any kind of data.
If you are a higher education student seeking to learn more about incorporating GIS into your academic studies and research, explore the Learn ArcGIS website specifically made for students. This website provides a student-centric experience with curated content such as geospatial lessons, videos, learn paths, and access to free ArcGIS software.
Learn more about incorporating GIS in higher education.