The number "5" is unique and has some special significance …
In numerology, it is the most dynamic and energetic single-digit number
There are 5 senses: sight, hearing, smell, taste, and touch
Giving a "high five" is considered to be a sign of 'congratulations'
The Olympic Games have a symbol with 5 interlocking rings of different colors
Star Wars Episode V: the Empire Strikes Back is commonly considered to be the "best" movie in the series.
In keeping with this tradition, the forthcoming release of Web AppBuider for ArcGIS embedded in ArcGIS Online will have many new features, many based on user feedback and requests.
5 new themes
Many users wanted more options to change the look and feel of their web apps, and this release will have 5 additional themes to choose from: Billboard, Box, Dart, Jewelry box, and Launchpad.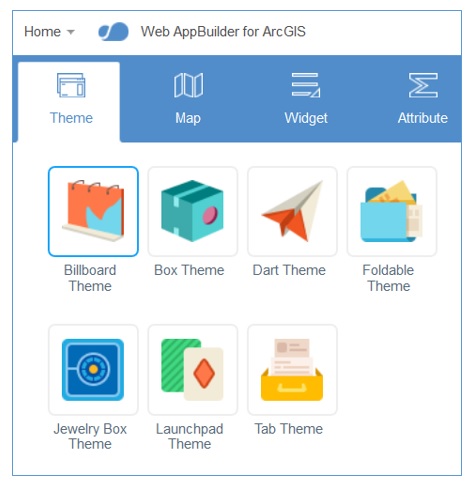 5 new widgets
Many users asked for more functionality, and the team has worked hard to add 5 new widgets:
Search widget – This is designed to replace the existing Geocoder widget. In addition to the functionality in the Geocoder widget, it also provides functionality that allows searching and suggestions on multiple sources.
Stream widget – This visualizes and controls real-time data feeds from stream services (from the ArcGIS GeoEvent Extension for Server).
Summary widget – Allows you to dynamically summarize numeric attributes for features based on the map extent.
Incident Analysis widget – Enables you to define an area of interest and understand what's happening around the area such as current weather, demographic info, and features close to the area.
GeoLookup widget – Enables you to geo-enrich a list of supplied latitude and longitude points. You supply a CSV file of points to the widget and it will intersect the points with layers on the map to get values associated with the points.


Other enhancements
Some additional enhancements to Web AppBuilder for ArcGIS include:
Option to have widgets already "opened" when the web app starts up
Geoprocessing widget – support for uploading data for use in a GP service which has upload capability
Layer List widget – configurable context menus
A Zoom Slider widget that provides an interactive +/- zoom control in the map display
Better responsive support for the Foldable theme and Tab theme
Configure the sorting rules for query results in the Query widget
Support Image Service Vector Layer and Image Service Layer
Many bug fixes (including the ability to download the source code of finished web apps from the item details page in ArcGIS Online).
FYI: In an earlier ArcGIS Online July update release announcement, it stated the following for Web AppBuilder,
A new Workflow widget will build the communication among individual widgets so that the output of one widget can be the input of another.
There will be support for persisting the app and map state.
These two enhancements are still being developed and refined and will NOT be part of the next Web AppBuilder for ArcGIS update. They will be part of a later Web AppBuilder release.
We're looking forward to seeing the user community leverage some of the new functionality above soon!
Sincerely,
The Web AppBuilder for ArcGIS Dev team