Community Maps Imagery Updates
It is looking to be a very productive year for our Community Maps Program.  Over the last two months we have updated our World Imagery basemap with high-resolution aerial imagery contributions ranging from 4 to 30cm.
A few highlights:
21 US Counties
9 Canadian City and/or County-wide contibutions
Complete State/Province-wide contributions in Spain, Switzerland, and Germany
See What's New in Community Maps Imagery (2018) to explore a series of bookmarked locations and a full listing of 2018 Community Maps Imagery publications by month.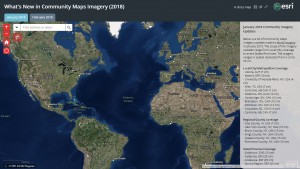 DigitalGlobe Imagery Updates
So far, in 2018, we have published more than 35 Million KM² of DigitalGlobe satellite imagery.  Most recently we published 1m coverage of the following:
Mexico
Argentina
Saudi Arabia
Oman
Yemen
Egypt
Ethiopia
Libya
Western Sahara
Morocco
Mauritania
Tunisia
Algeria
Mali
Niger
Sudan
South Sudan
Somalia
Tanzania
Kazakhstan
Turkmenistan
Uzbekistan
North Korea
South Korea
Azores
Cape Verde
Canary Islands