We're pleased to announce that version 1.3 of AppStudio for ArcGIS is now available.  You can get the new version of AppStudio by logging into http://appstudio.arcgis.com or downloading AppStudio Desktop and Player from the download page.
This release includes new support for Android and iOS virtual devices, Enterprise logins using OAuth, a configuration tool for local Make, and updates to the AppStudio templates.
Here are the highlights for what's new with AppStudio 1.3:
Virtual device support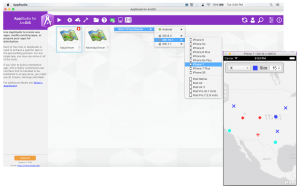 AppStudio now includes support for both Android emulators and iOS simulators created on your desktop machine. Any virtual machines created either through Xcode or Android Studio can now be automatically opened from AppStudio, which will then launch AppStudio Player on the virtual machine with access to all of your app files. This provides a convenient way to test your app on multiple platforms directly from your desktop development environment. Also, AppStudio Player automatically connects to AppStudio Console when running in an emulator/simulator, thus making it ideal for debugging.
Note: AppStudio supports Android emulators running Android 6.0 (Marshmallow) and above. (this does not change the system requirements on physical android devices)
Enterprise logins
Previously, Android and iOS apps created in AppStudio couldn't handle OAuth authentication requests from a web base identity manager, meaning that in many cases ADFS/SAML couldn't be used for enterprise logins. This isn't the case anymore, with an update to the WebView component solving this limitation and full support OAuth authentication. Enterprise logins now work on all operating systems supported by AppStudio.
Local Make configuration tool
The new advanced configuration tool streamlines the process of setting up a local build environment and associating AppStudio with an external Qt kit. While this isn't necessary for the majority of users, people who need to use local Make, use a different version of Qt than provided, or otherwise need a separate version of Qt than provided with AppStudio, will find the process far easier with the aid of the advanced configuration tool.
AppStudio templates
The AppStudio app templates have been updated with several design, usability and functional enhancements, along with various bug fixes.
Map Tour Template: Map Tours can now be sorted either by name or distance from the user, and now supports story map videos directly within the app.
Map Viewer Template: Maps can now display map credits, scale, map units, location accuracy and an interactive list of map layers.
Quick Report Template: The Quick report template has been redesigned with a new look and feel. It now supports multiple photos in one report, embedding a web map, as well as creating and editing reports when offline.
In addition, these templates are now available within AppStudio Desktop as well as the AppStudio website through the new Templates section of the New App window.
Other improvements in AppStudio 1.3
Qt components have now been upgraded to 5.6.2.
AppStudio Console now provides a QR code to connect to it through. Player, in turn, now has a barcode scanner.
The camera interface is now capable of identifying if camera flash is supported.
Various UI improvements have been made to AppStudio Player.
Keep your eyes out for follow-up blog posts about AppStudio 1.3 with more details about the updated templates and working, virtual devices, and developer tips-n-tricks.
See the "What's new" section of the online help for more details the new features and improvements in AppStudio 1.3. And sign-up for an ArcGIS trial account to get a 60-day trial of AppStudio Standard including all the development tools of AppStudio Desktop edition.
Visit us on the AppStudio GeoNet Group