The April 2022 release of ArcGIS Earth is here! This latest release comes with several new features, enhancements, and bug fixes, including: support for Vector Tile Layers, KML multi-selection and batch editing, attribute tables, an on-screen navigation controller, and 3D labeling. Building on to the closer integration with ArcGIS Online and ArcGIS Enterprise portals over the last few releases, the newly added capabilities of the April 2022 release continue to expand and enhance analytical workflows in ArcGIS Earth.
Highlights are described below:
New Features
Vector tile layer support
A vector tile layer references a set of web-accessible vector tiles and a corresponding style that dictates how the tiles will draw. Vector tile layers are similar to web tile layers, but they store a vector representation of the data instead of a raster representation. Because the data and the visual style are separate, vector tile layers can be customized to the map, which drives dynamic, interactive cartography.
This has been a highly requested and long-awaited addition to ArcGIS Earth and we are happy to introduce vector tile support to our users with this latest release. Users can now add vector tile layers to the My Data folder, Startup layer folder, or set them as the basemap depending on the data and what suits your workflow. Additionally, ArcGIS Earth now also supports vector tile packages (.vtpk) which are referenced from a local disk to further expand ArcGIS Earth's offline and disconnected capabilities.
Navigator
A new on-screen navigator control has been added to support more flexible navigation on the globe! By default, this new on screen navigation option is not enabled, but is easily accessed in the ArcGIS Earth application settings menu. A new option has been added to the Navigation menu called 'Enable navigator control'. Simply tick this option on and the navigator control will appear in the lower right corner of the viewport.
Working together with ArcGIS Earth's mouse and keyboard navigation, the new Navigation control allows for more flexible navigation of the globe by adding zoom functionality, viewport navigation, vantage point and orientation control into a sleek and user friendly on-screen component.  North compass and home buttons are also integrated into the navigator to allow for re-orientation back to North-Up, and return to your preset 'Home' view, respectively. We're looking forward to hearing your feedback on this new way to navigate in ArcGIS Earth!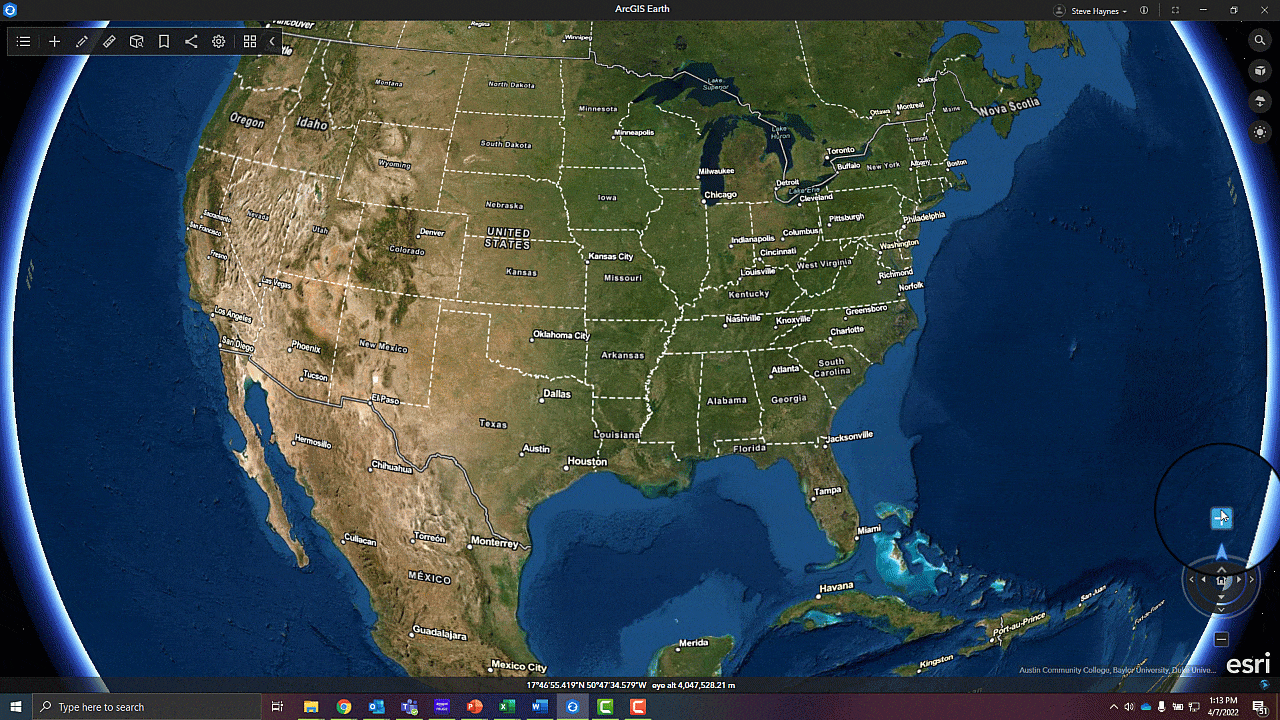 3D labeling
Labeling features is useful to visually display information or attributes on a scene. With the new 3D labeling capability in ArcGIS Earth you can customize the style and visualization of labels on the fly, and set the label position and label style in a 3D global view. The example below shows how 3D labeling can be used concurrently with 3D symbols on the global scene to add context to the information being displayed. In this case we are displaying NOAA storm report data as symbols, with the reported comments as 3D labels. These labels have been colorized to match the associated features, positioned at the top of the points, and visually adjusted to remove overlapping labels for a better viewing experience.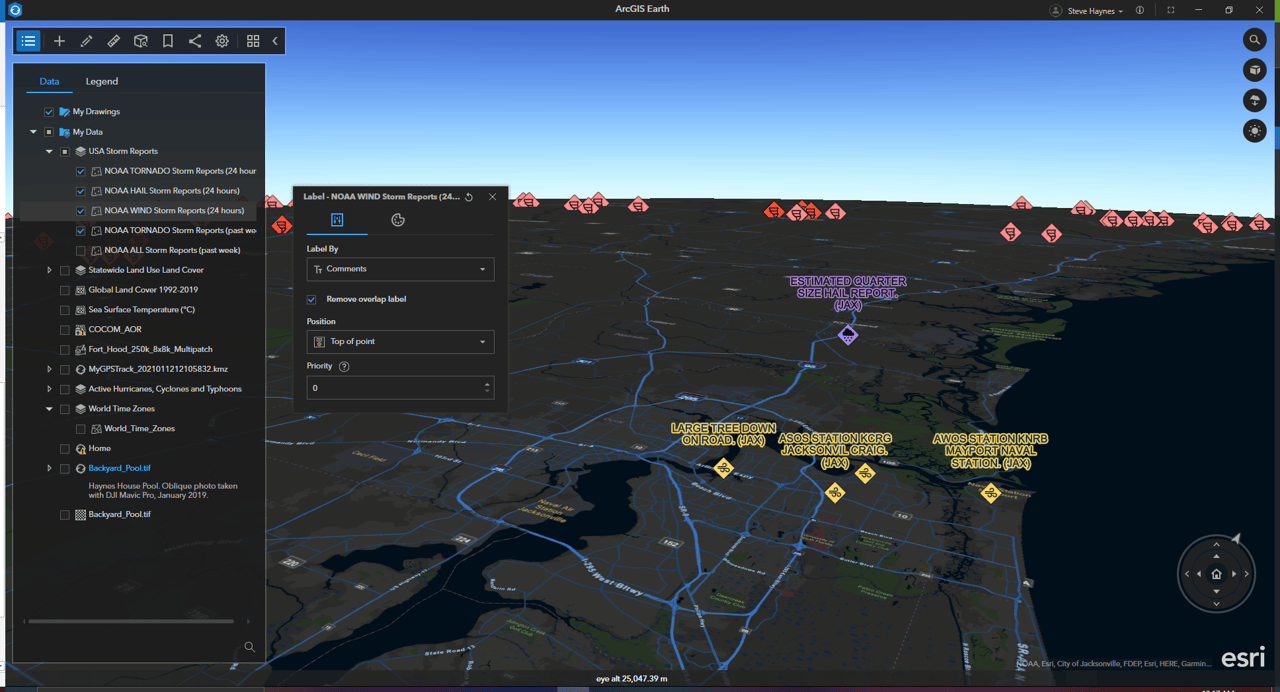 Attribute table
Tabular information is the basis of geographic features, allowing you to visualize, query, and analyze your data. In the simplest terms, tables are made up of rows and columns, and all rows have the same columns. In ArcGIS, rows are known as records and columns are fields. Each field can store a specific type of data, such as a number, date, or piece of text.
ArcGIS Earth now supports deeper analysis workflows through the addition of an attribute table directly in the application! Use the attribute table to highlight selected features in the table and on the globe, filter for desired fields, filter table display to only show features within the current viewport, as well as export selected features as KML.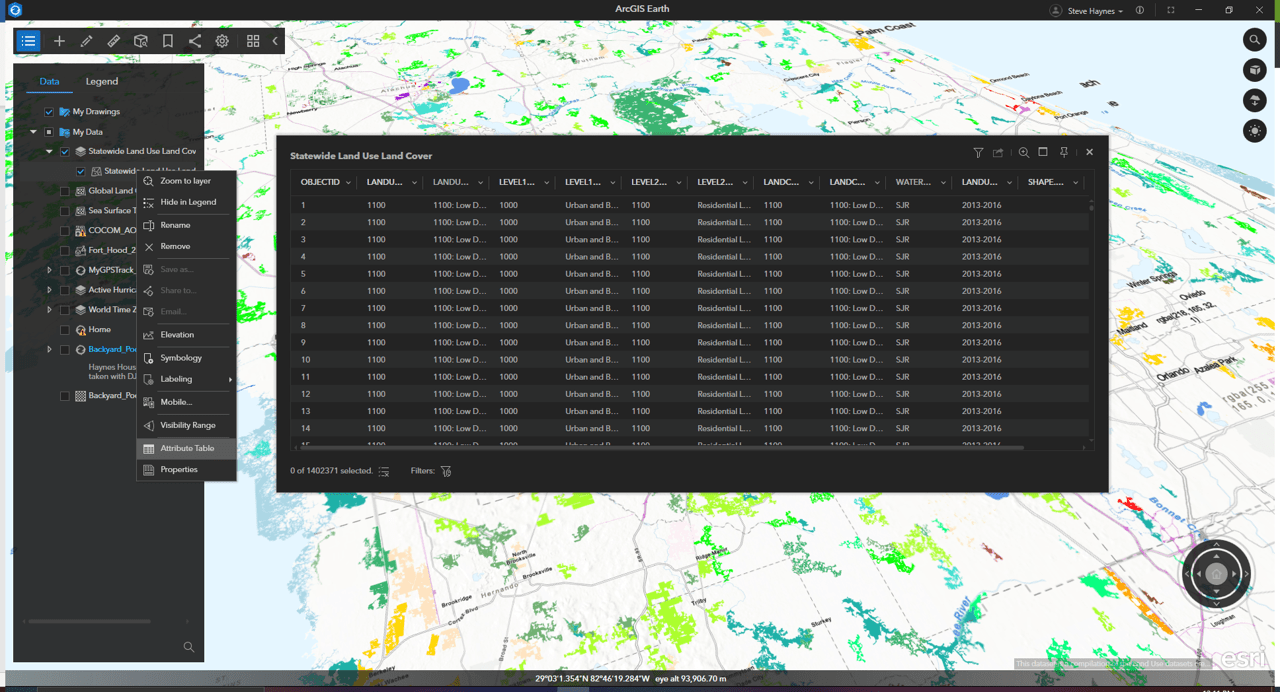 Enhancements
Automation API auto-start setting
The ArcGIS Earth automation API can now be enabled directly through an autostart switch in the application's advanced settings.
Add Startup layers to My Data
Layer data stored in the Startup layer folder can now be added to the My Data folder with one click from the layer's context menu.
Image display order
Building onto the mosaic image dataset support, introduced in v1.14, users now have the ability when working with these types of imagery layers in ArcGIS Earth, to modify the image display order and determine how to resolve overlapping areas.
KML multi-selection and batch editing
This latest release also adds these highly requested enhancements to KML interaction and editing within ArcGIS Earth.  Users can select multiple KML nodes by pressing Ctrl or Shift while selecting the nodes. Multiple KML nodes with the same geometry type can now be edited together. Users also have the option to batch edit all the layers stored in a folder.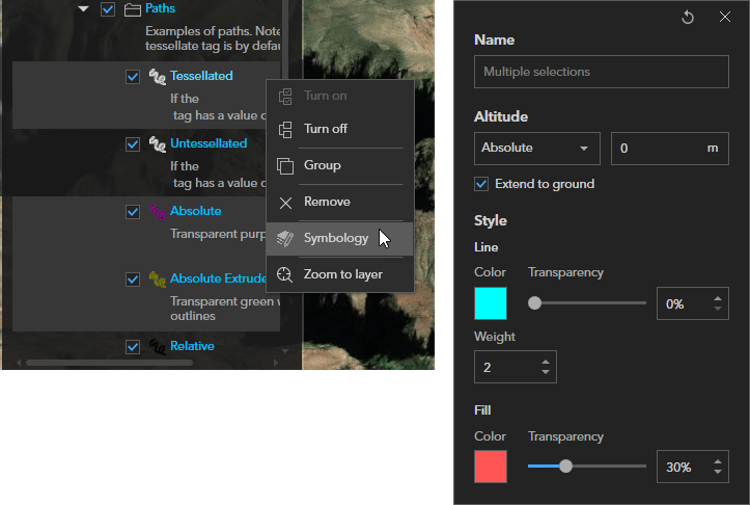 ArcGIS Earth mobile version 1.5 was released in March 2022 with several exciting updates as well! Check it out on the Apple App Store and Google Play Store.
We're excited to share these improvements with our ArcGIS Earth users and are looking forward to adding many more in the future. To learn more about ArcGIS Earth, visit our website. You can also download the newest release of ArcGIS Earth mobile and desktop, and visit the ArcGIS Earth Resources page for free training materials and tutorials. And as always, we love to hear user feedback and encourage users to get involved in the ArcGIS Earth Esri Community.
Stay tuned for additional mobile content and feature deep-dives!