---
Experience what's possible with curated collections of hands-on tutorials.
Try ArcGIS Earth
Learn the basics, conduct viewshed analysis, evaluate line of sight and historical events, and re-create the D day battlefield in this path.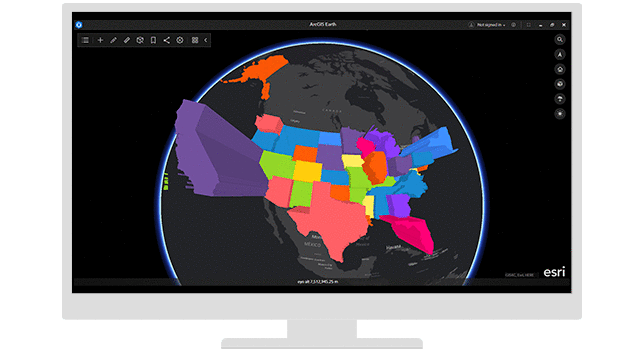 Documentation
---
Find answers and information so you can complete your projects.
Show More
Videos
ArcGIS Earth: An Introduction

Get a complete overview of ArcGIS Earth and its powerful capabilities for 3D visualization in this introductory webinar.

ArcGIS Earth overview

Learn about ArcGIS Earth with this demonstration from the 2020 Esri Federal GIS Conference Plenary Session.

Take a Trip to the Movies with ArcGIS Earth

Discover new features and learn how to use key capabilities while exploring five famous movie scenes.

ArcGIS Earth: Working Offline

In this session from the 2020 Esri User Conference, learn how to take your work offline with mobile scene packages on a laptop or mobile device.
Show More
Training classes
Get Started with ArcGIS Earth

ArcGIS Earth is a simple, lightweight, easy-to-use desktop application. In this lesson, you'll explore the earth with a variety of sample data ranging from global to local in scale.

Introduction to 3D Data

Create 3D visualizations using real-world context to see your data in its true perspective, to make better decisions, and to communicate your ideas more effectively and efficiently. In this course, you will learn about the types of data that are used to model the real world in 3D scenes, including functional surfaces and 3D feature types.

Get Started with Visibility Analysis

Exploring data in 3D allows you to simulate different viewpoints and gain insight into real-world visibility conditions. Enroll in this plan to learn techniques to determine visibility between vantage points on a given line of sight or across an entire viewshed surface.
Show More
Guides
---
Use these resources to lead you through setup and configuration.
Show More