The November 2021 release of ArcGIS Earth brings several new features, enhancements, and bug fixes.
Over the last several releases, config.xml distribution has been improved across the ArcGIS ecosystem. Starting with ArcGIS Online 9.1 and now in the freshly released ArcGIS Enterprise 10.9.1, ArcGIS Earth configuration files can be uploaded and hosted as .xml files. In the newest release of ArcGIS Earth, users have the ability to share local configuration files with their organization as .XML files directly through the ArcGIS Earth Configuration Manager. We reviewed this workflow in a recent blog and will be posting a follow-up to dig even deeper in the near future – keep an eye out!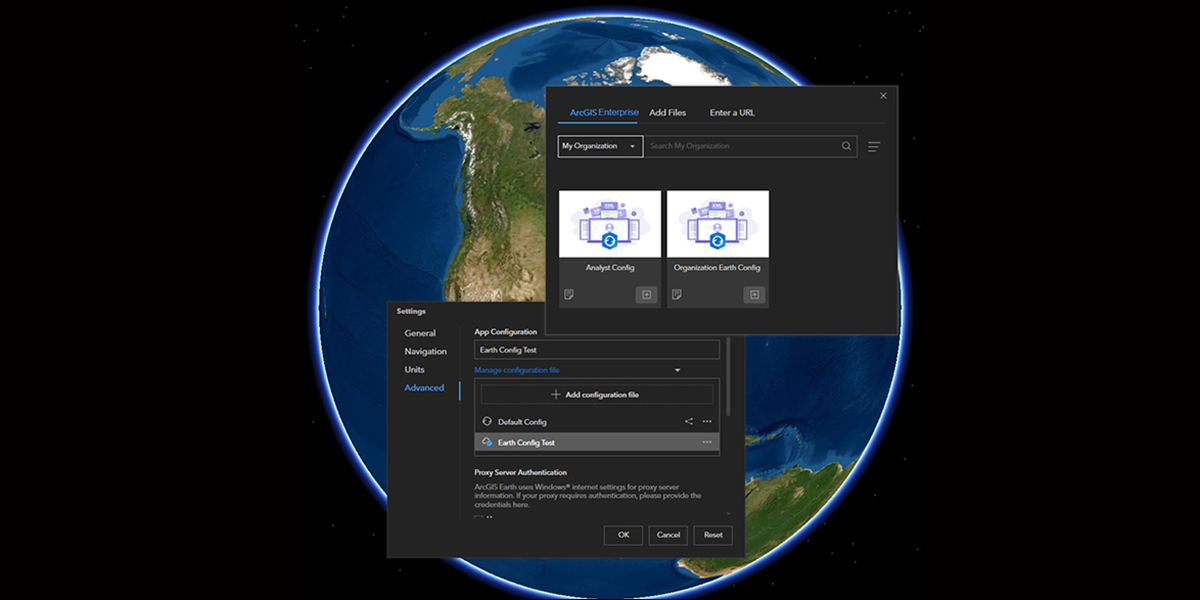 In addition to this expanded interoperability with ArcGIS Enterprise, this new release also includes several features and enhancements that we're excited to share!
Features
The following features have been added or improved:
Support for New data types
Earth's library of supported data formats has been expanded further with the addition of two new types:
OGC GeoPackage, an open, standards-based, platform-independent, portable, self-describing, compact format for transferring geospatial information.
Mobile map package (.mmpk), which is a compact data type designed for offline usage. Maps, address locators, and routing networks can be compiled to individual mobile map packages using ArcGIS Pro and can be used across the ArcGIS platform.
Processing templates
Image rendering capabilities have greatly improved by providing server-side processing templates associated with image services for on-the-fly rendering and powerful visual analysis. If processing templates have been added to rasters, a preview thumbnail and information about the name, description, and help will be displayed for each processing template. Available processing templates and options can be accessed through the image properties menu. Vegetation indices, elevation products (such as slope, aspect, and hillshade), and image classification results are just a few of the kinds of information layers that can be derived using raster functions.
Freehand drawing
A new freehand drawing mode has been added, which allows you to create lines and polygons that follow the movement of your pointer. This function is easily enabled by pressing the ALT key while clicking the mouse when creating lines or polygons using the draw tool in ArcGIS Earth.
Enhancements
The following enhancements have been added:
Customize layer icons in the table of contents
Layer icons in the table of contents can now be customized per layer/folder type, and per layer. Per layer customization can easily be performed by hovering over the layer icon and clicking the edit button pop up, while customization of the layer/folder type icons is managed with the new icon_config.json file. Detailed information on customizing layer icons in the table of contents can be found on the ArcGIS Earth Resources Page.
Pop-up resize
A new parameter has been added to the ArcGIS Earth configuration file which allows for customization to how pop-ups display in ArcGIS Earth.  Pop-up size mode can be switched from Fixed to Auto Resizing in the configuration file. When the pop-up size is in Fixed mode, pop-up width and height can be preconfigured and applied for all pop-up windows. When the mode is switched to Auto Resizing, the pop-up size becomes automatically adjusted based on the pop-up content.
Support overall KML layer transparency
The KML layer transparency can now be adjusted in the KML layer Properties panel at the parent node. The transparency setting will take effect for the entire KML layer, including all the child nodes of the KML layer.
Elevation exaggeration
The elevation exaggeration tool has been redesigned with the maximum value increased to 100 on the scale bar. This update allows for the creation of dramatic global visualizations and enhanced terrain analysis. The maximum value of exaggeration can be configured to 1000 in the ArcGIS Earth configuration file if needed.
Sign in using a browser
The ability to sign in using a browser is now available as an option for signing into ArcGIS Online or ArcGIS Enterprise portal. Browser sign in can be set as the default option for sign in.
Block new portal connections
A new administrator parameter, disableAddPortal, has been added in the ArcGIS Earth configuration file to allow for disabling ArcGIS Online or ArcGIS Enterprise portal connections in Portal Manager.
To learn more about ArcGIS Earth, visit our website. You can also download the newest release of ArcGIS Earth mobile and desktop, and visit the ArcGIS Earth Resources page for free training materials and tutorials.