ArcGIS Earth is a free and easy-to-use tool for visualizing and exploring 3D content on desktop and mobile devices. Collaborate and plan on an interactive 3D globe, both online and offline, to gain situational awareness for improved decision-making.
Highlights
ArcGIS Earth just reached a major milestone with its highly anticipated 2.0 release! The development team has been working tirelessly to migrate the entire ArcGIS Earth codebase from ArcGIS Runtime SDK for .NET to the new ArcGIS Maps SDK for .NET. Upgrading to the new ArcGIS Maps SDK for .NET offers many benefits, including improved performance, additional features, enhanced security measures, and long-term support and maintenance.
In addition to migrating the entire codebase to the ArcGIS Maps SDK for .NET, the development team delivered highly requested features and enhancements in this release. Let us explore the new and exciting features and enhancements that await you in ArcGIS Earth 2.0!
New Features
User Interface Updates
We redesigned the ArcGIS Earth user interface to improve the user experience and provide flexibility. The design team focused on improving the organization of like tools and providing more customization options.
One of the slight, but key improvements was the repositioning of settings and notifications to the title bar. Moving these essential elements to the title bar ensures they are always accessible. Notifications now pop up in the top right corner of the screen and disappear. All notifications will remain accessible by clicking on the notifications bell in the title bar for the duration of a session, unless manually cleared. We hope this change makes notifications less intrusive and distracting.
Another important aspect of the redesign was the consolidation of tools within the user interface. By doing so, all environmental effects tools are now conveniently located in the same place. The team designed this change to help streamline workflows, reduce friction, and clear up space within the user interface for the new quick dock.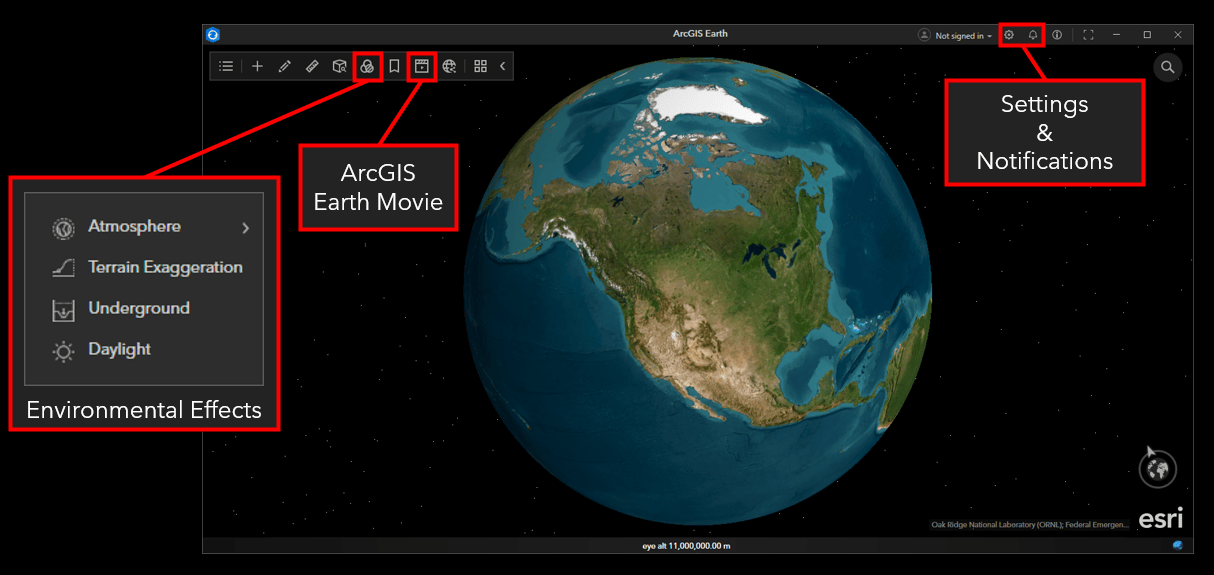 The last major change to the user interface is the introduction of a custom quick dock. Users will have the ability to assign their most frequently used tools for quick access.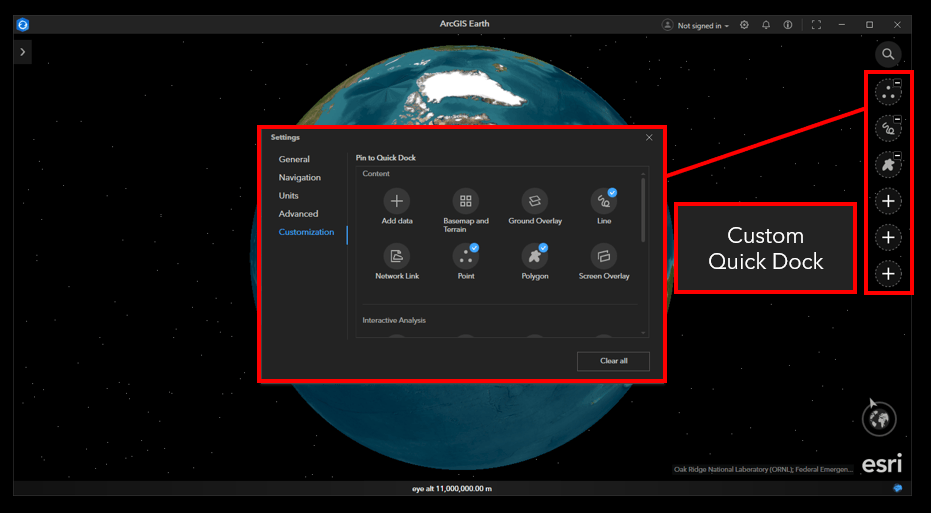 Overall, these updates to the ArcGIS Earth user interface aimed to prioritize efficiency, organization, and workspace customization. We hope that these changes make the user experience more intuitive while also enhancing productivity.
Start Up Tips
The team completely redesigned the startup tips to help guide users through key functionality and updates. All users will receive the startup tips prompt during their initial session. If desired, users can choose to not display startup tips in future sessions. Users can access them from the About menu if they choose to disable them at startup. Whether you are an experienced user, or using ArcGIS Earth for the first time, we wanted to make it easy to jump right in!
ArcGIS Earth Movie
Are you ready to take your storytelling and presentation skills to the next level? With ArcGIS Earth Movie, you can create professional quality movies that are sure to impress. Whether you are an experienced content creator or just starting out, ArcGIS Earth's intuitive interface was designed to simplify the process of integrating geospatial data into movie production.
Create a Movie
Movies are created using tracks and blocks. This method is highly customizable and will enhance storytelling and bring your creative vision to life. You now have complete control to craft stories your way, enabled by six tracks. Within each track users will have various blocks to choose from, which represent specific animation effects or actions in the movie. The six tracks available are:
Camera – Capture the camera movements in the scene.
Environment – Add various ArcGIS Earth environment effects.
Data – Access data added from the table of contents.
Marker – Add screen, ground, or location markers.
Text – Add a caption, text box, or location text.
Audio – Manage audio effects.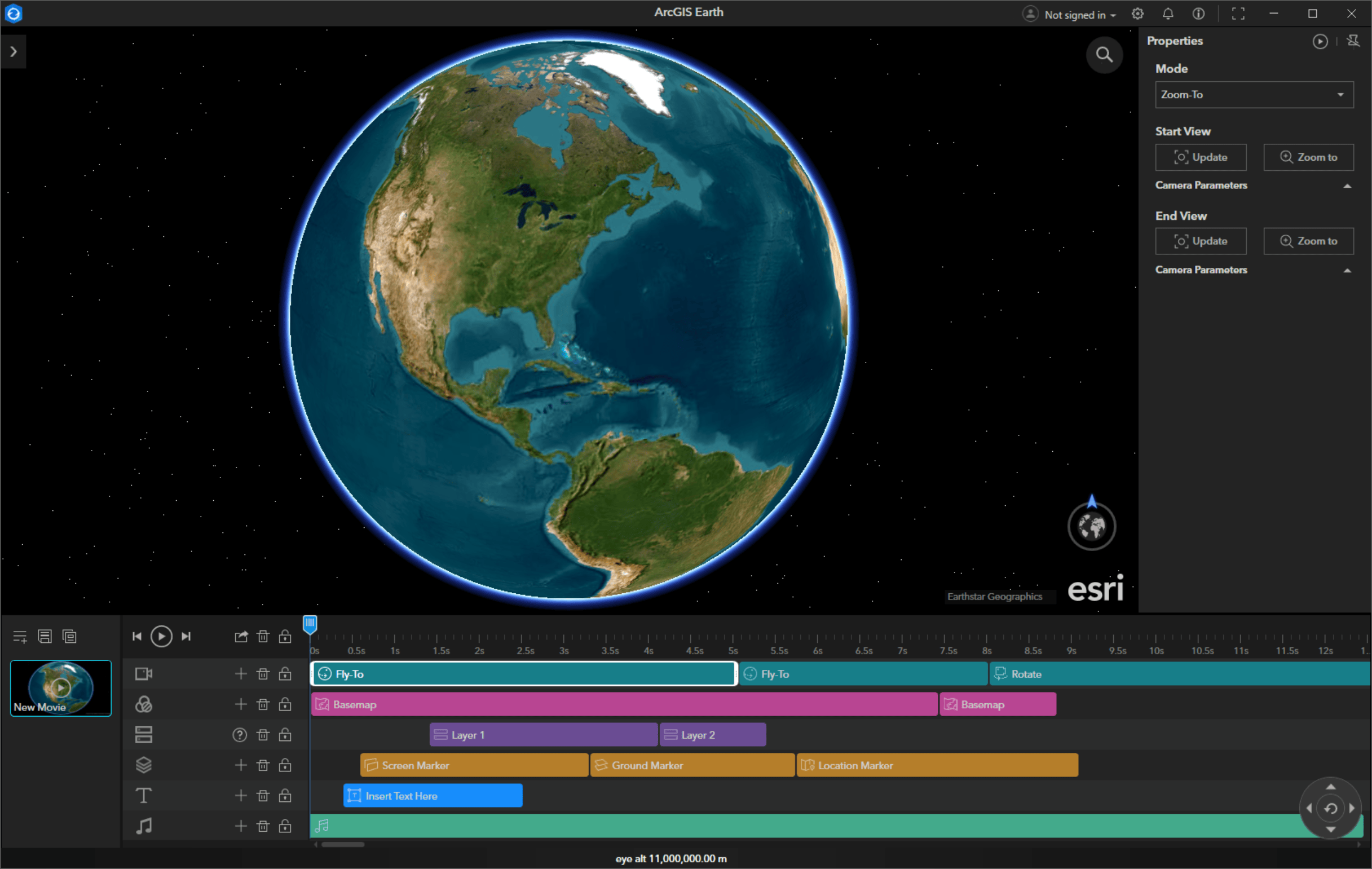 ArcGIS Earth's interactive 3D globe allows you to edit, preview, and export movies powered by the ArcGIS system. With the integration of GIS data into movie creation, users can harness the power of spatial information to enhance storytelling. Whether retelling a historical event, presenting a project proposal using a digital twin, or demonstrating the effects of climate change over time, using an interactive 3D globe to curate content will open new and unique storytelling possibilities across industries.
Limitations

Feature Service Editing
Feature service editing has been a highly requested and anticipated ArcGIS Earth capability. It will be a game changer for organizations that have made an investment in ArcGIS Online or ArcGIS Enterprise. With this new capability, individuals from various departments and backgrounds can now actively participate in maintaining and improving the accuracy and relevance of their organization's geospatial information.
With its intuitive user interface, ArcGIS Earth empowers individuals who may not have extensive GIS training or expertise to directly contribute their knowledge and insights to spatial datasets. Enabling a broader workforce to edit feature services will streamline workflows and reduce the dependency on GIS staff by freeing them up to work on projects more suited to their skillset. When organizations give individuals from different departments or teams a means to contribute, they will open a world of possibilities for collaborative decision making. The benefits gained from their diverse perspectives and contributions to organizational data might have otherwise been overlooked. Let's explore this exciting new capability!
Editing Feature Services in ArcGIS Earth
Users can edit 2D and 3D feature services in ArcGIS Earth when connected to ArcGIS Online or ArcGIS Enterprise. The editor tool bar and editor windows are two main user interface elements be familiar with.
Editor Toolbar – The editor toolbar is enabled when a user initiates an editing session. A quick overview of the editor toolbar functions are identified in the image below.

Editor Window – The editor window is the primary location where users will edit feature attributes.
There are three pathways to initiate an editing session:
Right-click a feature service in the table of contents and select Edit from the right-click menu.
Open the attribute table of a feature service and click Edit in the table.
Click Edit from the feature's pop-up window.
The addition of feature service editing is super exciting and addresses a long-standing need within organizations. By enabling cross department professionals to contribute to critical organizational data, this new capability extends the value of an ArcGIS Online or ArcGIS Enterprise investment while fostering collaboration and efficiency.
Limitations
Feature service editing is an online capability only and requires the appropriate ArcGIS Online | Enterprise role and user type privileges. In addition, the feature service must be set to editable. Full support for creating and editing KML are available for disconnected workflows.
Enhancements
KML Node Batch Editing
Batch editing placemark, path, and polygon KML nodes received updates to achieve a consistent and predictable editing experience. You can now quickly identify if the selected layers share the same properties.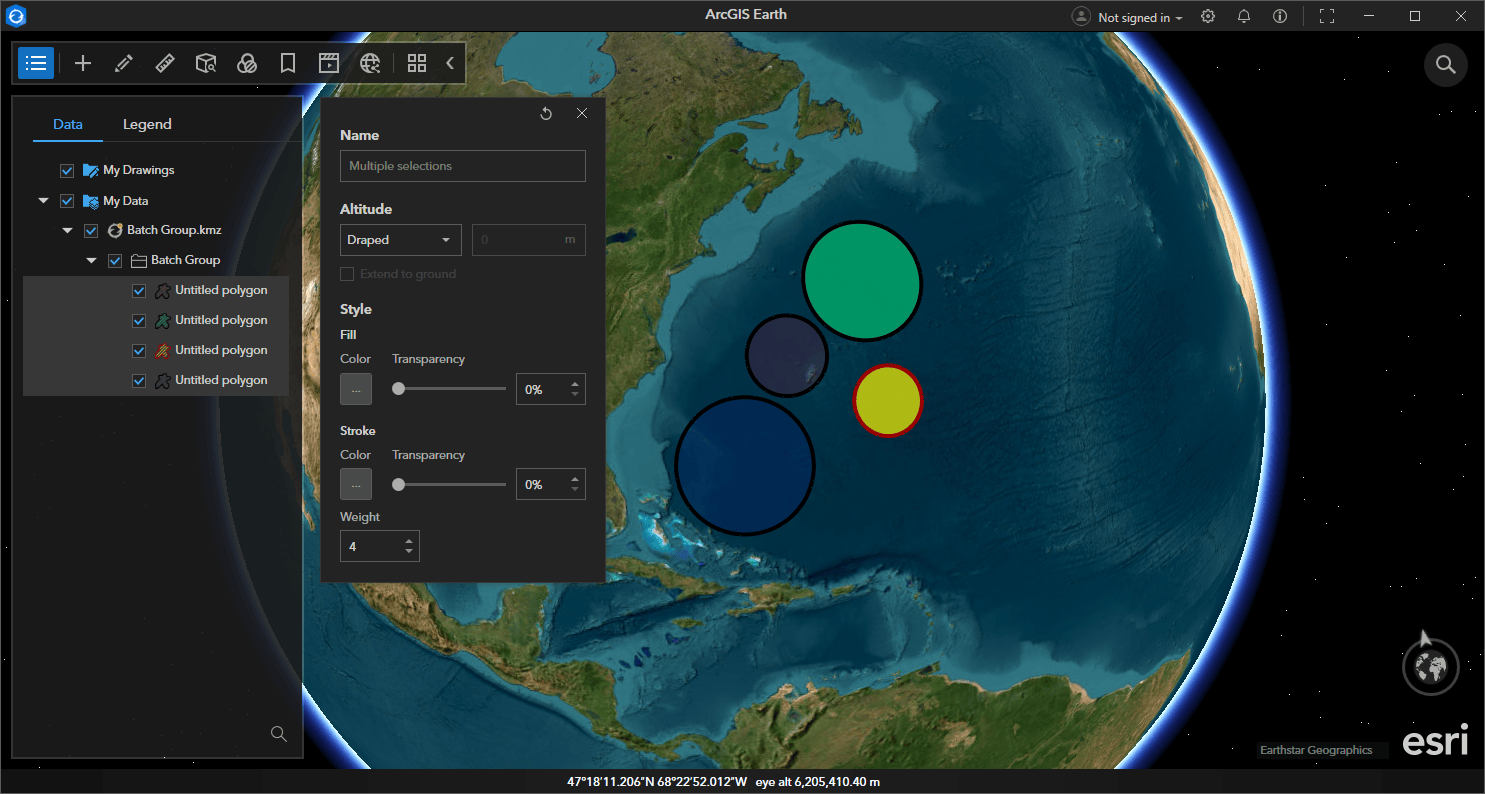 In the example above, the altitude setting reflects Draped because all selected layers share the same altitude setting. If the polygons had varying altitude settings the altitude setting would be blank.
Keyboard Shortcuts Finder
ArcGIS Earth supports a wide array of keyboard shortcuts. In the past, users found the full list of shortcuts online here. With the 2.0 release, users can use the new finder feature to search for relevant keyboard shortcuts offline. The keyboard shortcuts finder available in the About menu.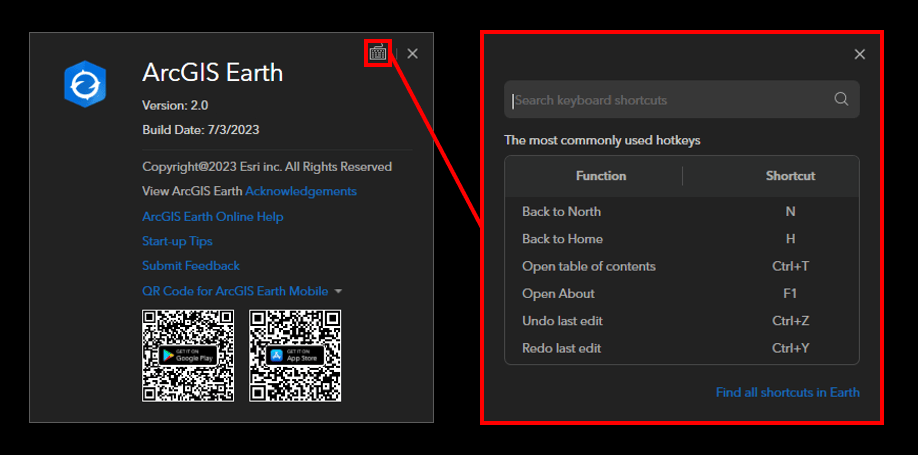 Pop-up Element Improvements
Pop-ups received significant enhancements to improve their representation in ArcGIS Earth. See below:
Pop-ups respect settings from original service.
Support for advanced fonts, tables, paragraphs, and title styles.
Support for images, chart, and carousel service elements.
Support for text elements with ArcGIS Arcade expressions.
Users can now access hyperlinks in a pop-up or external browser.
CSV Workflow Enhancements
Users will notice new workflow enhancements to the CSV workflow user experience. Check out the details below:
Users can quickly identify the geolocation and name fields by the new icons.
Users can edit display name and field type during the import process.
Users can select the fields to include in an output layer.
Users can now import CSV files from a URL.
Bug Fixes