Now that ArcGIS Enterprise on Kubernetes is available to all customers, you might be considering whether this deployment option is right for your organization.
In What is ArcGIS Enterprise 11.0 on Kubernetes, we've described our purpose in bringing this new deployment option to ArcGIS Enterprise, and how Kubernetes can bring specific benefits to our customers and partners. A simple way to think about this is that we are bringing ArcGIS Enterprise to a third operating system. And just like with Windows or Linux, you will need an understanding of how to deploy and manage Kubernetes so that you can successfully run ArcGIS Enterprise running on that technology.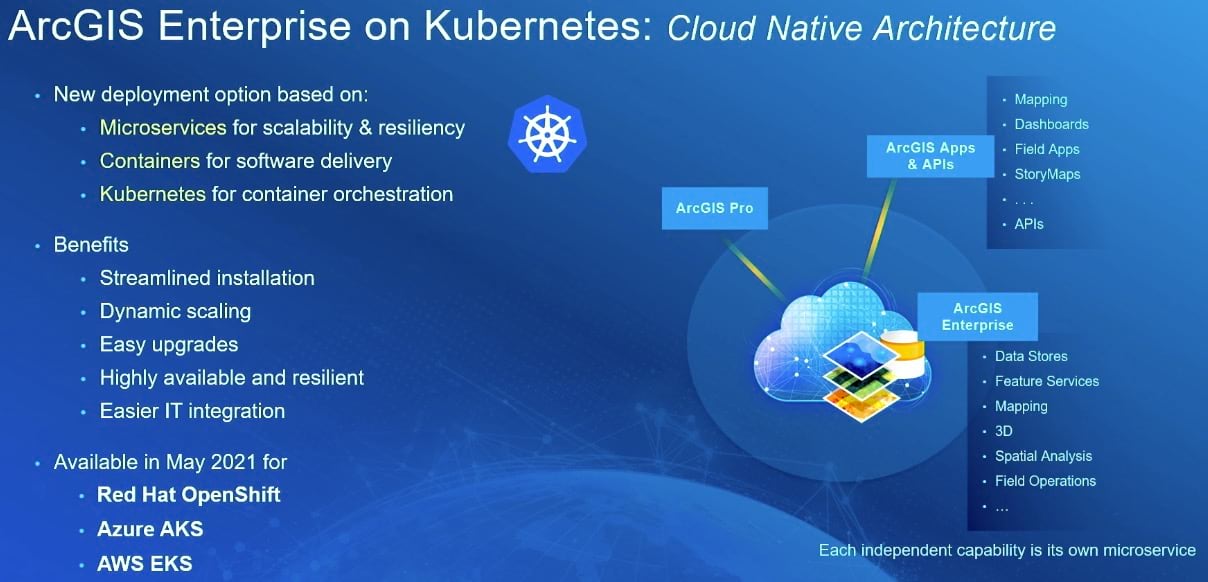 What are the most important considerations?
Deciding whether ArcGIS Enterprise on Kubernetes is a fit for your organization will depend on several things: The functionality currently available, your organization's ability to stay current with the ArcGIS Enterprise software, and your team's familiarity with Kubernetes itself.
Available Functionality
There may be some capabilities that exist in the Windows or Linux deployment options, although we generally include advanced-level capabilities for ArcGIS Enterprise. For a detailed list, please see the product documentation or read What's new in ArcGIS Enterprise 11.0 on Kubernetes. This may impact whether you can adopt the Kubernetes deployment option at this time. We will continue to ask for your input that helps us prioritize items for inclusion in future releases.
Staying Current with the Software
The ArcGIS Enterprise on Kubernetes deployment option follows a separate and faster product lifecycle from ArcGIS Enterprise on Windows and Linux. See the product lifecycle on the Technical Support page for details. One of our goals with the Kubernetes deployment option is to ease the process of performing upgrades. An upgrade can be applied from ArcGIS Enterprise Manager or from ArcGIS Enterprise Administrator API. There is no need to install additional software, or to manage individual servers or virtual machines during the process. As a result of reducing this technical complexity, we expect that customers using Kubernetes will be able to upgrade at a faster pace. Each version will be retired one year after its release. Technical support and documentation updates will not be available for retired software.
Familiarity with Kubernetes
Perhaps the biggest factor driving your decision whether Kubernetes is right for your organization is your staff's comfort and familiarity with the technology. Kubernetes is a very different environment from Windows or Linux. Esri has product documentation to describe how to deploy and manage ArcGIS Enterprise running on Kubernetes, but we do not provide fundamental training on Kubernetes itself. Instead, we encourage customers to check out the many resources available through training and cloud services providers. Our team can recommend several places to look for help. Cloud providers have learning paths related to cloud native architecture and related services and tools, with extensive courses available. The Cloud Native Computing Foundation (CNCF) is a great resource. Also, check out kubernetes.io where you will find plenty of learning resources and tutorials.
If the goals of scalability, resilience and manageability resonate with you, and your team is using or experimenting with Kubernetes, you will have a higher likelihood of success deploying the software and benefitting from the cloud native architecture.
What are some of the eligibility requirements?
Please talk directly with your Esri representative about eligibility. At launch, the Kubernetes deployment option will be available only to certain Esri customers or partners licensed to use ArcGIS Enterprise and that also meet certain other qualifications. These qualifications include:
An active licensing arrangement with Esri appropriate to the software, such as an Enterprise Agreement
Expertise in deploying and managing Kubernetes along with ArcGIS Enterprise including security configuration, resource management, persistent volumes and more
Having a Kubernetes environment which meets our system requirements
Our goal will always be to help you achieve success in using GIS to solve problems and "See What Other's Can't." Many of our customers and partners are seeking to gain familiarity with Kubernetes because its potential for providing scalability, resilience, and manageability resonates with them. We would like to engage with you in exploring if Kubernetes is right for you.
While ArcGIS Enterprise on Kubernetes is not for everyone, it can certainly help many organizations that have complex deployments and need to keep things manageable, responsive to unpredictable demand, and achieve a high degree of resilience. We hope to hear from you soon!
Commenting is not enabled for this article.