As summer fades into fall and winter, we are entering an exciting period of development here in Hub-world. In the next few months we will be introducing a brand new interface as well as a set of features aimed at not only improving how your residents access your content, but how they engage with the work your organization does to make your community a better place.
As part of our commitment to continuously improve Hub, we often release features ahead of general availability in the form of beta capabilities. This pattern allows our user community to let us know what is and what isn't working for them before changes go out to Hub sites all across the world.
Here's a quick overview of what you can test out today:
More content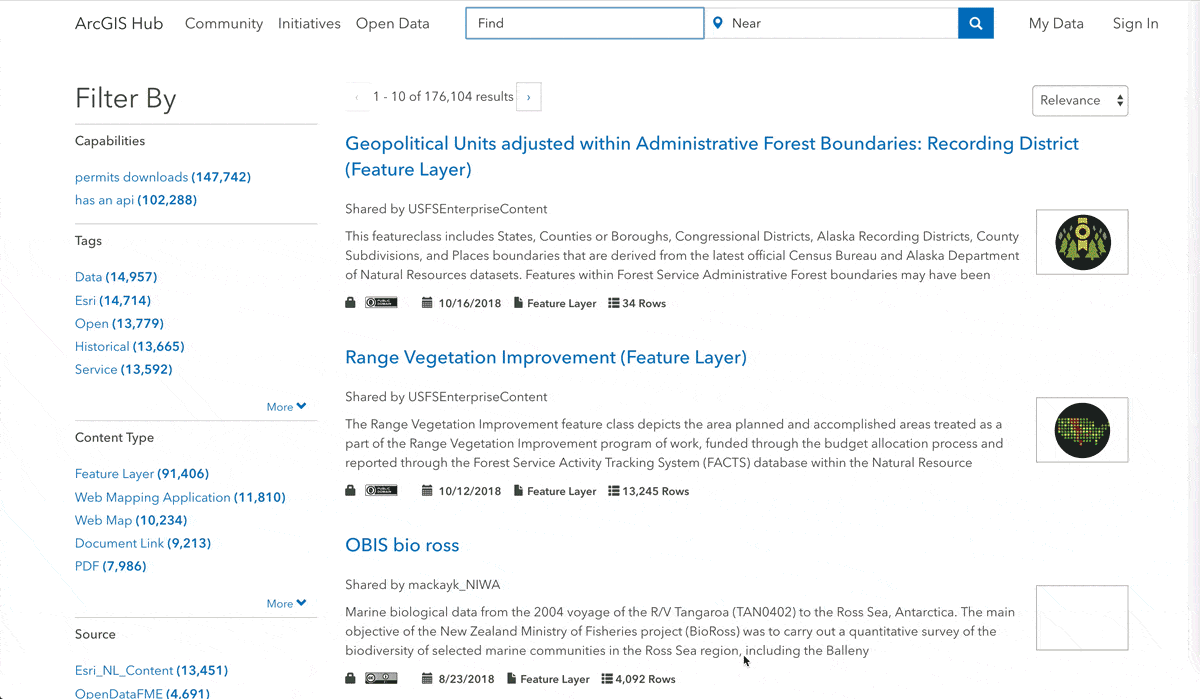 We've added support for many types of content we haven't been able to show before. In addition to automatically refreshing content every 24 hours, more types of content can be shared to Hub sites. Alongside datasets, tables, and documents matching your search query, you will begin to see:
Hub Pages: full text search for public Hub pages tied to your site
Apps: apps shared with your Hub site will render directly in the Hub
Hub Initiatives
Hub Events: Coming soon
We've also reengineered our indexing to work much faster and reliably while ensuring that all content is refreshed at least every 24 hours.
With this new infrastructure in place, we are rolling out improvements on the front end to improve the overall search experience.
Content catalog changes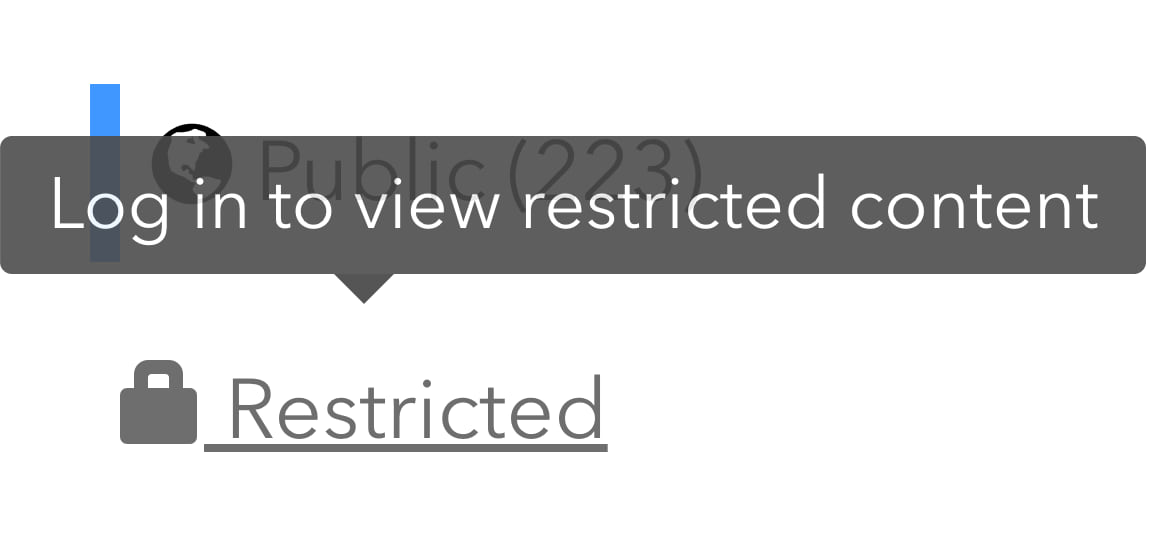 Building off of the success of private items, we've improved how restricted content is displayed within search results. Now your internal collaborators can see Restricted content alongside the Public content that is displayed by default. We think this is a more straightforward way to guide multiple audiences to the content they need, while maintaining your ability to restrict access to certain data.
We've also improved the date logic for content, so if a change was made to a feature service with edit tracking enabled, or if data providers have set a Publication Date in an items formal metadata this will be reflected in search.
Better term matching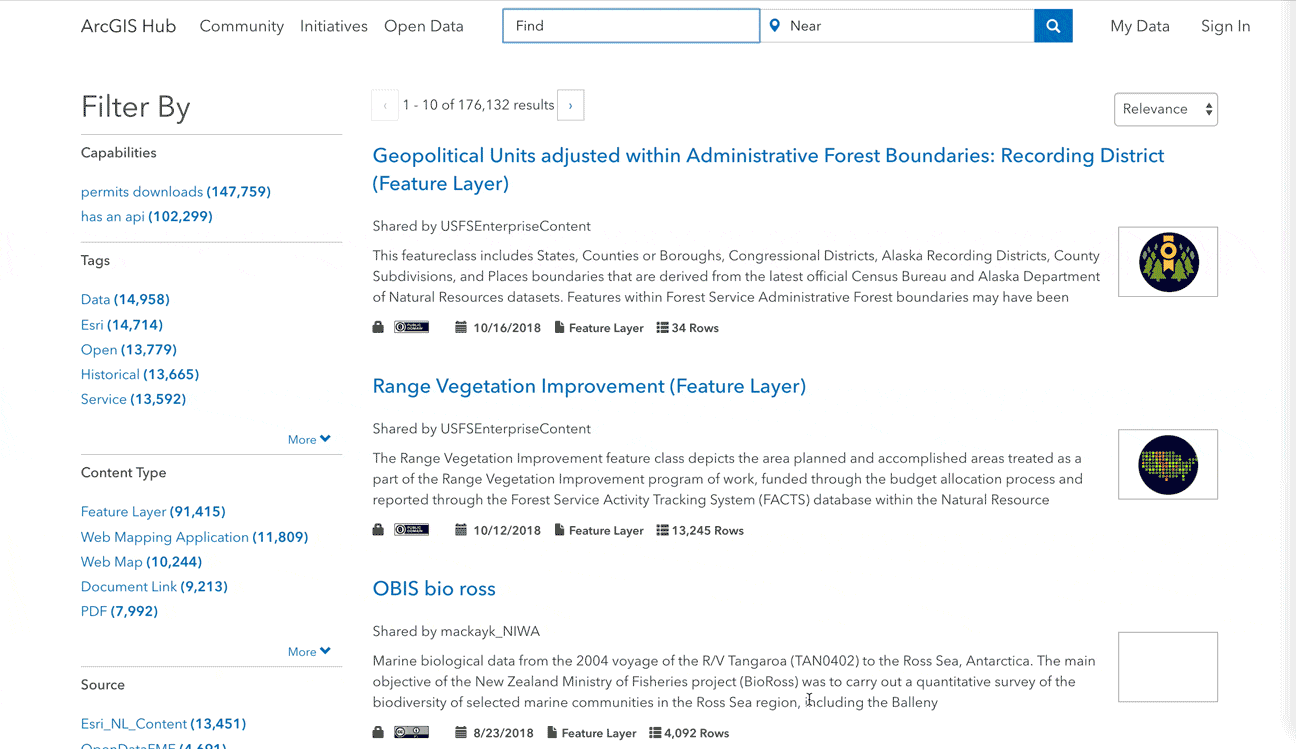 Search is a core component for how your community accesses information. To support this, we've made updates to the interface to enhance how users experience your data as well as improvements to the backend algorithm to improve the quality of results they find.
We've added search term highlighting to better indicate what matched the query. Small visual cues help users quickly determine whether the results they are seeing are relevant.
Additionally, we've introduced semantic logic to search. This means, that rather than only seeing results that directly match the text in the title, description, or tags of your data, you will also see results that match semantically. For example, when you search for rivers, you will see results for hydrology, even if you didn't include rivers in your dataset description. When a resident wants to find parcel information but they don't know to search for the word parcels, a search for property or homes will also guide them to the information they need. This means that your community doesn't have to know the lingo to get what they need from your data!
Try it out!
Interested in joining the beta? Here's how to get started:
We hope you'll join us in this exciting process and let us know where these features are hitting or missing the mark. See you on GeoNet!
Commenting is not enabled for this article.