In the last few weeks, organizations around the world have started using ArcGIS Hub to share information and resources about COVID-19 with their communities. Examples include the Missouri Coronavirus GeoHub, State of Maryland, the City of Durham and Durham County, the Matanuska-Susitna Borough, and the Indonesian GIS portal for Coronavirus.
To help even more organizations share critical updates about local response efforts, the Coronavirus Response template from ArcGIS Hub is now available to all ArcGIS Online customers.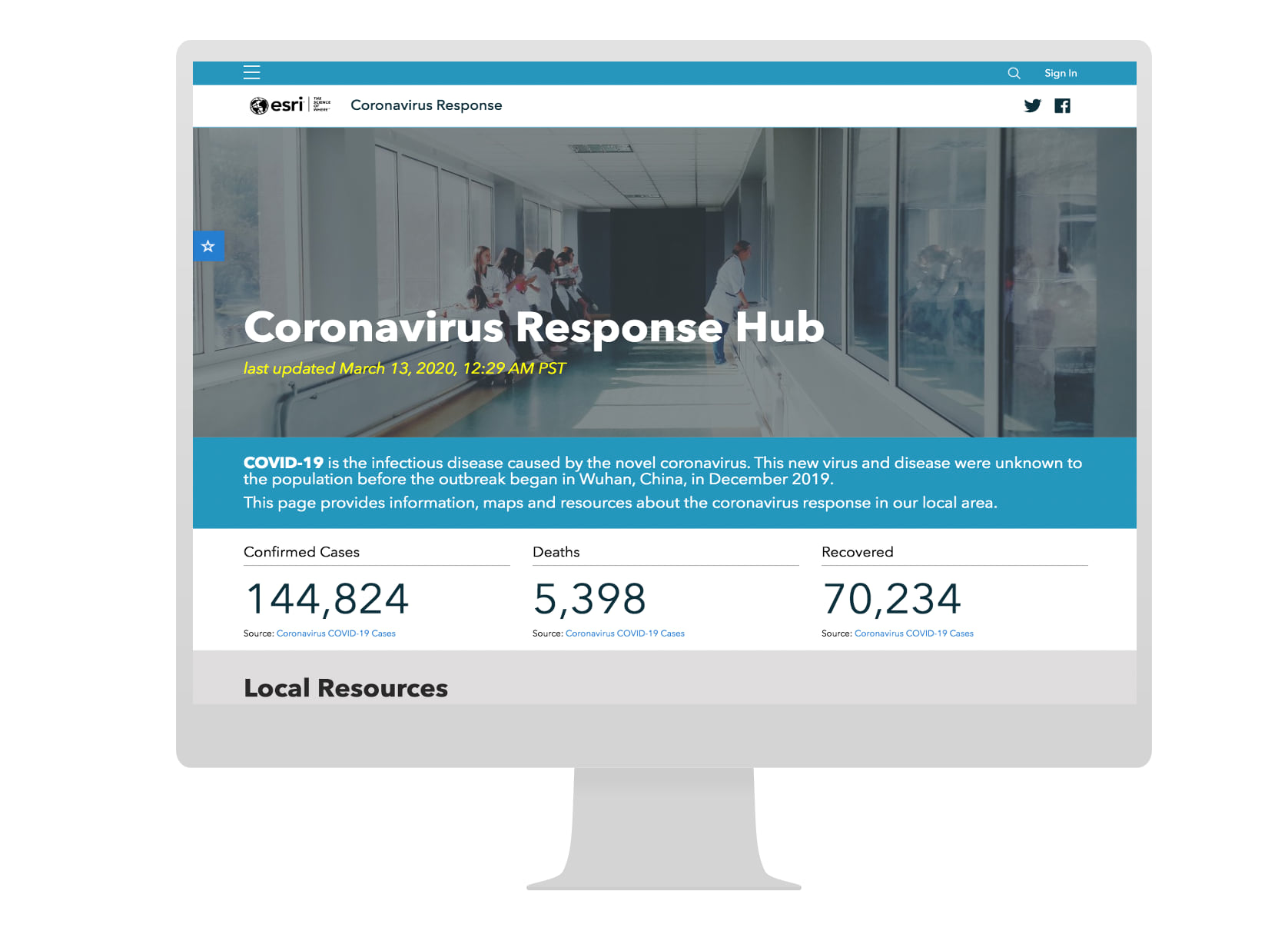 This template includes a mobile-responsive and accessible website to help organizations quickly and responsibly disseminate clear and accurate information for the health and safety of their communities.
Access to this template is available in both ArcGIS Hub Basic and ArcGIS Hub Premium. It does not require additional licensing from ArcGIS Hub Basic customers, nor does it require you to have prior experience with ArcGIS Hub. Previously, all ArcGIS Hub templates required a license to ArcGIS Hub Premium. Now, all you need to get started is an ArcGIS Online account.
How to activate the template
Sign in to your ArcGIS Online organization at https://www.arcgis.com/home/index.html. Then, click the app switcher next to your user profile and click Hub.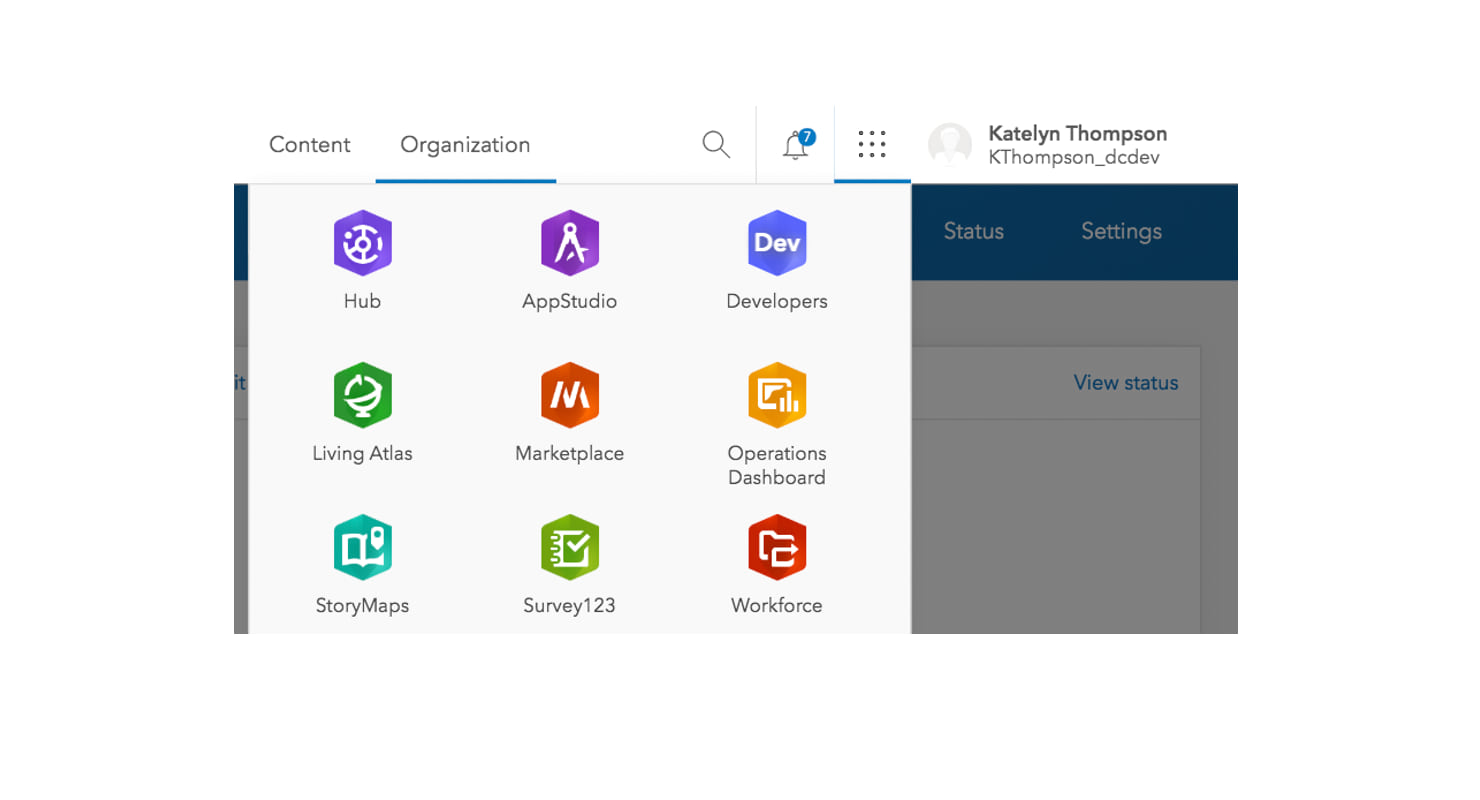 On the Hub Overview page, click New on the Sites card. If you have ArcGIS Hub Premium, click New on the Initiatives card.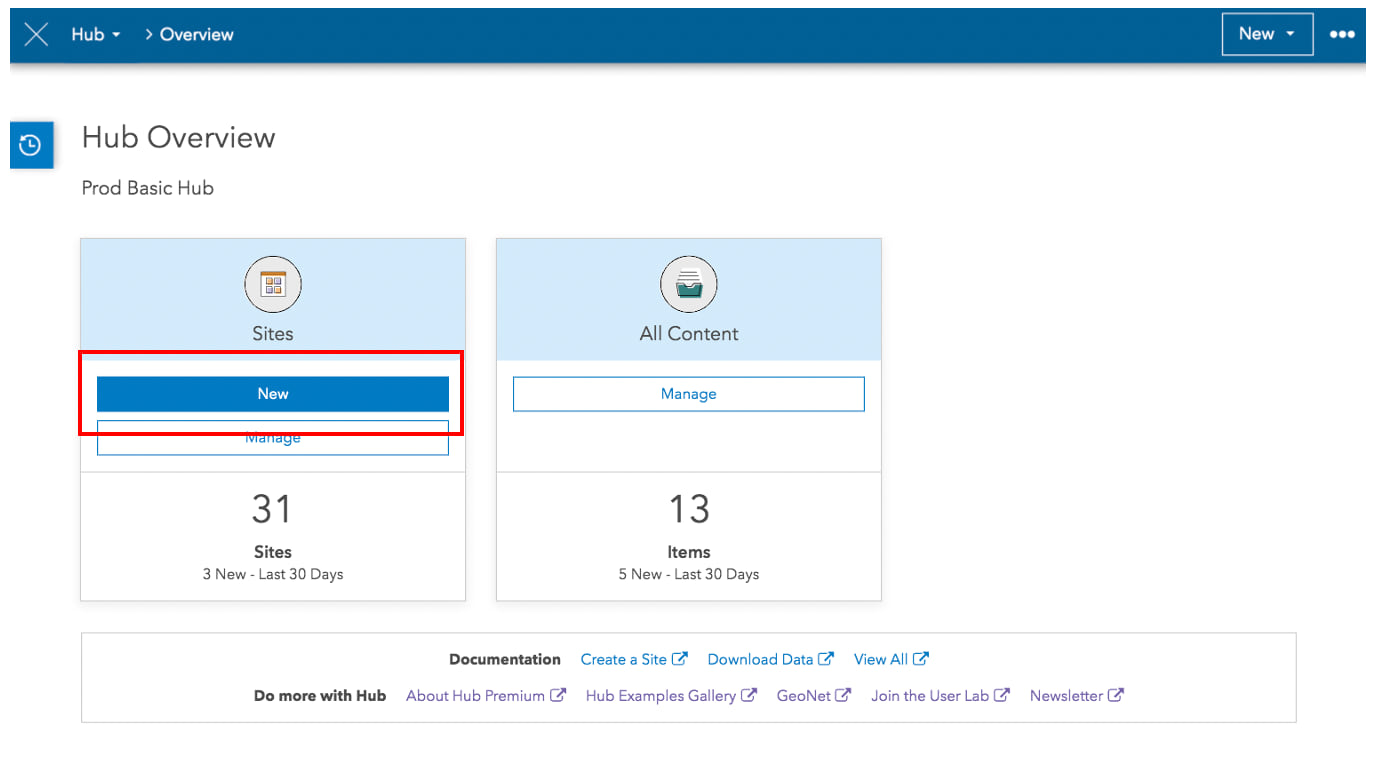 Click Browse Template Gallery.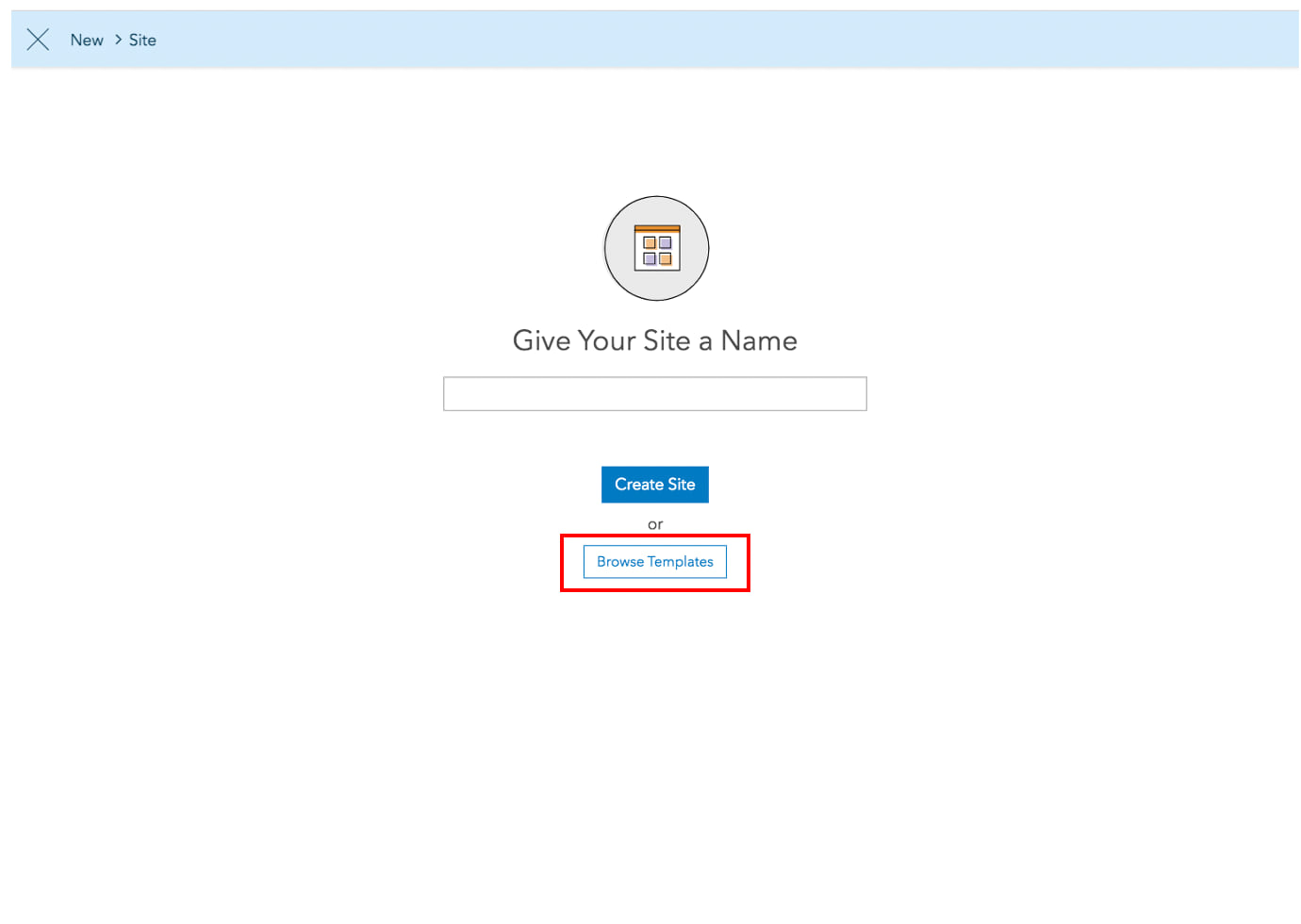 Click Activate Initiative on the Coronavirus Response template.
Next, you'll be prompted to provide a name for the new initiative. This name will be used to configure your site's URL.
Given the substantial amount of content being generated related to COVID-19, it is highly recommended that you include unique information in the subdomain of your site to differentiate it from others. For example:
esri-maryland-coronavirus-hub
. For more information, see
Configure URL
.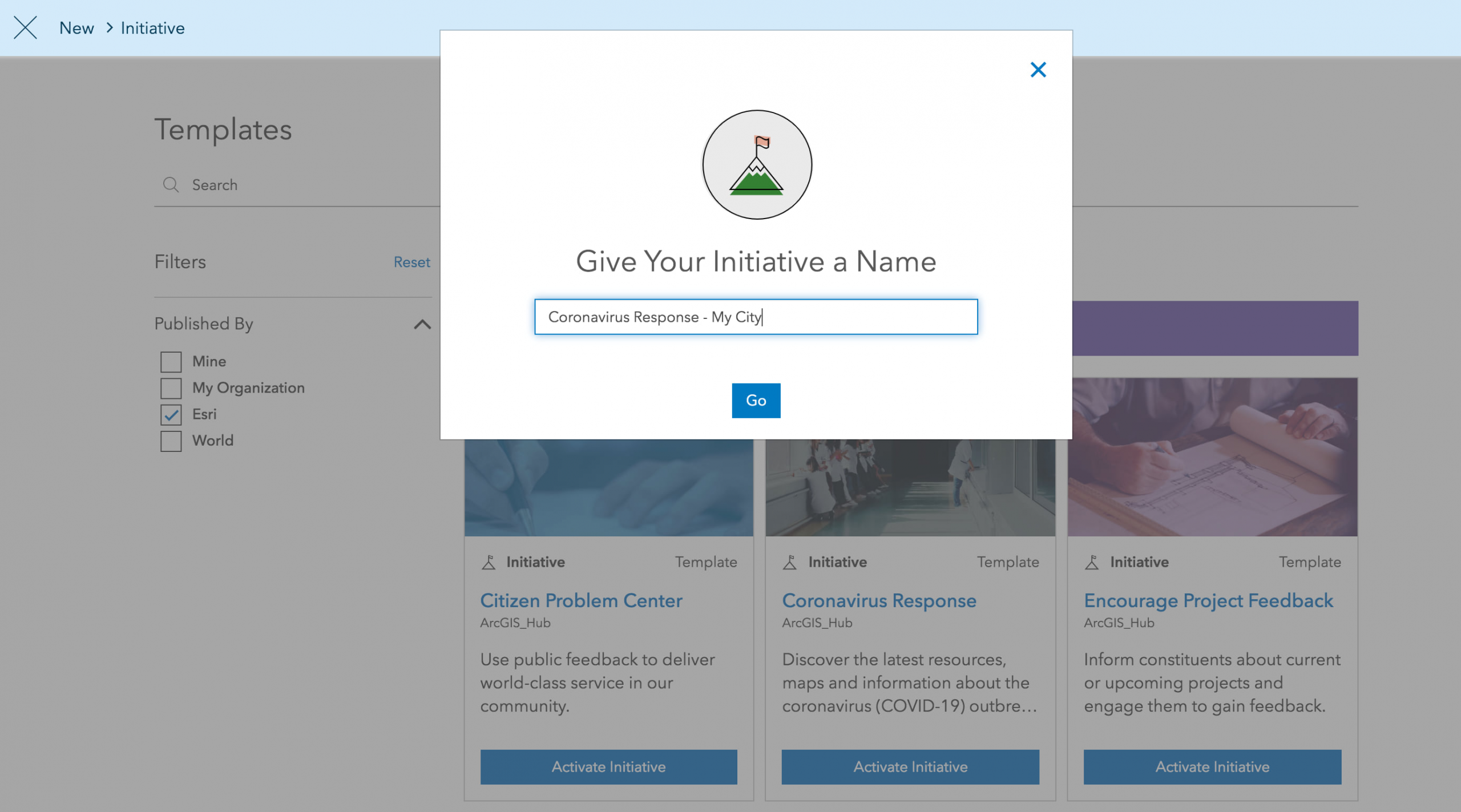 Your template's How-to Guide
After activation is complete, you're automatically dropped in the template's Site Builder, but before you begin editing the site's layout, take a look at your template's How-to Guide. This page provides you with tips and best practices for getting started and advice for how to maintain your template once it goes live.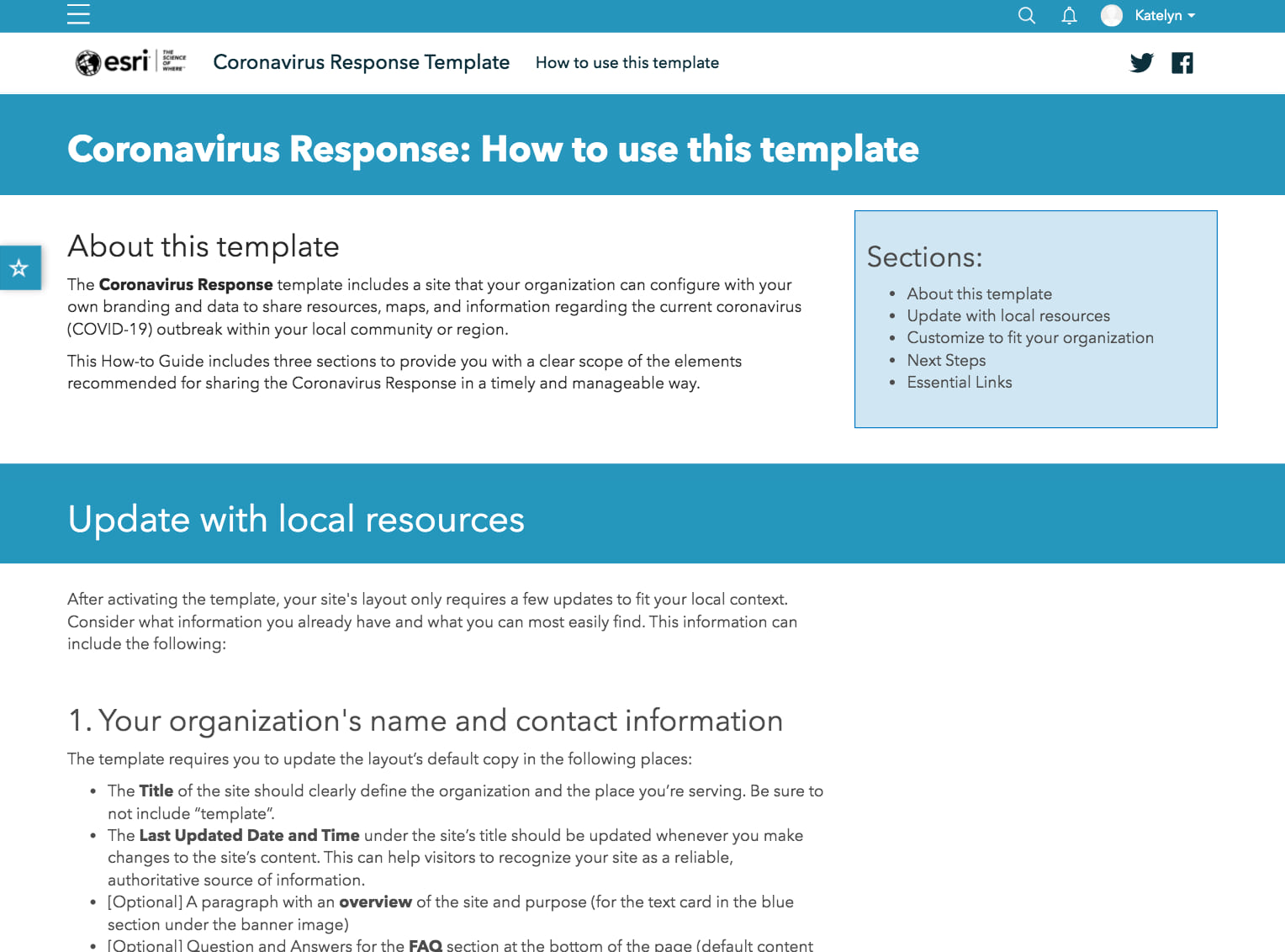 To view this page, click the page button on the top-right corner of the side panel.

Then, click the page title in the page list. The page will open in the layout editor.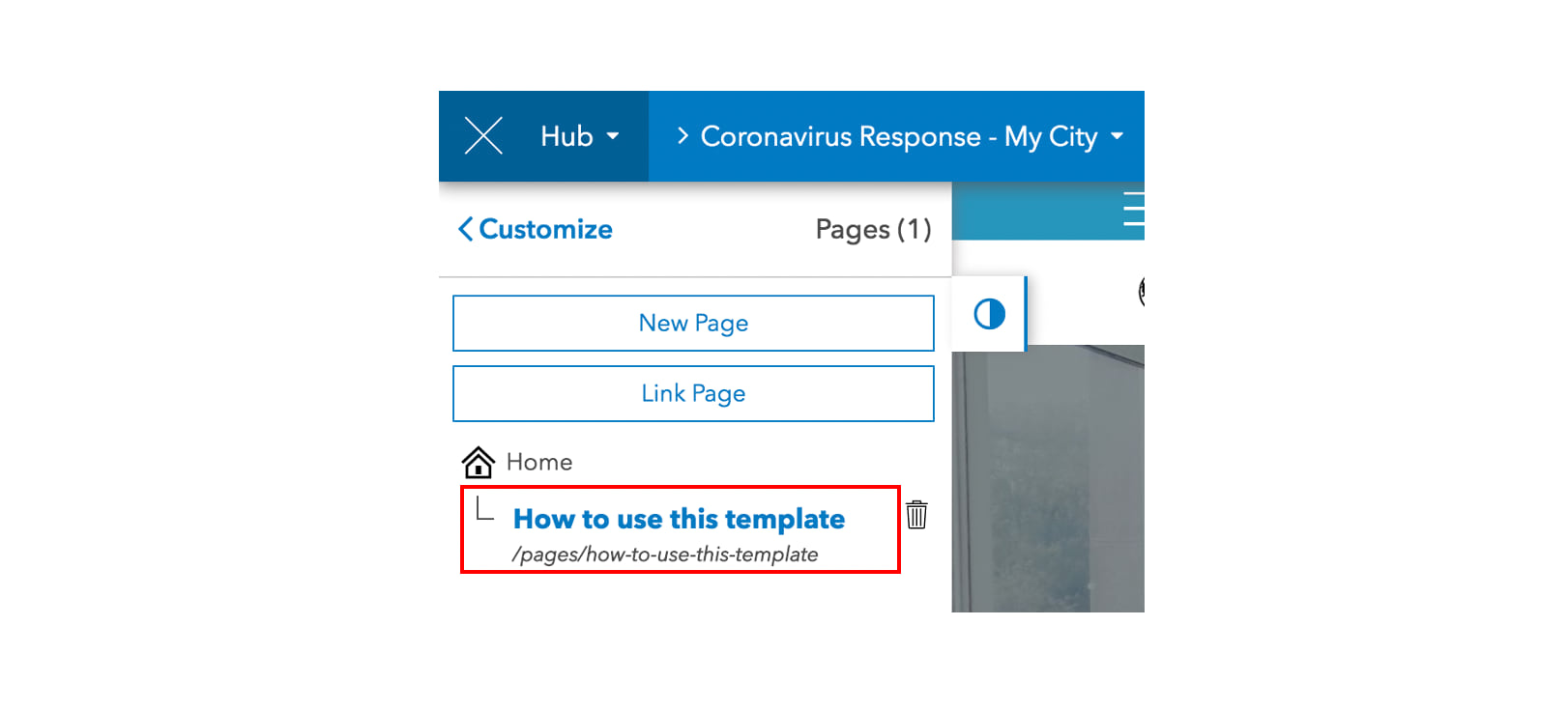 This page is shared with the template's core team by default, so only you and any team members you've added will be able to view the page in the header's menu link when looking at the site in a browser (even after you've shared the site with the public).
Behind the scenes of template activation
After you press Go to activate the template, three items are added to your ArcGIS Online organization:
A Hub Initiative item
A Hub Site Application item
A How to use this template hub page

Two groups are added to ArcGIS Online, as well:
Your template name Content group
Your template name Core Team group
If you have ArcGIS Hub Premium, a Your template name Followers group is also added so that you can message community members who've followed your initiative for updates.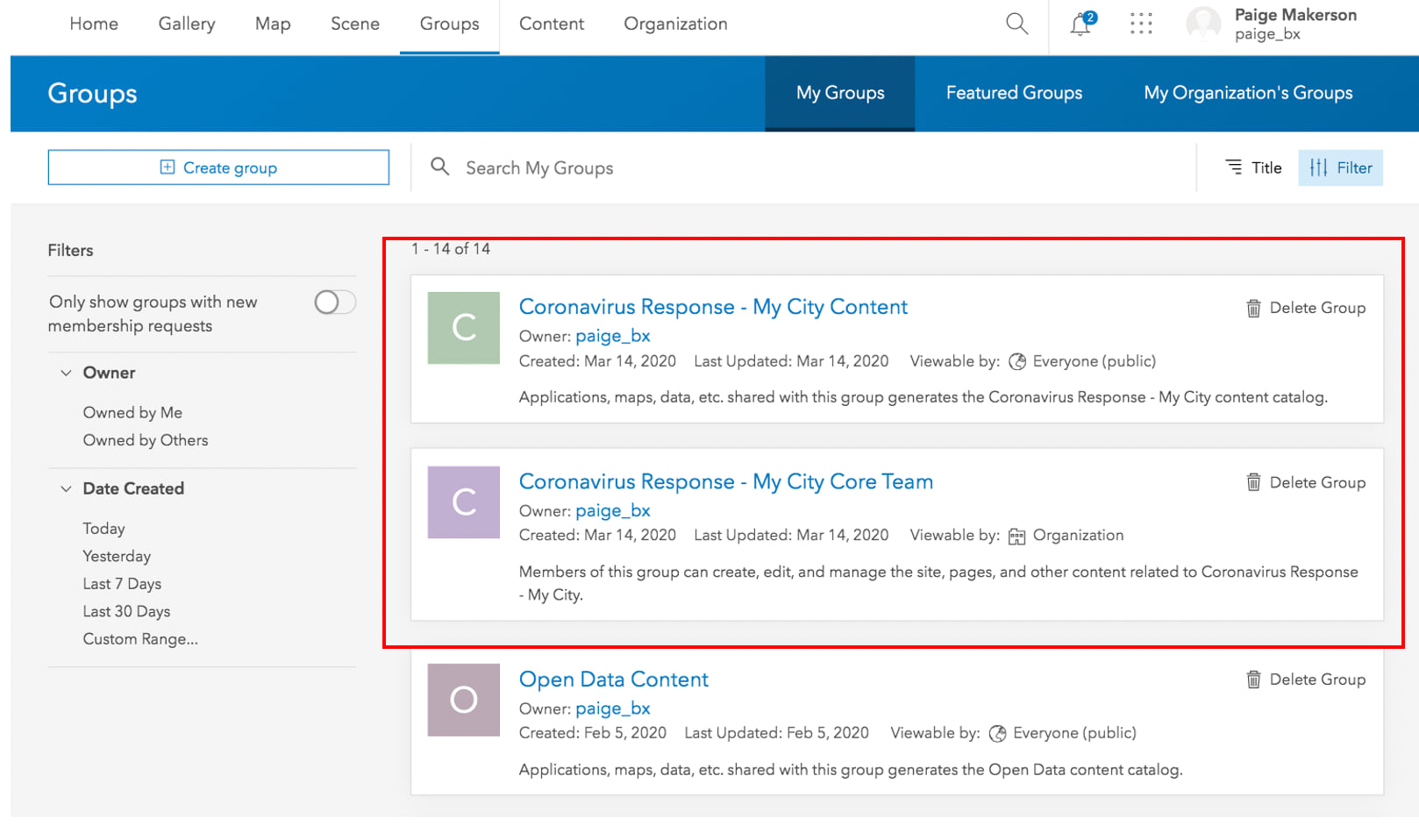 These default groups and items are the foundation of how your template operates. To prevent accidental deletion, they are automatically configured with delete protection. Once template activation is complete, you can use the more button in the edit navigation bar of the Site Builder and choose Go to ArcGIS Online to view these items and groups, if necessary.
Editing the template site
After the template has finished activating, you can begin editing the site's pre-designed layout using the Site Builder.
The layout is organized by a series of Row cards that contain other cards, such as a gallery card or a text card.
You can edit or move a row or card by hovering over its corner and clicking the move or edit buttons. You can also rearrange the cards contained in a row.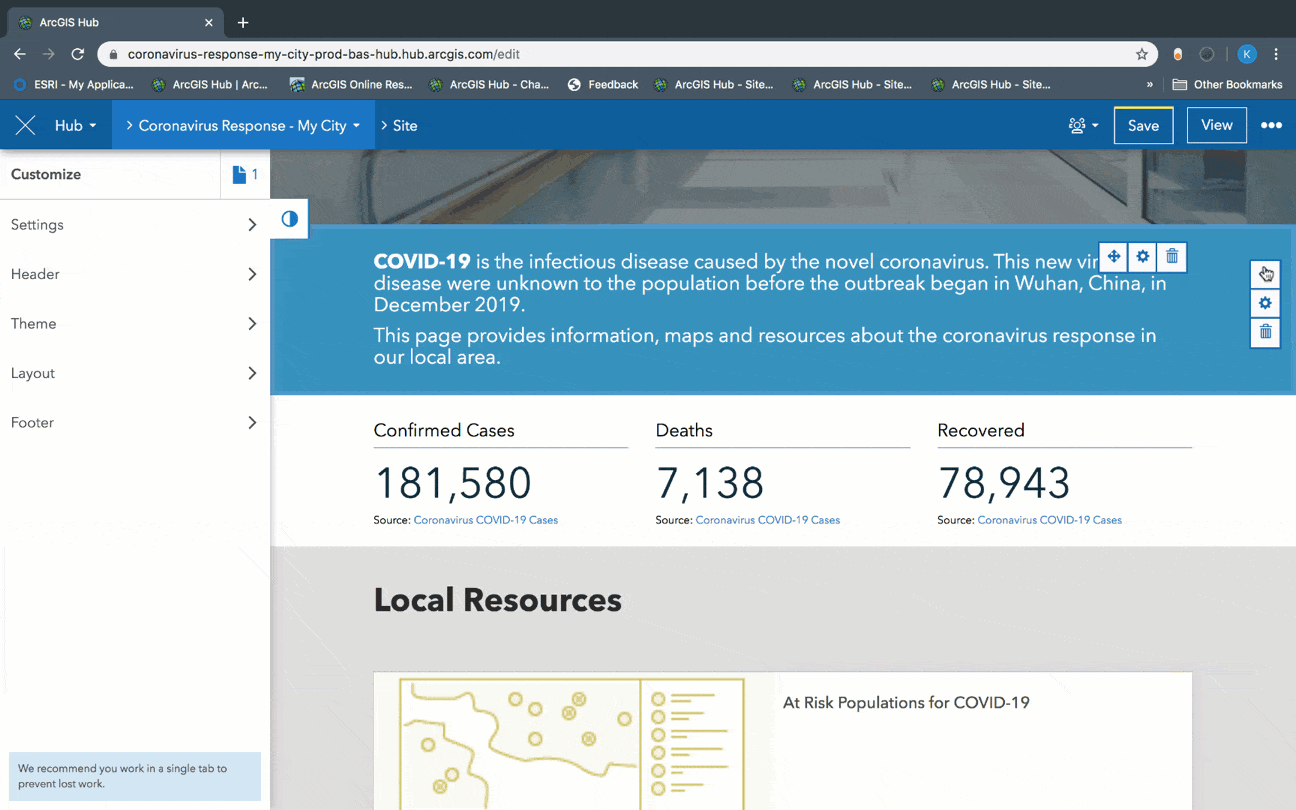 The template already includes several sections made up of rows, image cards, and text cards to outline steps and recommendations based on information provided by the Centers for Disease Control and Prevention. This copy is general and doesn't require updating unless you want to provide caveats to local guidelines and advice.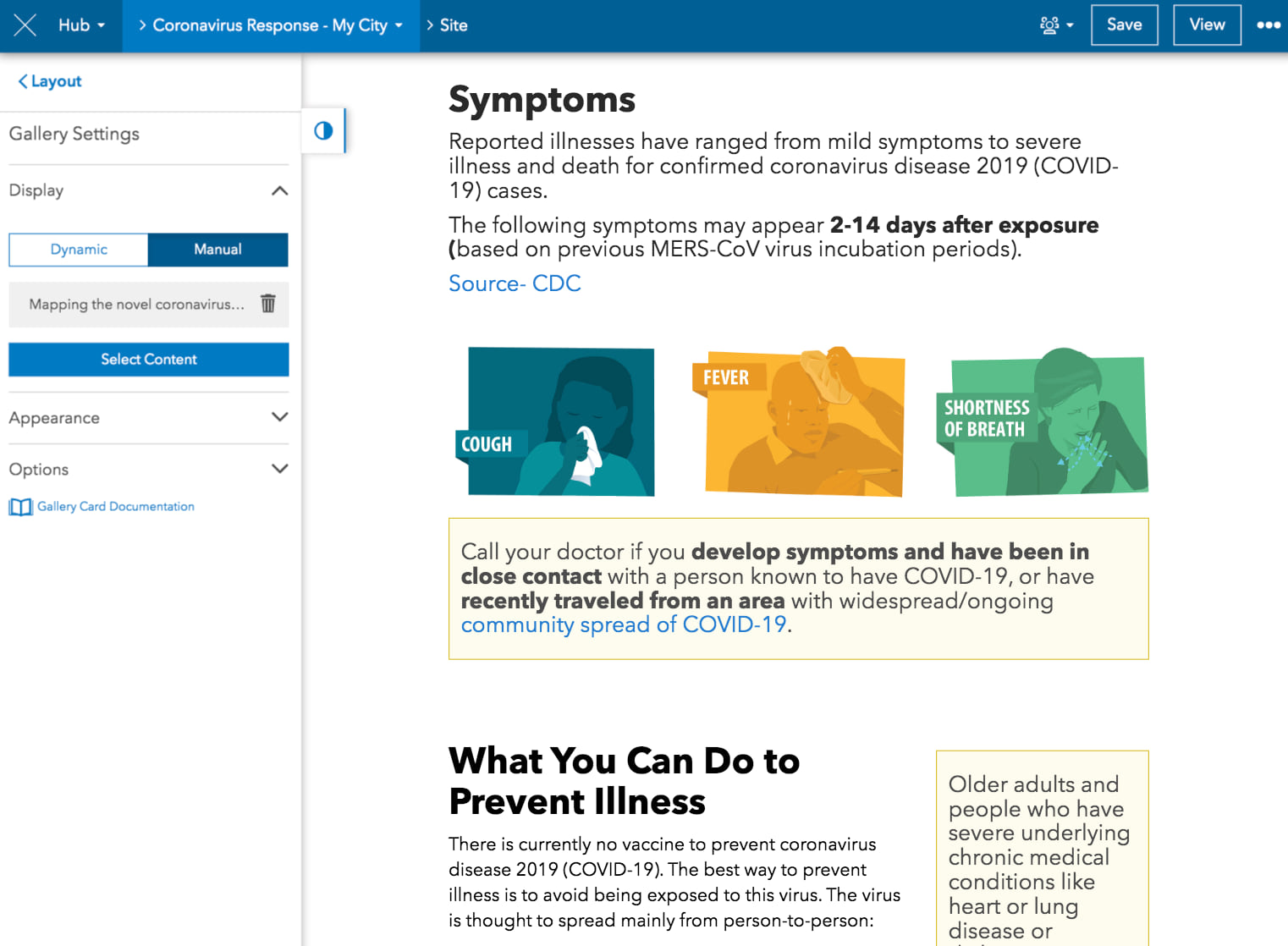 The Local Resources section is powered by the Gallery card. This card enables you to populate the gallery with up to 16 items, such as web maps, pages, story maps, and dashboards.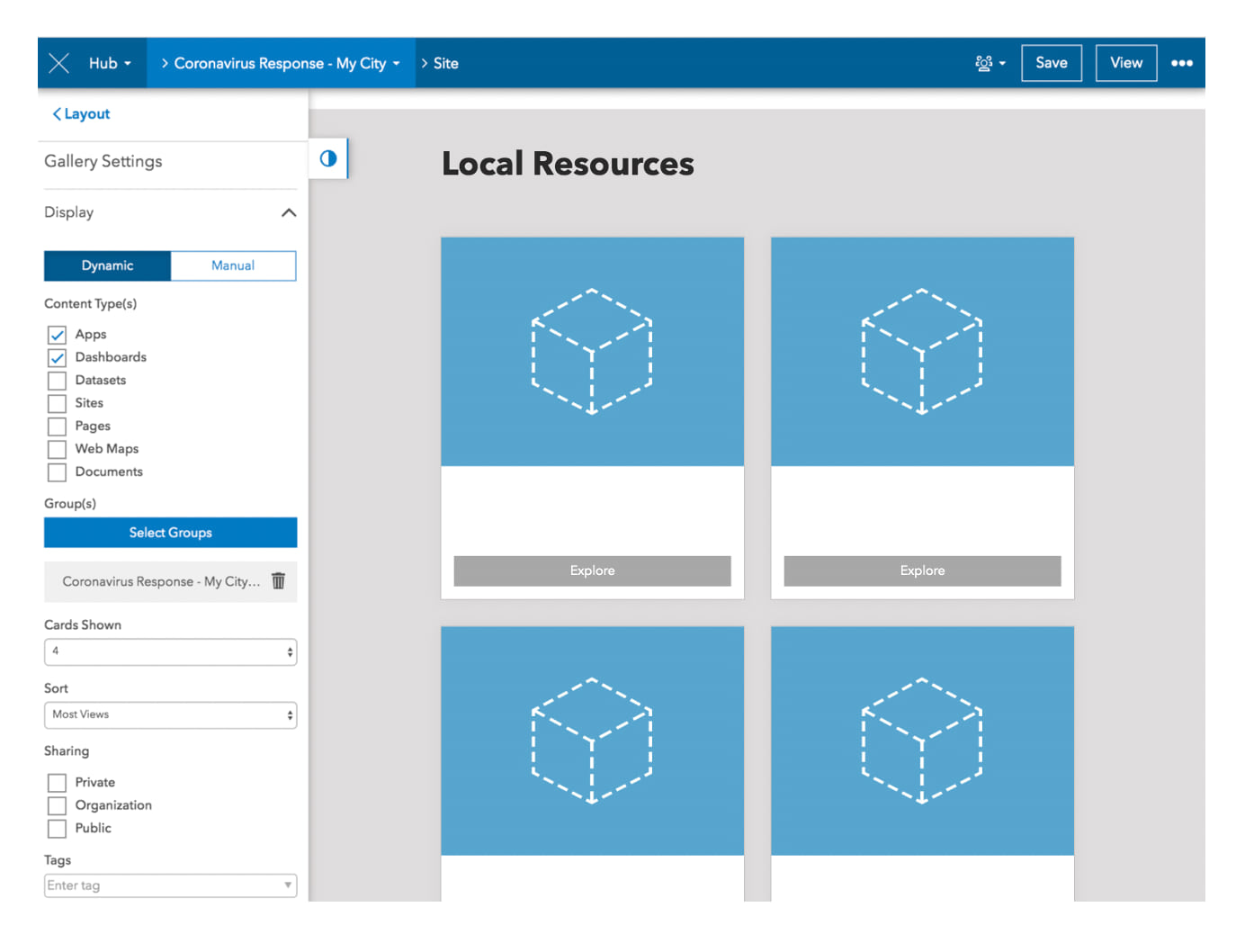 To add your own content to the gallery, choose to add groups of items using the Dynamic option or manually select items from your organization or the public. For more information, see the documentation.
If you have ArcGIS Pro, you can use the new ArcGIS Solutions for Coronavirus Response to get started with a collection of focused applications and web maps. Additional information is provided in your template's How-to Guide and on the COVID-19 GIS Hub.
As you add your own content to the template using the Content Library, items are added to the template's default content group. This group, along with any other group of items that you add using the template's Groups Manager, are visible in your site's search catalog.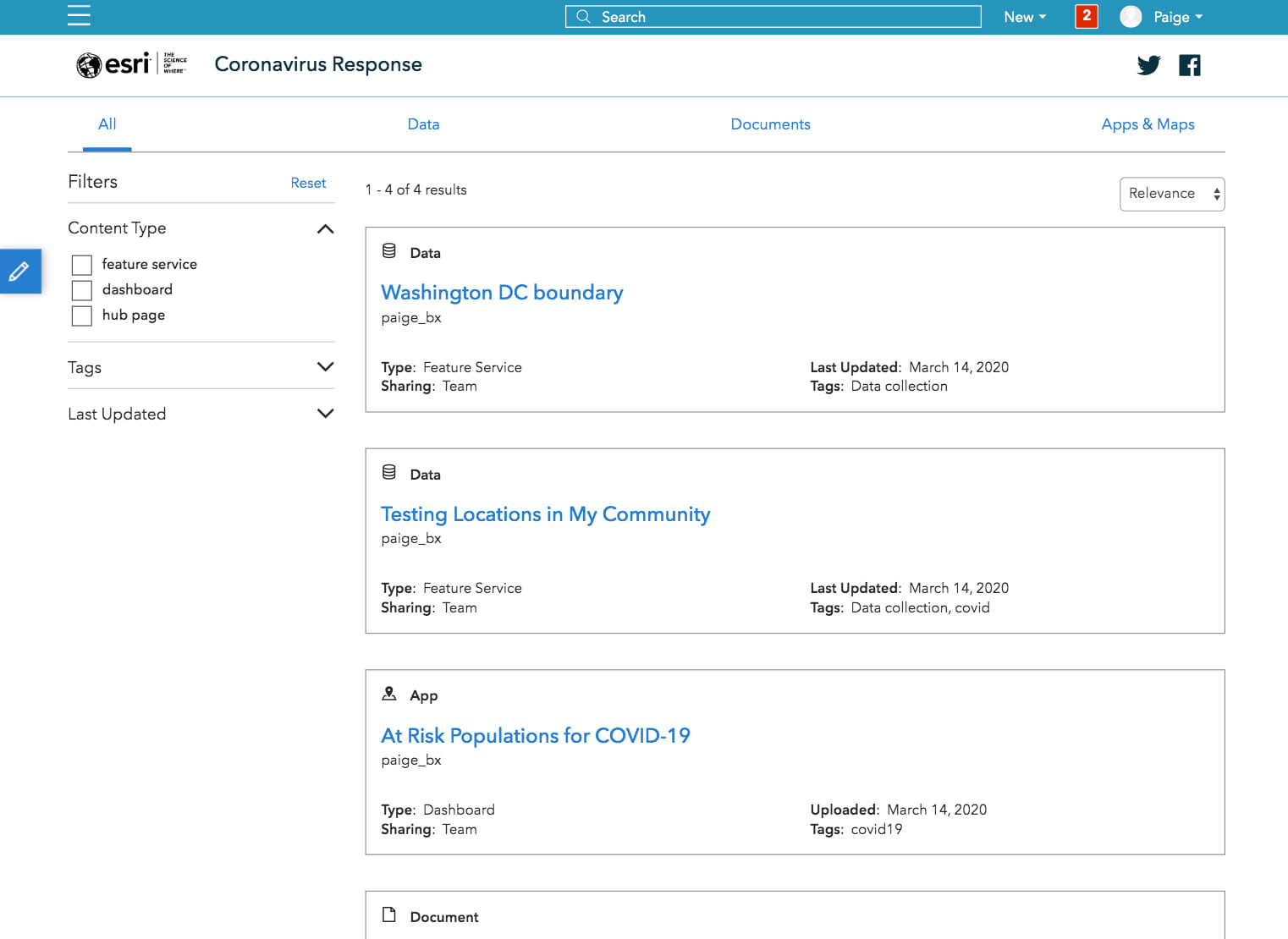 See Content FAQs for more workflows.
Additional Covid-19 hub templates
In early April, two additional Covid-19 templates were released. The Coronavirus Business Continuity template and the Grocery Store Inventory template. These templates are available to all users, regardless of which license of ArcGIS Hub they're using.
The Coronavirus Business Continuity template is designed to help you quickly provide resources and information for your community's local businesses. The template includes a main site that you can share publicly with information about closures, guidelines, and new policies, so that your customers, employees, and community are aware of changes as they happen.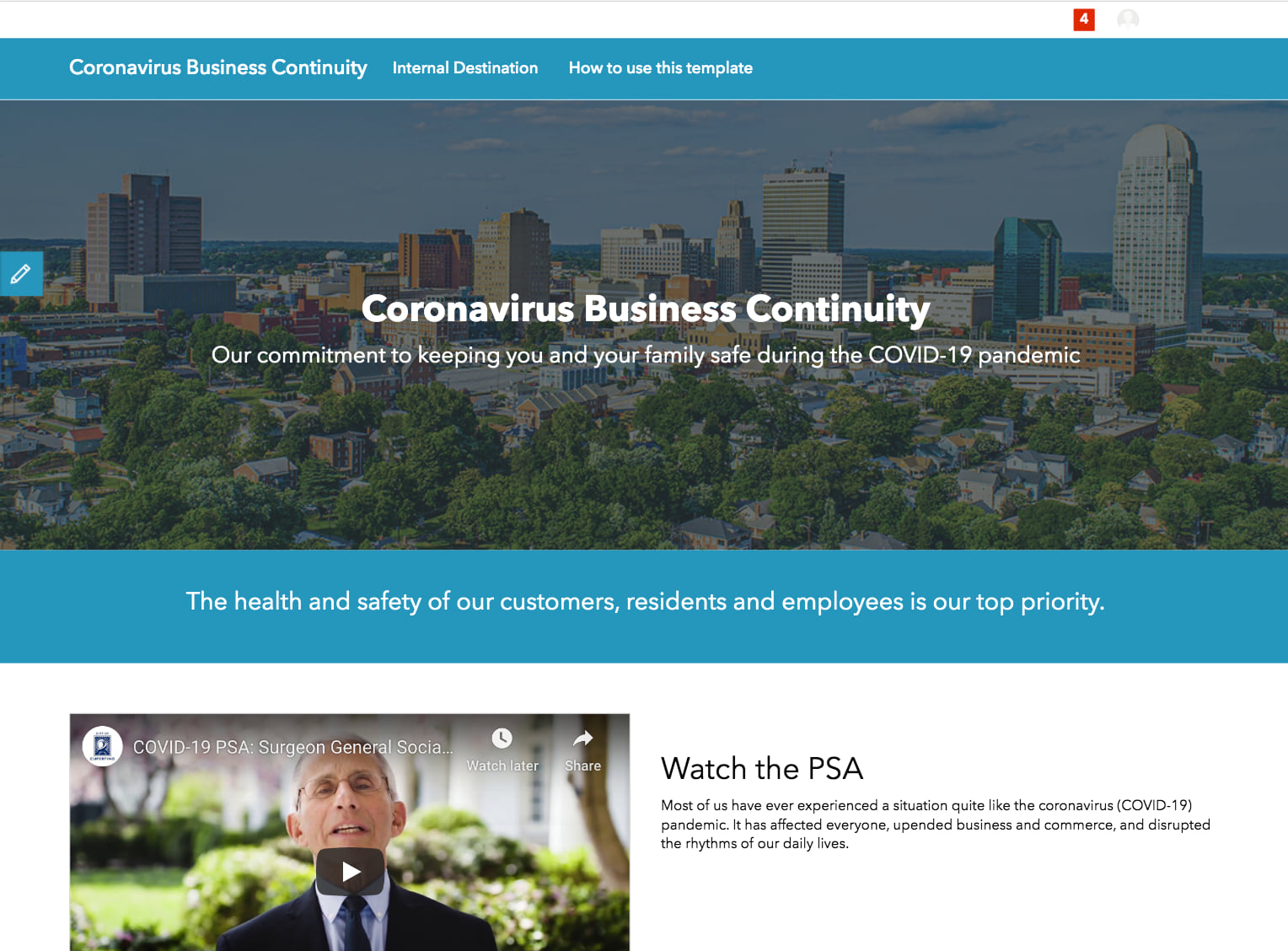 This template also includes a page for sharing internal content and information with key stakeholders. It includes space for FAQs, human resources links, and the Individual Check-in and Facilities Report from the new ArcGIS Solution for Coronavirus Business Continuity.
If you are using ArcGIS Hub Basic (provided through the Esri Disaster Response Program), you can share content internally by adding people to your new ArcGIS Online organization. You can choose to share this page and its apps with all members, or you can add members to your initiative's core team so that only select individuals can view the page.
Additional Resources
No effort is too small when taking action to share important updates about COVID-19. If you don't have all the data you'd like or the resources to fully complete the template, don't worry. Sharing what you have can speak volumes to your community during this crisis.
For more information on what resources are available to you, visit the COVID-19 GIS Hub. You can also chat with us on GeoNet and find quick tutorial videos on our YouTube playlist.