Introducing… a handful of new vector basemap styles! This collection includes new approaches to our styles. And updates to a flagship style. We updated data sources for our Places content. Those are additions to our collection of Esri Vector Basemaps. We made new map styles, with a familiar look, based on the OpenStreetMap vector tile set that Esri publishes. Most of these new items are available at the ArcGIS Living Atlas of the World.
You'll see a new term used in a couple of the style descriptions below: multisource basemap. The main point with this kind of maps is, they reference two or more vector tile sets within a single JSON style layer. For the best visual experience, use the current versions of the ArcGIS Online Map Viewer (not Classic), Pro, and Runtime.
Note:  All web maps and tile layers featured in this blog are in Beta status.  The URL/links and Item IDs are not expected to change when the new map styles come out of Beta, but there may be changes and improvements leading up to their full release. They are currently not included in the default vector basemap gallery, but any or all of them can be added to your own custom gallery.
---

Outdoor Map
This multisource vector map style brings a rich cartographic design to its emphasis of the natural world. One of the first thing you'll notice about the Outdoor Map is that at small-to-mid-scales we present a new biome layer in our vector basemaps. As you zoom in, the vector hillshade catches your attention. This new hillshade layer offers a vector basemap solution. Approaching larger scales, ~1:144K/LOD12, vector contours start appearing in the map. This is our new contour layer that continues the story of a full vector solution. Currently, maps such as Topographic or Streets (with Relief)…
don't include contours, and
are built from two separate layers within the web map: a bottom layer of raster hillshade and a top layer of the vector style.
We've eliminated needing two separate layers (including one raster) and replaced it with the use of only one vector tile layer. All content in the Outdoor map style is from vector tile sets. A quick look at a snippet of JSON code shows the three vector tile sets being referenced from the single layer.
We look forward to seeing the application of this basemap by our users. We encourage feedback through the Esri Community Living Atlas pages. The Outdoor Map style is from Cindy Prostak, the same Esri cartographer responsible for eye-catching styles such as Nova, Charted Territory, Modern Antique, Colored Pencil, and OSM Blueprint, just to name a few.
---

Topographic (with Contours and Hillshade)
Similar in content to the Outdoor Map above, but quite different and more subdued in its cartographic styling. This map takes our standard Topographic vector basemap and adds the two new vector components:  contours and hillshade. We are now adding this content to our vector Topographic basemap, similar to what is in the now-deprecated raster map. All the same features and base cartographic design you've come to appreciate in our vector basemaps are found in this incarnation. Plus we're providing the additional contours and hillshade as vector sources. Just as a reminder, use the new Map Viewer (not classic), or newer versions of Pro or Runtime to fully experience the multisource vector basemaps. Share your thoughts in the Esri Community Living Atlas pages. Also, we're not completely sold on the title of this style, but it's descriptive enough to set it apart from the current vector Topo map in the basemap gallery that doesn't include all the content of this one.
---

World Contours and World Hillshade
These two separate supporting vector tile sets can also be used independently of those two styles detailed above. Please note the World Hillshade layer is currently only global coverage to ~1:72K/LOD 13 with additional detail to the largest scales over North America. This is another reason for the beta status for this layer. We will expand more detailed relief at larger scales over our next several releases. Contours are global coverage. Both of these are provided as tile layers:  World Contours and World Hillshade and can either be added to your map as a layer above or below your existing layer(s), or if you tackle some JSON editing, you can combine to create your own multisource basemap. Those who want to go on that adventure of combining vector tile sets might find this video, from Esri's Tommy Fauvell, helpful.
---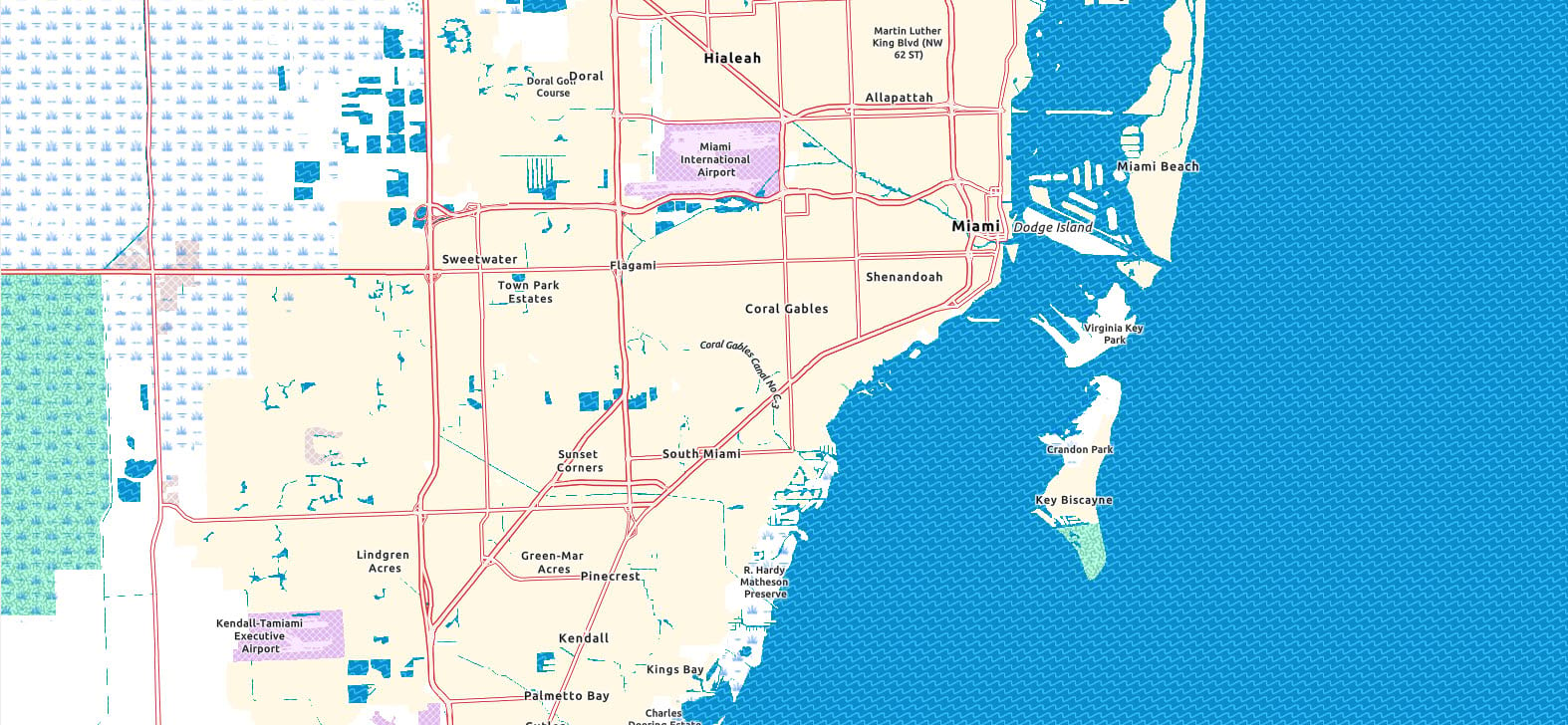 Enhanced Contrast and Enhanced Contrast Dark
These new styles were part of prototype layers recently created by Andy Skinner. He worked at making a set of basemaps have an accessible display for our users. These maps were built along the guidelines for WCAG / Section 508. One design feature of an accessible basemap is higher contrast ratios between background and foreground objects. For more detail, see this recent blog by Andy, Working with Enhanced Contrast basemaps to improve accessibility.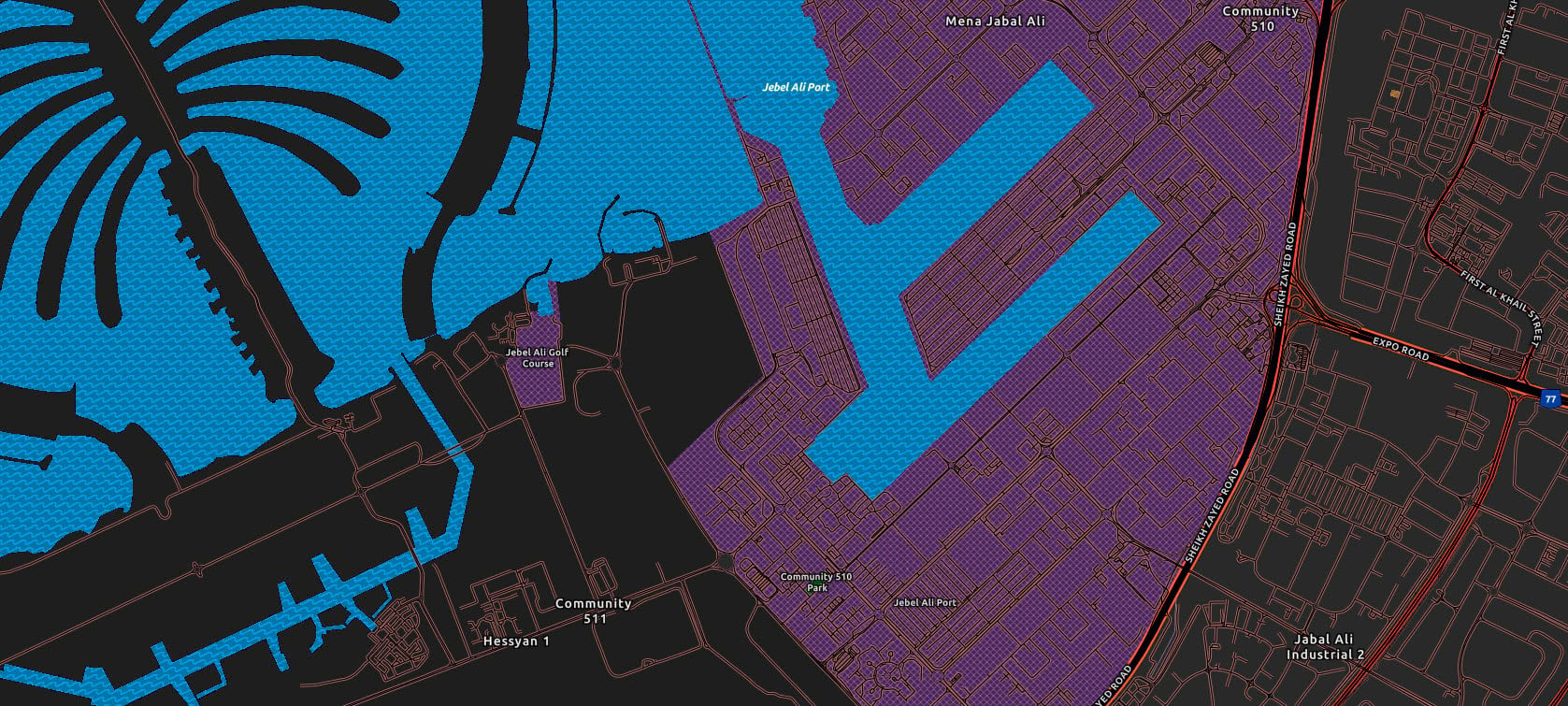 ---

New data source in Places
Rounding out this announcement on Esri Vector Basemaps, this style group is built to emphasize the collection of data points we're calling "Places".  There are two Places styles in this group:  Streets (Places) and Imagery Hybrid (Places). Why include this in a basemap update blog? One main reason. We updated our global data source for Places outside the USA and Canada. Inside the USA and Canada, SafeGraph is our Places data provider. For the rest of the world, the Places data is provided by Foursquare. These points of interest will enhance existing, and new, styles when fully integrated into our portfolio of basemaps. Stay tuned for developing details about our Places mapping initiative.
---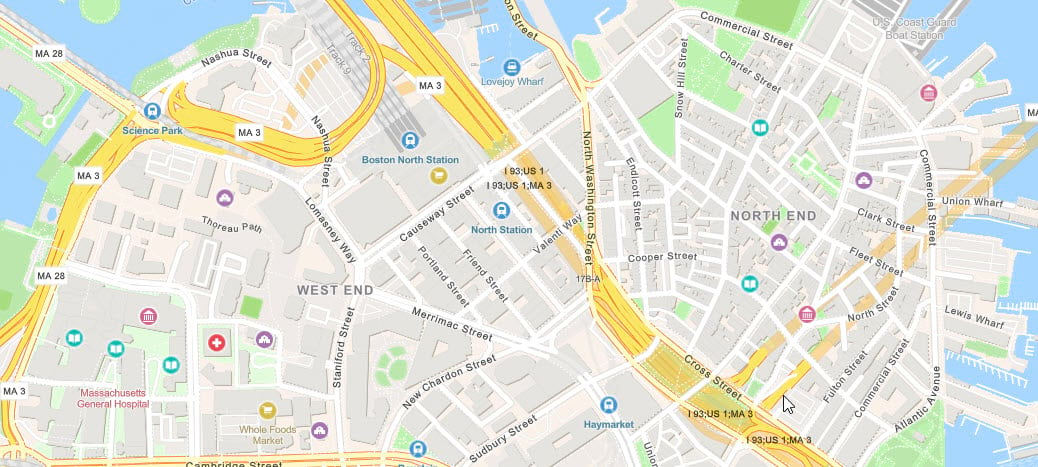 OpenStreetMap Vector Basemaps, new styles: Navigation and Navigation Dark Mode
These two new maps were designed to enhance our collection of styles featuring our vector basemap data from the OpenStreetMap Daylight Distribution. The cartography has a familiar look and feel, primarily because we've borrowed much of the design from our existing Esri Vector Basemap Navigation style (and for Dark Mode, too). These styles highlight the transportation network and provide clean styling of features including amenity points at the larger map scales. The two OSM map styles complement one another allowing you to develop maps and apps that can toggle between the day and night (a.k.a. Dark) styles.

---

ArcGIS Vector Tile Style Editor (VTSE)
As with all our vector basemaps, we present the data – either in Esri Vector Basemaps or OpenStreetMap Basemaps – for the widest audience. There may be instances where you'd like to tweak just a little, or radically redesign the style for your own purpose. We have the tool for you. Using the ArcGIS Vector Tile Style Editor (or VTSE), with a few clicks of the mouse you can customize any of our styles, or even style your own tile set you've built through ArcGIS Pro. You can find more details on map styling with the Editor at this link.
---
Feedback
As you use the basemaps, you may run across some feature on the map that needs to be updated. Whether that's missing or incorrect content, we'd like to hear from you. Our Feedback maps, for Vector Basemaps, Imagery, and Geocoding, are interactive maps where you can mark up the map in the area in question and provide the resolution. Edits are reviewed and applied, usually seen in the next one to two updates depending on where we're at in the update cycle when you submit your fix request.

Community Maps
If there's more than just a fix or two to the basemaps, and you could potentially be a data steward and share larger amounts of authoritative data to improve the map, consider contributing through the Esri Community Maps Program.
---
User Conference | ArcGIS Living Atlas of the World showcase
We are back in-person, in San Diego, at the 2022 Esri User Conference. If you are attending and want to share your basemap use or your own customization, stop over at the ArcGIS Living Atlas of the World showcase area.  We are staffed and ready to engage with you. We're located in the main convention center hall, near Demo Theaters 4 and 5.  We hope to see you there.