Update July 2021: A new version of the Esri Land Cover 2050 data has been released. For more information, please visit this webpage. 
In April, we showed you how to look into the past to see how land cover has changed around the planet for the last 30 years. Now, with the help of Clark Labs, you can see 30 years into the future, to the predicted land cover of the world.
A series of new analytical layers are available in ArcGIS Living Atlas of the World that show predicted land cover in the year 2050 along with the vulnerability to change from a natural to human modified class. Since Clark Labs modeled these layers based on the same 2010 and 2018 European Space Agency's Climate Change Initiative land cover already in Living Atlas, these layers can be used together.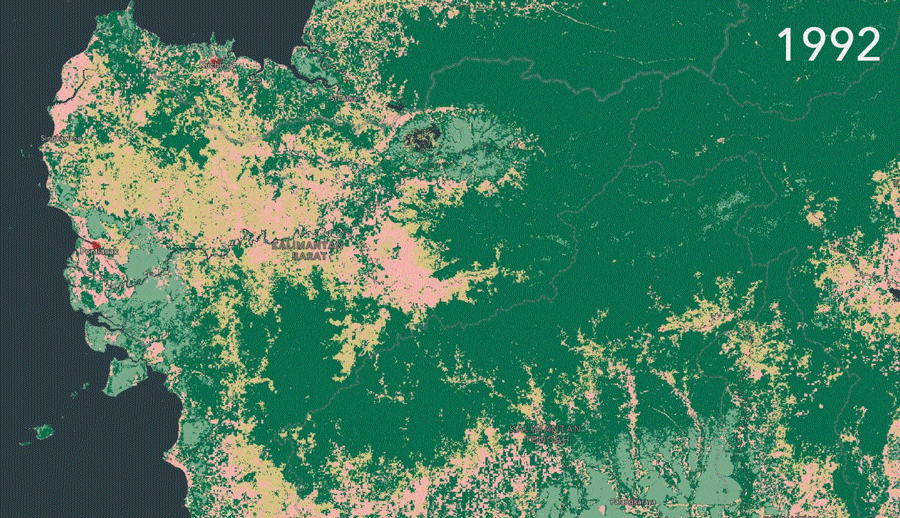 Land Cover Type
The model uses 17 quantitative variables, such as population density, distance to roads, and elevation, along with 12 qualitative variables, such as soil type, ecoregion, or protection status, to generate the prediction. The result is a 300-meter per pixel cell that is classified into 10 types. This model was run at a global scale, where all variables are weighted equally, along with a regional/continental scale, where the variables were weighted based on their relevance in that region. More detailed methodologies can be found in these two publications: "New 1 km Resolution Datasets of Global and Regional Risks of Tree Cover Loss" or "Transition Potential Modeling for Land-Cover Change."
Vulnerability
Probably more important than the predicted type of land cover is the output that classifies the surface based on the vulnerability of it to change from a natural land cover type (e.g., forest or grassland) to a human modified type such as urbanized or cropland. These outputs are especially useful for planning additional protected areas and can be used with the World Terrestrial Ecosystems and World Database of Protected Areas layers in Living Atlas. These layers are related to the NatureServe MoBI maps of the United States.
Working with Processing Templates
As mentioned above, the new Landcover 2050 layers are meant to work with the ESA CCI land cover time series. However, the default renderer for the ESA CCI has 36 classes of land cover instead of 10. To use the matching renderer you'll need to change the processing template on ESA CCI. To access these Processing Templates in ArcGIS Pro, go to the layer properties and click on Processing Templates. Each template can be selected from the pull-down menu. Choose Simplified Renderer.
In ArcGIS Online, click the layer properties and go to the Image Display options. From the pull-down menu, choose Simplified Renderer. Select Apply and Close.
While these new layers are in beta, we will be updating the data in the next few months, along with providing model outputs tailored for each country.