In the news
Here's what's in the news the week of March 1, 2021.
More than 18,000 earthquakes have been recorded in Iceland over a one-week period, possibly indicating a volcanic eruption is about to happen.
In New Zealand, several quakes, including an 8.1 magnitude temblor, triggered tsunami warnings.
Explore the quakes
ArcGIS Living Atlas of the World includes authoritative live feeds and other content that helps you learn more about earthquakes and see where they're happening. Follow the links and examples below to explore Living Atlas content for the Iceland and New Zealand news events.
Note that current events are dynamic, time-dependent, and change rapidly, so your maps may show different results.
USGS Global Earthquakes
This map presents recent earthquake information from the United States Geological Survey (USGS) Prompt Assessment of Global Earthquakes for Response (PAGER) program. The PAGER system provides fatality and economic impact estimates following earthquake events worldwide. For more details, see the USGS PAGER website.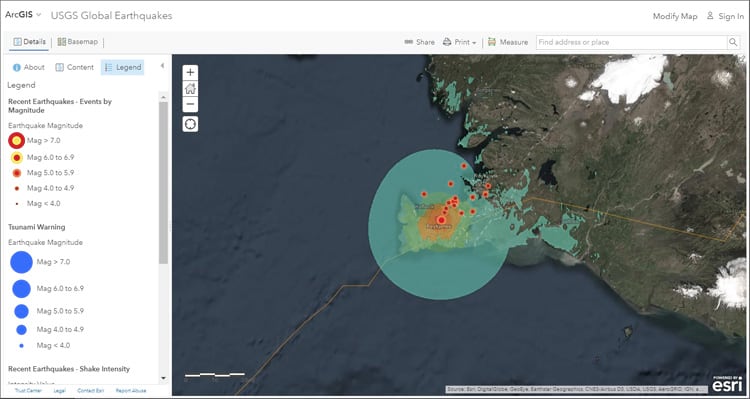 For more information, see the USGS Global Earthquakes map item details.
Latest Earthquake Monitoring Dashboard
This ArcGIS Dashboards monitors the latest earthquake events around the world. It automatically updates when new events happen to show you where they occurred, how significant they were, and if there were any resulting tsunamis.
For more information on ArcGIS Dashboards, see the Dashboards overview and What is a dashboard. For more information on this dashboard, see the Latest Earthquake Monitoring Dashboard item details.
You can also view all ArcGIS Living Atlas earthquake content.
About ArcGIS Living Atlas of the World
ArcGIS Living Atlas of the World is the foremost collection of authoritative, curated, geographic information from Esri and the GIS user community from around the globe. It includes maps, apps, and data layers to support your work. To learn more, visit the ArcGIS Living Atlas website.
Commenting is not enabled for this article.