In March of this year, we introduced the Community Maps Editor app in beta release. The Community Maps Editor enables ArcGIS Online users to create and edit detailed features for special areas of interest within their community. These features are then reviewed and added to the Esri Vector Basemaps available in ArcGIS Online and Living Atlas. The features are also shared with everyone as open data to use in other interesting ways, such as creating a campus map for facilities management or event planning.
In just 3 months of our beta release, hundreds of users signed up to use the Community Maps Editor and created tens of thousands of detailed features that have been reviewed, accepted, and added to the Esri Basemaps! Now that we've exercised the process several times, and seen great results appear in our basemaps, we are happy to announce the end of our beta release and the full availability of the Community Maps Editor. We would also like to share some updates on how the Editor app has been used and details on new capabilities that are available in the Editor app.
Many Areas of Interest Enhanced
In the past few months, several hundred areas of interest (AOIs) have been created and enhanced in the Editor app.  This includes many school campuses, parks and recreation areas, sports stadiums, and other important places within local communities around the world.  Most of these areas have already been completed and updated within the Esri Vector Basemaps.  Check out the story map below to see several examples of these AOIs that have been enhanced in the app.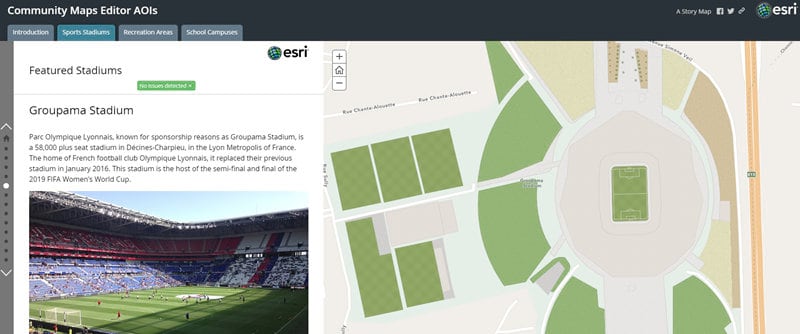 Community Map Challenges
Many of these AOIs been enhanced through one of our Community Map Challenges that we've conducted. The Map Challenges are intended as a fun way to challenge our user community (and ourselves!) to enhance some important places in the map that could use a little work. The initial challenges have been focused on different types of places that were particularly relevant at the time. Our first challenge was to enhance all of the Major League Baseball Stadiums across the United States and Canada, in preparation for the 2019 baseball season. Our second challenge was to enhance many of the best Cricket Grounds around the world, including those in the United Kingdom that hosted the 2019 Cricket World Cup. Without a formal map challenge, because of time constraints, we also enhanced all of the stadiums hosting the FIFA Women's World Cup France 2019.
With summer now here (in Northern Hemisphere), we recently launched our third challenge to enhance many of the world's Iconic City Parks. This is the most international and ambitious map challenge to date, given the number and size of some of these parks. If you are an outdoor enthusiast, or just like making beautiful maps, we invite you to join this latest challenge and help update one (or more!) of your favorite parks. You can choose one of the parks we've identified in the map challenge, or you can go rogue and work on another city park of your choice.
New Learn Lesson
To help new users get started with the Community Maps Editor app, we have shared a few useful resources. This includes a couple introductory videos (i.e. Introducing the Editor App and Accessing the Editor App) that we recommend you watch first. It also includes some step-by-step tutorials that we created for each map challenge (i.e. Creating a Baseball Stadium, Creating a Cricket Ground), which are useful for any stadium and most other areas.
To provide a more formal online training resource, we have just published our first learn lesson for the Editor app: Digitize Your Neighborhood with Community Maps. This learn lesson will teach you, step-by-step, how you can use the Editor app to enhance an area of interest with many different types of features. Along the way, you'll learn several tips and tricks that will make the editing experience much more efficient and fun, and help you produce high-quality results that are worthy of your time and effort. In the learn lesson, you'll work with a 'sandbox' version of the Editor app so can get comfortable with the tools before you make 'real' edits in the standard Editor app.  If you are new to the Community Maps Editor, you can follow this quick learn path to get started!
New Places Layer
We recently added one new layer to the Editor app that we invite you to use and edit to help improve the quality and currency of the data for your community. The layer is called Places and currently includes millions of businesses, restaurants, and other points of interest (POIs) in the United States. This data is sourced from SafeGraph Places. Users with an ArcGIS Online subscription can access SafeGraph Places for ArcGIS at no cost through the ArcGIS Marketplace. In addition, Esri will be making SafeGraph Places and other Places data available to ArcGIS users as part of our ArcGIS location services later this year. If you are attending the Esri User Conference next week, join us at the Living Atlas Road Ahead workshop to learn more.
The Editor app enables users to view and, if appropriate, edit information about these places (e.g. location, name, category, status, address) to help ensure it displays as expected. Esri will share your feedback with our data providers so they can provide the best possible product for your use in ArcGIS apps. If you notice a place that is missing, you can also create a new place and Esri will review and share those places as open data along with all the other new data created in the Editor app.
Going to the Esri User Conference?
To learn more about the new Community Maps Editor app and plans for our new Places data, we invite you connect with the Living Atlas team at the Esri User Conference. You can find us at the Data & Location Services area of the UC Expo, and learn more at several dozen technical workshops and demo theater presentations. Below are a few relevant sessions we recommend:
Living Atlas of the World: An Introduction (Tue @ 10am, Wed @ 1pm)
Living Atlas of the World: The Road Ahead (Tue @ 1pm, Wed @ 4pm)
Community Maps Program: Tips and Tricks for Using the New Editor App (Wed @ 12:15pm)
Community Maps Program: Best Practices for Contributing (Thu @ 8:30am)
We encourage you to use the Community Maps Editor to enhance your community and hope to see you at the Esri UC!
Commenting is not enabled for this article.