Esri Press has recently published a free, and free-to-share, eBook titled Extend the Reach of Your GIS: ArcGIS Online Tips & Best Practices. Authored by Bern Szukalski, Diana Lavery, and Matt Artz, the eBook presents a stepwise framework for rapidly configuring and implementing ArcGIS Online using best practices.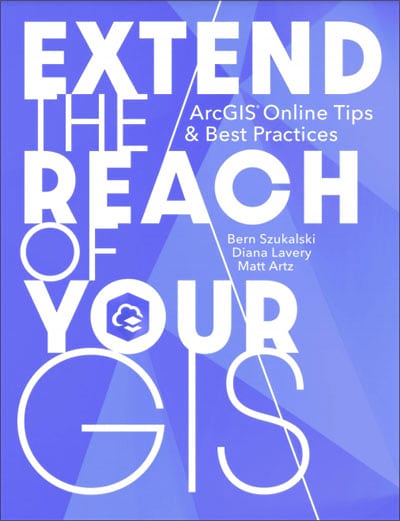 Based on a popular workshop that has evolved over many years, the eBook covers a variety of tips and best practices to help you succeed in implementing your cloud GIS, and also includes links to additional resources such as help documentation, Learn ArcGIS lessons, blog articles, and more.
Learn how to implement your cloud GIS for delivering intelligent maps, apps, and analytics and how to share them with key users throughout your organization and beyond. Discover how you can transform your data into actionable information for constituents and streamline your workflows.
Whether you've already lifted your GIS to the cloud, or are just beginning to think about it, you'll get valuable ideas on how to leverage the cloud to your best possible advantage and experience.
Topics covered include the following:
Governance
Home page
Creating your brand
Setting things up for success
Tips for tuning your organization
Groups
Member best practices
Authoring maps
Feature layers
ArcGIS Online analysis
Information products—apps and more
Keeping your organization moving forward
The eBook will be updated regularly and will evolve with each new release of ArcGIS Online.
We're hoping that you and your colleagues find the book useful, meaningful, and interesting. Feel free to share the link and socialize it with others. As always, your comments and suggestions are encouraged and appreciated, as well as ideas for additional topics.
Bern, Diana, Matt