It's time to refresh your browser – ArcGIS Online has been updated with the following new features and enhancements. This update includes updates and new capabilities for smart mapping, app templates, managing and administering organizations, and more.
Smart Mapping
First introduced in the March 2015 release, smart mapping provides data-driven tools that enable you to explore your data and easily author visually appealing web maps. When feature layers are added, the data is analyzed and appropriate layer styling options are presented in a streamlined user experience appropriate for your data.
New smart mapping features include:
You can set the transparency per feature with Counts and Amounts (Size),varying how much transparency is applied to each location based on a numeric attribute value. With polygon layers, you can choose to adjust the size range automatically, providing better visualization at all zoom levels.
Polygons can be set to auto-adjust their widths and transparencies to avoid symbol crowding and too-small symbols.

Analysis
Living Atlas layers optimized for analysis are now integrated into the analysis tools, making them readily available for use. For example, you can summarize your business' sales revenue by county by choosing USA Counties from the Living Atlas analysis layers (see Summarize data).
Other improvements include:
Organizations can configure travel modes to use with directions and proximity analysis tools.
Starting points can be chosen interactively for Create Viewshed, Create Watersheds, and Trace Downstream.
Find Hot Spots has been redesigned for ease of use. You can now choose between analyzing counts and analyzing intensities by dividing the input field (or count) by another variable in your data such as population.
Map Viewer
An analysis button has been added to the top of the map viewer, complementing and extending the way you access analysis from layers.

Buttons for commonly used layer actions appear as you hover over the layer, making them easier to find and use.

Search has been enhanced. You can add search results to an existing or new map notes layer.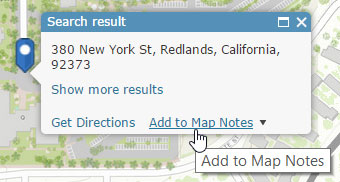 You can search using all available resources, or choose a single resource. Resources include geocoders configured in your organization's utility services, or searchable layers within the map.
New Map includes a drop-down list of your recently viewed maps, allowing you to open them directly from the viewer, rather than needing to go elsewhere.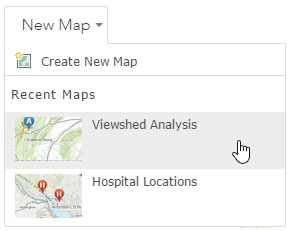 Other map viewer improvements include:
Date fields can be used for labels, and use the same date and number formatting as configured in pop-ups.
Searchable feature layers support integer fields.
Embedded maps are more responsive to different browser sizes and devices.
The sign-in experience has been enhanced when logging in to your account while a map is open.
Scene Viewer
The scene viewer is an app built into ArcGIS Online used for creating and interacting with 3D scenes.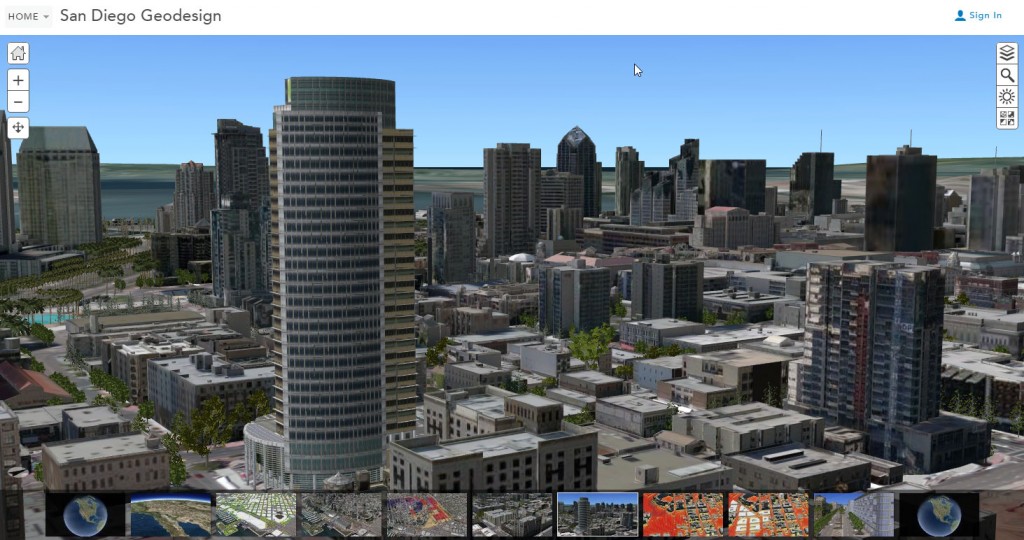 Scene viewer enhancements for this release include:
Scene sharing has been enhanced—you can embed a scene in a website or share a scene via email or social media.
Local and basemap elevation services can be seamlessly merged.
Mouse navigation can be toggled to use the navigation method of your choice—the default scene viewer settings, or the same navigation as ArcGIS Pro.
Sun and shadow settings persist when you create a slide or save a scene.
Polygons can be extruded up or down.
See through ground can be toggled to view underground layers.
Scenes can be viewed in fullscreen mode.
OpenStreetMap is now a supported basemap.
Configurable Apps
Configurable apps have a new setting when sharing apps publicly that contain maps using subscriber (premium) content. This option enables public access to the content via your organizational subscription.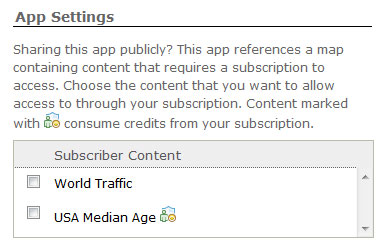 Search has been enhanced with more options. You can refine the search experience in your apps by choosing from the default search, an alternate search service, or inserting placeholder text.
Crowdsource Manager and Crowdsource Reporter have been enhanced and are available in the Esri Featured Apps section of the Gallery.
A new version of Time Aware is available that has an updated look and feel, and additional configuration options.
Story Maps
The Story Maps website has recently added My Stories, a one-stop place to view and manage your hosted story maps.
My Stories presents detailed information about your story map applications and includes tools for viewing, sharing, editing, and checking status—so you can identify and correct any issues, ensuring that all of your stories are the best they can be and work correctly for the level of sharing you have chosen. For more information see Introducing My Stories.
ArcGIS Open Data
By leveraging the sharing workflow of ArcGIS Open Data, organizations can unlock their authoritative information and provide open access to the public. To use Open Data, as an Administrator go to your organization settings and in the Open Data tab click Enable Open Data to begin configuring your site.

The upcoming release of ArcGIS Open Data will include the following enhancements:
Open Data feedback
Feedback loops enable public commenting on your datasets, providing a useful way to engage with citizens, identify data that needs to be updated or improved, and understand where to focus maintenance efforts.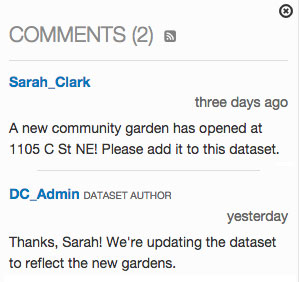 Support for standards-based metadata
Links to metadata documents managed from ArcGIS Online are now available from dataset pages and the documents are included with shapefile downloads.
Enhanced map visualizations
Administrators can enable GeoHash to provide a view of the density of features using a grid.

A new option to enable smart mapping on open data sites is also available.
For more information see ArcGIS Open Data help.
Web AppBuilder for ArcGIS
Web AppBuilder for ArcGIS enables you to easily build powerful GIS apps that run on any device, with no coding required. Using Web AppBuilder you can build the apps you need using ready-to-use widgets, customize the look of your apps with configurable themes, host your apps online or run them on your own server, and create custom app templates to support app building needs throughout your organization.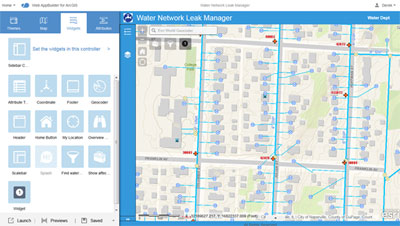 The following are new features and enhancements in this release.
New themes are available—Billboard, Box, Dart, Jewelry Box, and Launchpad.
The Foldable theme and Tab theme have improved responsive designs.
Imagery layers including visualization with scientific data are supported.
Downloading the source code of completed web apps from the item details is now supported.
Widgets can now be set to open at app startup.
New widgets
A new Search widget replaces the existing Geocoder widget. In addition to the functionality in the Geocoder widget, the new Search widget supports searching and suggestions on multiple sources.
A new Stream widget visualizes and controls real-time data feeds from streaming feature layers.
A new Summary widget dynamically summarizes numeric attributes for features based on the map extent.
A new Incident Analysis widget defines an area of interest and understands what's happening around the area, such as current weather, demographic info, and features close to the area.
A new GeoLookup widget enriches a list of latitude and longitude points. You supply a CSV file of points to the widget and it intersects the points with polygon layers on the map to get values associated with the points.
The Geoprocessing widget has support for uploading data to use in geoprocessing services that have upload capability.
The Layer List widget has configurable context menus.
The Zoom Slider widget provides interactive zoom controls in the map display.
The Query widget has configurable sorting rules for query results.
For more information see Web AppBuilder for ArcGIS Help.
Operations Dashboard for ArcGIS
Operations Dashboard for ArcGIS provides a common view of the systems and resources you manage. You can monitor real-time data feeds for large events or day-to-day operations on your desktop or tablet device. You can create executive dashboards that integrate maps, charts, gauges, and histograms for real-time views.
New features in this release include:
Administrators can add extensions to their organizations for publishers to use inside of their operations views.
Developers and partners can write new widgets, map tools, and feature actions using ArcGIS API for JavaScript.
Design and usability improvements to the browser app include support for light and dark themes.
For more information see Operations Dashboard for ArcGIS Help.
Navigator for ArcGIS
(Coming soon) Navigator for ArcGIS is a mobile app that gets your field workforce where they need to be, improving your efficiency and reliability. Use the data provided, or your own custom data, to search and navigate directly to your organization's assets. Navigator also works offline in seamless interaction with Collector for ArcGIS.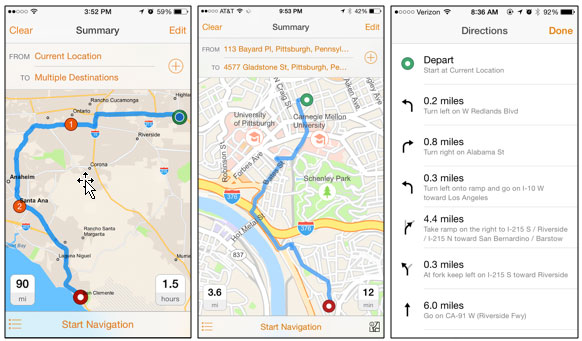 Features of Navigator for ArcGIS include:
Voice-guided directions and automatic route recalculation.
Location searching and directions to one or more stops.
Access to downloadable maps for offline navigation.
Support for travel modes such as walking, trucking or driving.
Integration with other ArcGIS Apps such as Collector for ArcGIS and your own apps.
For more information see Navigator for ArcGIS Help.
App Studio for ArcGIS (Beta)
Use AppStudio for ArcGIS (Beta) to convert your maps into mobile apps ready for Android, iOS, Windows, Mac OS X, and Linux. Publish them using your own brand to all popular app stores, no developer skills are needed.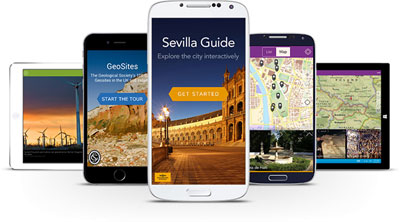 ArcGIS Content
ArcGIS Online includes a Living Atlas of the World, which provides access to a rich set of high-quality maps and layers (such as imagery, boundaries, and demographics) from Esri and other ArcGIS users.
Accessing the Living Atlas within the ArcGIS Online website has been enhanced. Within the gallery, the Esri Featured Content includes a more comprehensive set of maps from the Living Atlas of the World, including maps for your local region.
The map viewer has a Browse Living Atlas Layers option for adding layers, which includes an Esri-curated set of useful layers from Esri and other ArcGIS users that can be added to your map for visualization and analysis.
A new Living Atlas Contributor app is available for nominating maps and apps to the Living Atlas of the World.
Other updates include:
The Streets basemap and reference layers have updated data for Europe and dual-language labeling for several countries including Russia and Greece. The Streets basemap has also been updated with detailed content for South Korea.
GLDAS image services from NASA scientific datasets have been added, providing easy access to important meteorological variables. These data are global, multidimensional, and time-enabled
The Arctic area basemaps, including Arctic Imagery and Arctic Ocean Basemap, are no longer in beta.
World Imagery has been updated at large scales (L14–L17) with NAIP 2013 and 2014 imagery for most of the continental United States.
NAIP image services have been updated with NAIP 2014 imagery.
World Elevation includes 30-meter data for Asia and Australia. This same data is available in the Terrain 3D layer used in the scene viewer and other apps.
Global Demographic maps for 45 countries have been updated with more current data.
For the latest information see the ArcGIS Online blog.
Organizational and Administrative enhancements
Metadata
Organizations can enable standards-based metadata for their items. Organizations select a metadata style which configures the organization's experience for editing and viewing metadata. Standards-based metadata allows content authors to provide more information about an item than what is available on the details page. Styles support metadata standards such as FGDC CSDGM Metadata or North American Profile of ISO019115 2003.
Group member update capability
Administrators can create groups that allow members of the group to update items shared with that group. This is useful for shift workers in operations centers who need to update maps used in their apps and dashboards, and for other situations where multiple people need to update the same item.

Bulk group assignment
Administrators can assign new members in bulk to multiple groups as part of the invitation workflow for pre-established and automatically added accounts. In addition, administrators can add existing members in bulk to multiple groups as part of the Group Assignment settings in the Groups configuration tab.
Custom print layouts
Organizations can include custom print layouts in the map viewer. Layouts are based on what's provided in the organization's print service, which can be configured using the utility services settings.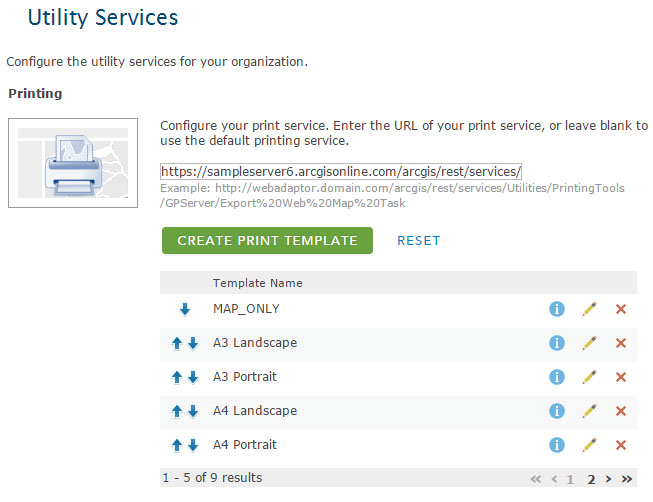 Travel modes
Organizations can configure travel modes to use with directions and transportation-related analysis tools.
Enterprise logins
Organizations that use enterprise logins can configure sign-in options for the organization's sign-in page to show only the enterprise login option, or both the enterprise login and ArcGIS account sign-in options.
Usage reports
Organizations can generate credit usage reports for date range periods up to one year (the previous limit was 90 days). A new chart shows credit usage over time.
Additional reports are available showing member role distribution, credit usage, and utilization statistics.
Credit reports for premium content have been expanded to include subscription content, imagery maps, and landscape maps.
For more information
There's a lot more in this release not covered in this post. For more information and details see the What's New help topic.
Commenting is not enabled for this article.