---
Note
Some capabilities detailed here are currently only supported in Map Viewer Classic. These will be available in a future release of Map Viewer.
---
In the news: The USGS estimates there are approximately 1,500 potentially active volcanoes across the globe. Recent volcanic events have made volcanoes a very hot news topic. Spain's Cumbre Vieja Volcano, on the island of La Palma, has been erupting for about a month, with lava flows having engulfed and destroyed nearly 1,500 homes and buildings. In Hawaii, Kīlauea Volcano is once again active, with its inner crater—Halemaʻumaʻu—erupting from a vent along its western wall.
Make a map of volcanic activity
ArcGIS Living Atlas of the World includes authoritative live feeds and other content that helps you learn more about volcanic activity around the world. Follow these steps to make your own map of volcanic activity in a minute (or less) using ArcGIS Online and Living Atlas.
Step 1 — Sign in to your ArcGIS account and open Map Viewer Classic. Note that some functionality used in these steps is not yet supported in the new Map Viewer.
Step 2 – Navigate to the Halemaumau Crater. This location is used because it is currently active at the time this blog article was written. You can use any another location and follow the same steps.
In Search, begin enter Halemaumau to find the crater.
Step 3 — Click Add, then Browse Living Atlas Layers.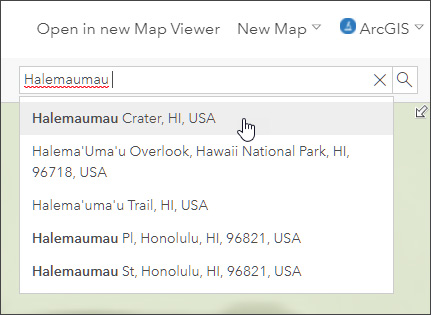 Zoom out to get an overview of the area surrounding the Kilauea Crater.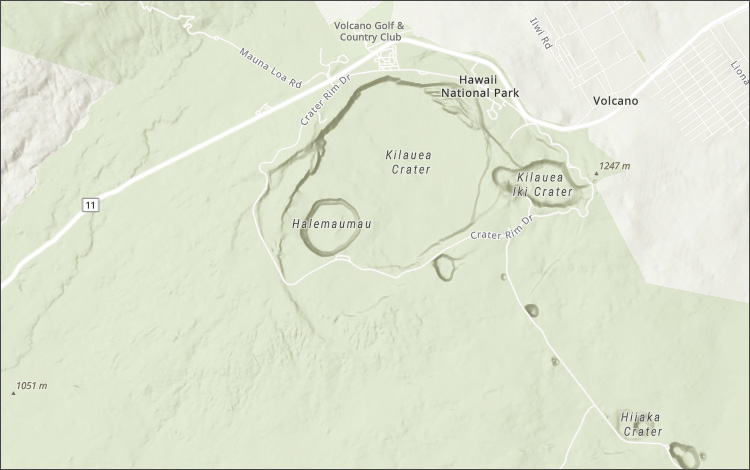 Step 3 – Add the Sentinel-2 imagery.
Click Add, then Browse Living Atlas Layers.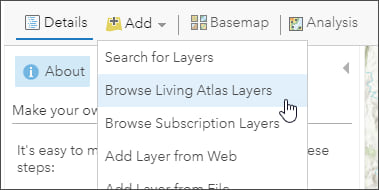 Search for "imagery" and scroll down to locate the Sentinel-2 layer, then click + to add the layer to your map. You can also search for "Sentinel-2."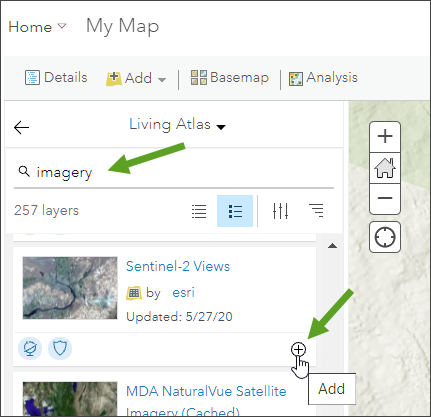 Tip: To learn more about any layer, click the layer title to View item details.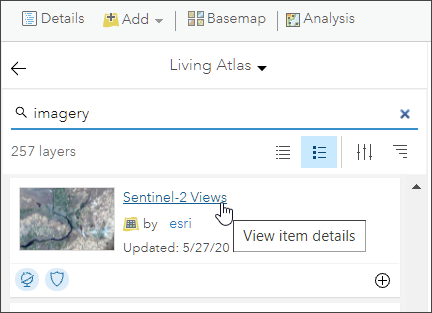 From the Sentinel-2 Views item details we can learn that it is multispectral, multitemporal global imagery obtained via two satellites placed in the same orbit by the European Space Agency, and phased 180 degrees from each other. Every location on the planet is revisited every 5 days. This Living Atlas imagery layer pulls content directly from the source Sentinel-2 archive on Amazon Web Services (AWS), and is updated daily (though the most recent imagery available may be several days old).
Your map should look similar to the map shown below: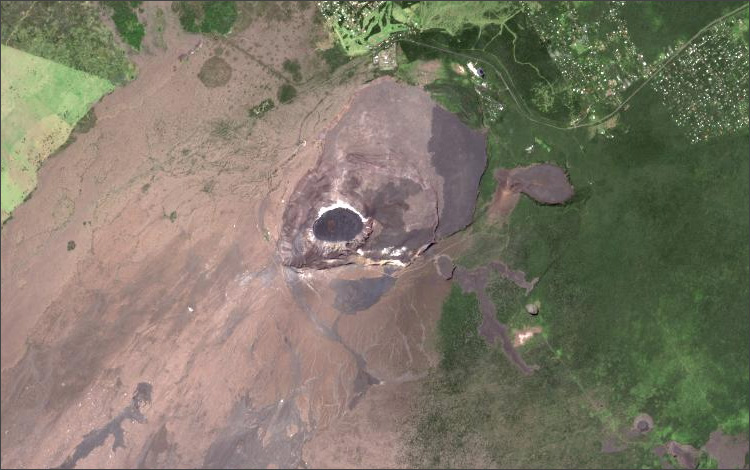 Step 4 – Remove the default filter on the imagery.
The default filter on the Sentinel-2 layer will display the clearest imagery available by date. You will want to search for all imagery around the dates of any volcanic activity, even smoke or cloud-filled imagery, so remove the filter so all imagery will be available. After adding the layer, click the Filter icon to display the current filter, and remove it.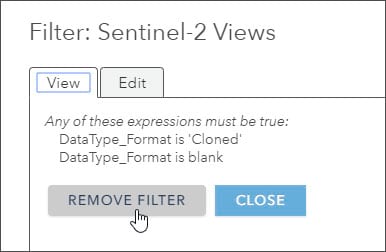 Step 5 – Search for available imagery. Click options (…) and choose Image Filter.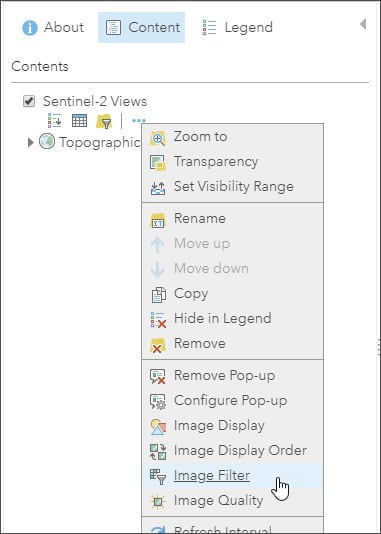 Step 6 – Add the desired imagery as a new layer.
Adjust the time slider to see the available dates. Hover over each to display the coverage footprint in yellow on the map. Identify the date, then select the image that covers your area of interest best. In this example we chose Sentinel-2 imagery acquired on October 4, 2021. Click Add As A New Layer to add the imagery to your map, then click Done to return to Contents.
Step 7 – Adjust the image display.
To glean more information from multispectral imagery like Sentinel-2, you can choose a renderer that highlights specific characteristics of the imagery. For example, you can choose renderers that highlight healthy vegetation, geology, moist areas, and more.
The default renderer is Natural Color with DRA (Dynamic Range Adjustment). Short-wave Infrared is appropriate for viewing active fires and hot spots, even through clouds or smoke.
From the layer options, choose Image Display.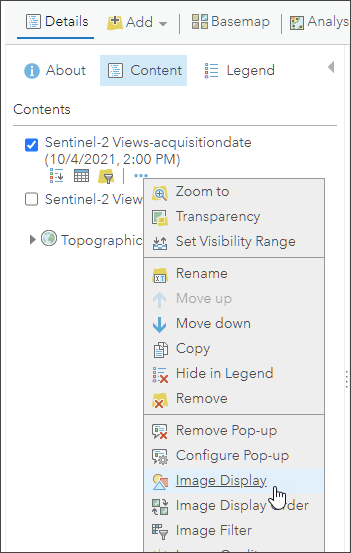 Step 7 – From the list of renderers, choose Short-wave Infrared with DRA.
Click Apply, then Close. Using Short-wave Infrared we can clearly see the hot spot of activity within the Kilauea Crater.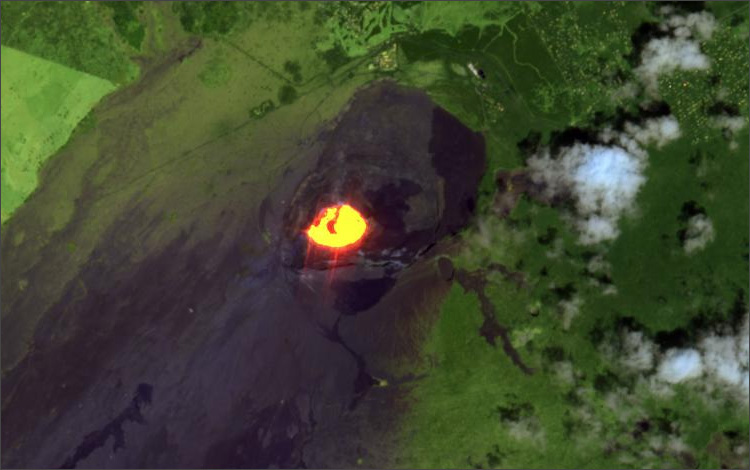 Technically, our volcanic activity map is finished in well under a minute, and shows the recent activity in Kilauea's inner crater.
Step 8 – To provide additional context, add the MODIS and VIIRS live feeds.
Use "hotspot" or similar in search, or enter "MODIS" and "VIIRS" to find the layers. Click the + to add them to your map.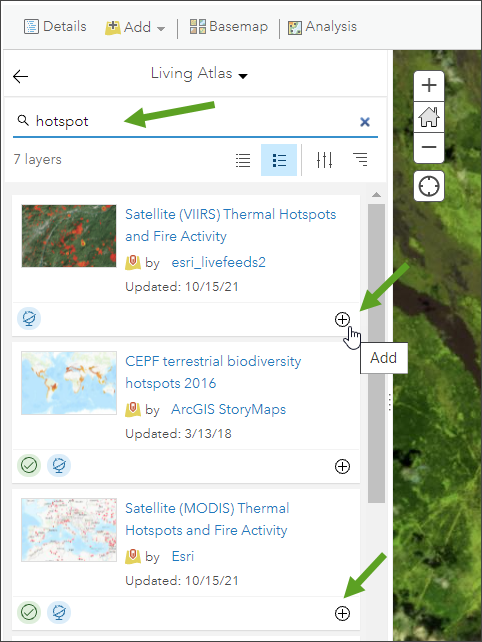 From the item details, we can learn the following:
Satellite (MODIS) Thermal Hotspots and Fire Activity shows where high thermal activity is occurring. Thermal activity is detected by sensors on board NASA's Earth Observing System (EOS) satellites and is published as a live feed containing data collected within the last 48 hours. The feed is updated every 30 minutes.
Satellite (VIIRS) Thermal Hotspots and Fire Activity shows thermal activity detected by the VIIRS sensors on the NOAA/NASA Suomi NPP and NOAA-20 satellites. The layers is published as a live feed and is updated every 15 minutes.
When finished, your map should look similar to the one shown below: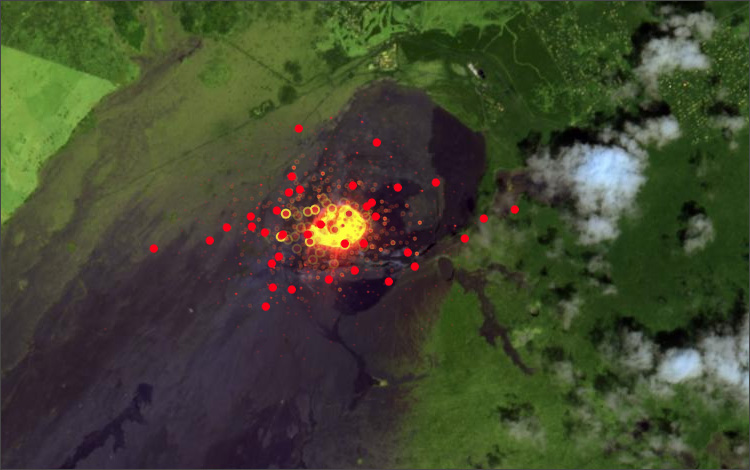 Finalize your map
You can experiment with different basemaps and other settings until you get the desired results for your final map. Below, the basemap has been switched to a gray multi-directional hillshade and the Sentinel imagery has been adjusted with approximately 40% transparency.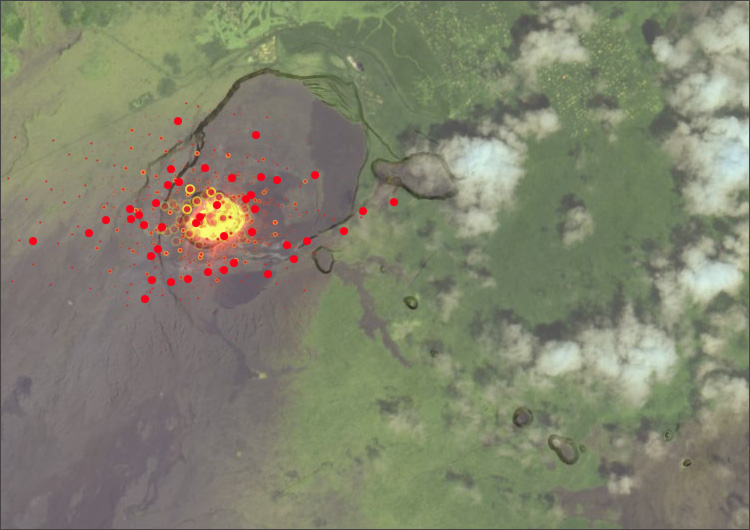 You can apply the same workflows above to other areas of volcanic activity. For example, below is the Cumbre Vieja Volcano lava flow on the island of La Palma.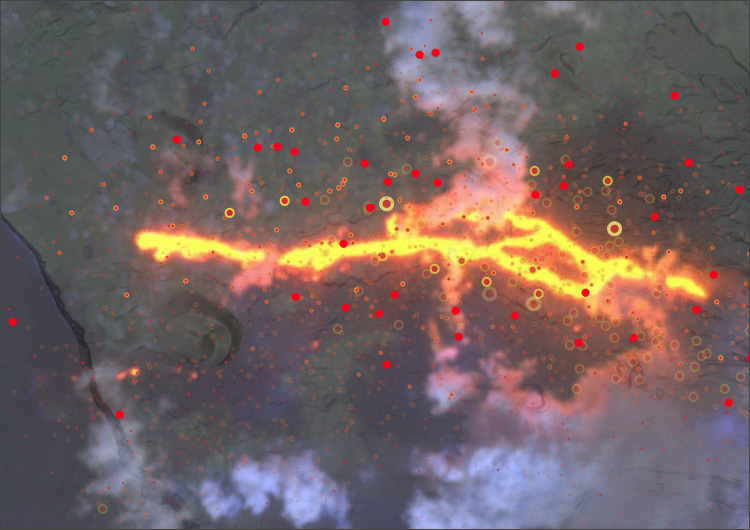 More information
For more information see