Some layers in your web map may be dynamic, meaning they are being updated at regular intervals. For example, a GeoRSS feed, earth observations from the Living Atlas, or a feature service being updated by workers performing edits while in the field.
When the map containing these layers is redrawn, these data refresh. By setting the refresh interval property on these layers, you can force an automatic refresh at a specific time interval. These refreshes occur even while the map is open and idle, and will synchronize the map anywhere it is accessed – via browsers, desktops, and devices.
Example: USA Weather Warnings and Watches
USA Weather Warnings and Watches is one of the curated earth observation layers available in the ArcGIS Living Atlas of the World. To add the layer to your map, click Add then choose Browse Living Atlas Layers.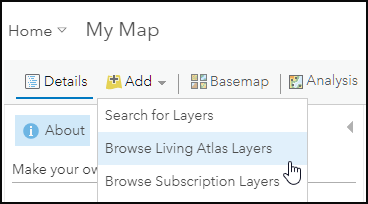 Searching for "weather" we can find the USA Weather Warnings and Watches live feed from the Living Atlas, and add it to our map as a layer. Click (+) to add it to your map.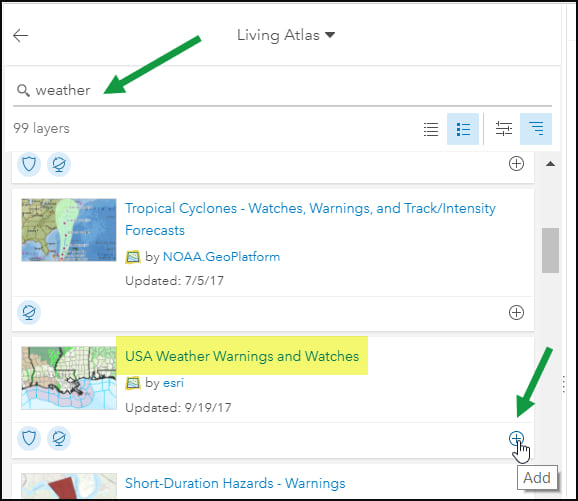 Viewing the item details we learn that the service is checked for updates every 5 minutes. To view the details, click the title (or thumbnail if in List view). Scrolling through the item details, we learn the service is updated every five minutes.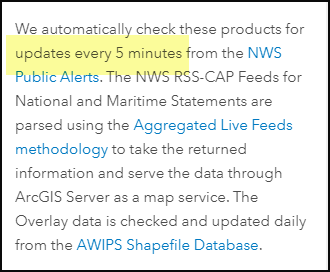 To set the layer refresh to match the update interval, open the layer options, choose Refresh Interval, and set it to 5 minutes.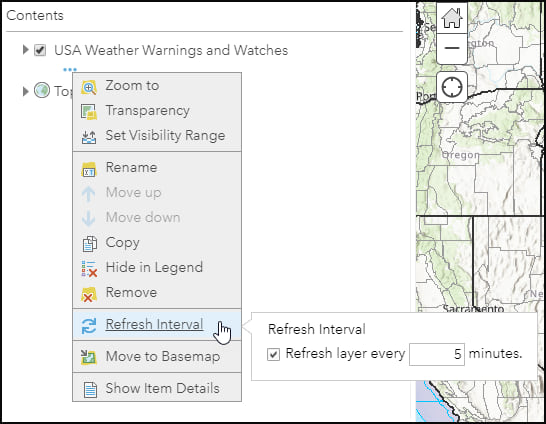 The interval must be expressed in minutes, but can be in the range 0.1 (6 seconds) to 1440 (1 day). This ensures that even when the map is not being actively used, the layer will refresh to show the latest updated information.
The layer properties are saved with the map, and the layer will automatically refresh at the specified interval when viewed, even if the map is left idle.
View a sample web map using refresh intervals. The web map has two layers (USGS earthquakes past hour and past day) that update every 5 minutes. Update intervals can be different from layer to layer.
More information
For more information see:
This post was originally published on September 25, 2013, and has been updated.
Commenting is not enabled for this article.