Earlier this week, a friend texted me a link to a podcast they recommended, and I added it to my playlist. Last night I found a great recipe for a dish I'd been thinking to prepare, and bookmarked it to add to my recipe folder for a future meal. This morning I was reading my news feed and found several interesting articles. I saved them so I could find them easily when I had more time to read them.
Bookmarks, favorites, playlists, and other similar capabilities can be thought of as shortcuts to web pages and other resources that are saved in your browsers and apps so you can access them quickly and easily in the future.
Organize content for easy access
There are a variety of ways that you can organize content you frequently use, or gather maps and layers that you need for a project and want to keep readily accessible. Groups are one way to organize items, categories and tags are others.
Often overlooked, using My Favorites is an even easier way to keep tabs on items of interest and have them just a click away.  Plus, favorites are deeply integrated and integral to common ArcGIS Online workflows, including ArcGIS Desktop and ArcGIS StoryMaps.
My Favorites – your favorite collection of content
After you sign in, you will find My Favorites by clicking Content:

Then click My Favorites to show your current favorite items.

If you've not yet added to your favorites, you will see an empty gallery with instructions.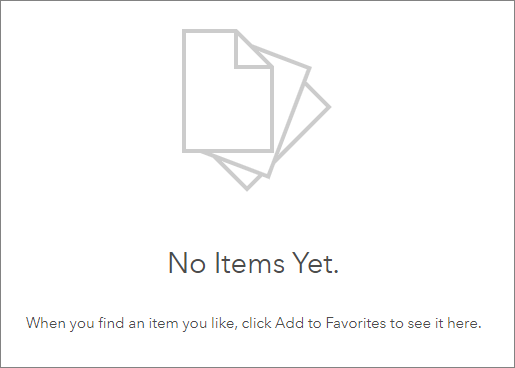 Add items to My Favorites
To add to your favorites, go to Content or use Search to locate items. In the returned items list, or on the item Overview, and click Add to Favorites. You can favorite your own items or items in your organization, or items you find in ArcGIS Online or ArcGIS Living Atlas.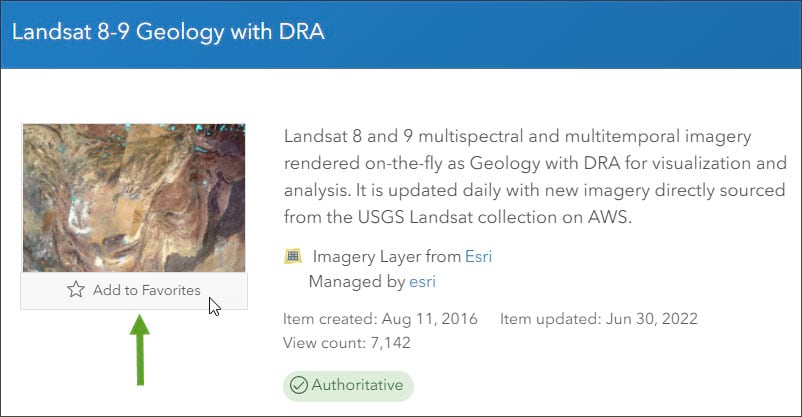 To remove the items, go to My Favorites and click the star again: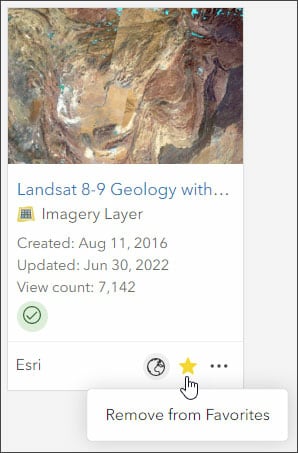 You can also favorite items you find via the Living Atlas website after you sign in to your account. Browse for Living Atlas content, then just like above, click the star to add the Living Atlas item to your favorites.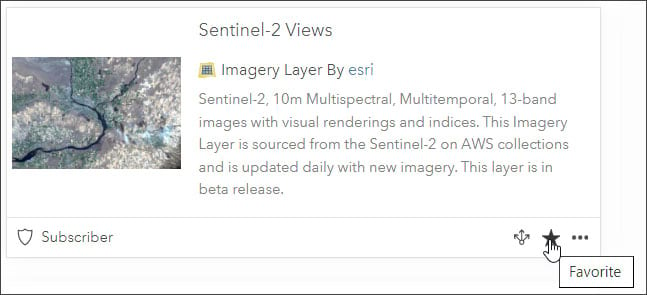 A few ways you can leverage My Favorites
You can favorite any item that is shared with you. For example, your own items or items in your organization, items in groups or shared collaboration groups, items you find in ArcGIS Online, or items you find at the ArcGIS Living Atlas website.
All item types are supported: maps, layers, apps, scenes, tools, documents and more. What's more, whether you are using Map Viewer, Scene Viewer, ArcGIS Pro, or authoring a story using ArcGIS StoryMaps, My Favorites is available to streamline common workflows.
Streamline map and scene authoring
You can use your favorites to streamline your workflow when authoring using Map Viewer or Scene Viewer. Favorite the layers you frequently use, or are using for a particular project, and they'll be easily found.
Since you can easily add or remove layers from your favorites, this is a dynamic and customizable way to streamline project-by-project map or scene authoring.
Choose My Favorites from the Add or Browse layer drop-down list to show all the layers you've favorited.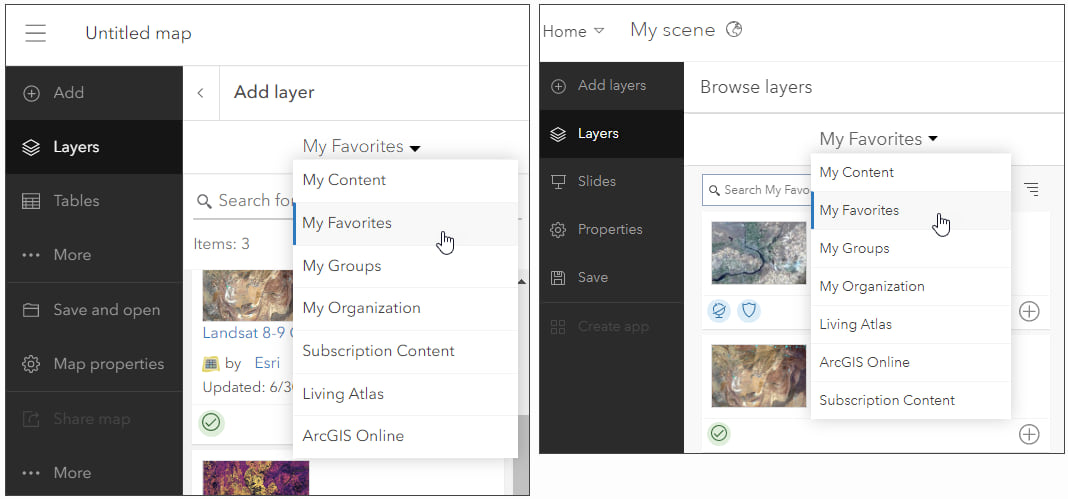 Quick access to frequently used apps
Use My Favorites to deliver quick access to your frequently used apps. For example, do you use Vector Tile Style Editor? World Imagery Wayback? Or apps you or your organization have created? Favoriting them keeps them a couple of clicks away, you won't have to hunt for them the next time you want to use them.
Make it easy to use Living Atlas content
The Browse tab at the ArcGIS Living Atlas website provides comprehensive search and filtering tools to help find maps, apps, layers, and tools for your projects. Favorite what you find to make it easy to leverage Living Atlas content, without needing to go back and browse again.

Administrators can find and directly add useful Living Atlas basemaps not in the default collection to their organization's custom basemap gallery, or other featured content galleries on the home page. For more information, see Use ArcGIS Living Atlas to create a custom basemap gallery.
A warehouse for temporary storage
Your organization, ArcGIS Online, and ArcGIS Living Atlas have lots, and lots, of content. As you find things of interest, favorite them. Then later, from My Favorites you can organize them further. For example, sharing what you've favorited into groups for you or others in your organization to use.
Administrators can identify content that members should use from a variety of sources such as Living Atlas, favorite them, then make decisions about groups where they can be discovered and used effectively by organization members.
Streamline adding maps to ArcGIS StoryMaps
When adding a map block or adding a map to a sidecar block in ArcGIS StoryMaps, My Favorites can be used to enable the maps you intend to use in your story to be easily accessed. Click the My Favorites tab when adding any map to your story.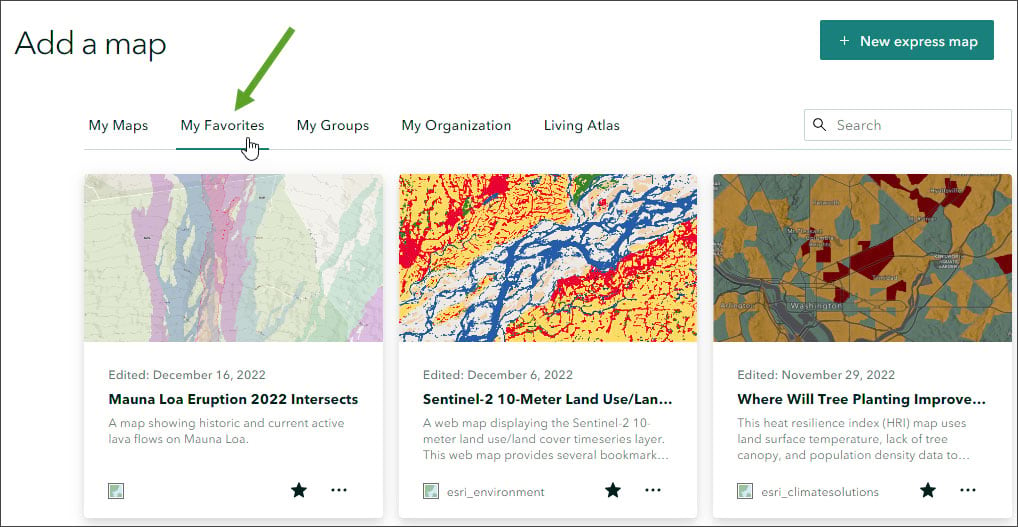 Use My Favorites in ArcGIS Pro
My Favorites is also available from Add Data in ArcGIS Pro, placing valuable content a couple of clicks away. You can also favorite tools such deep learning packages and raster function templates, and project packages found in Living Atlas or in your organization for use in ArcGIS Pro.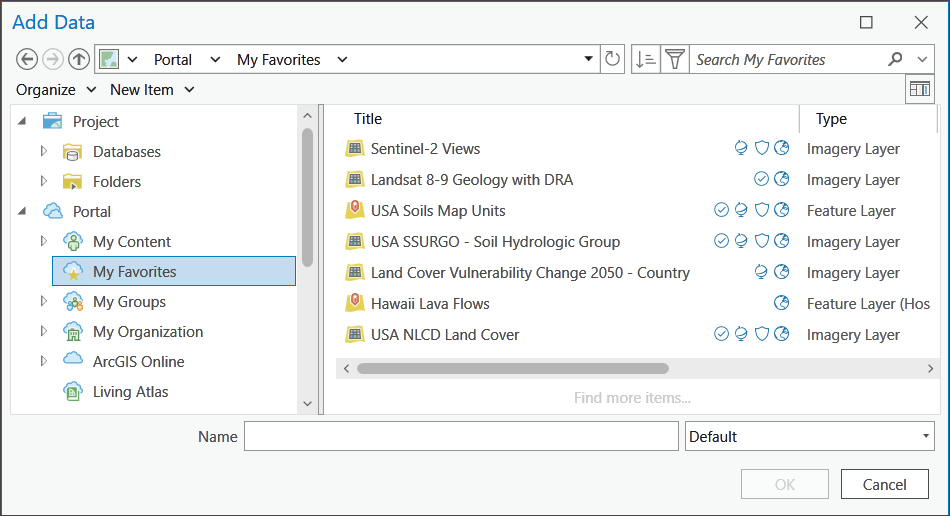 More information
For more information, see:
This blog article was originally published on September 12, 2018, and has been updated.
Commenting is not enabled for this article.