ArcGIS Online has just been updated with the following new features and enhancements. This is a relatively minor update, but includes a few key new features, and enhancements throughout the ecosystem.
For additional information see the What's new help topic or ArcGIS blog posts specific to this release.
*
Map Viewer
Map Viewer is a built-in app that enables you to view and author maps, navigate, see map details, edit, perform analysis, and more (depending on your privileges). New for this release:
New symbol sets have been added for emergency management, local government, and state government.

You can now set a refresh interval to an image in a layer pop-up, useful for images that need to be updated regularly, such as those captured by a traffic cam or other updating image source. See Show images.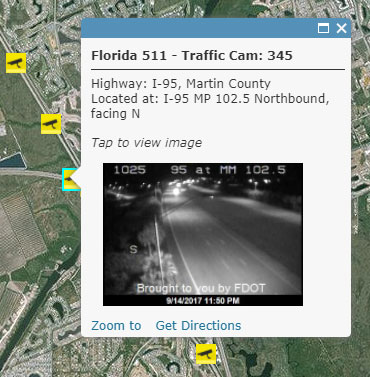 If your map has a layer with a large number of points, you can now configure clustering to make it easier to display and explore your data. When you enable clustering, features are grouped into a single symbol when they fall within a certain distance of one another.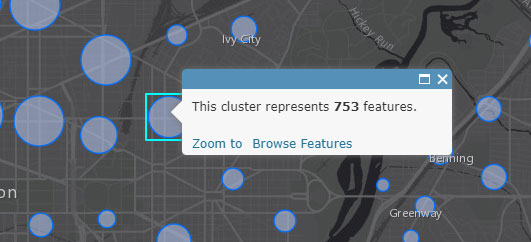 Clustering is applied dynamically at multiple scales, so as you zoom out, more points are aggregated into fewer groups, while zooming in creates more cluster groups.
*
Scene Viewer
Scene Viewer is an app built into ArcGIS Online for creating and interacting with 3D scenes. New for this release:
You can style point cloud layers directly in Scene Viewer using Smart Mapping.
You can visualize your layer using elevation, intensity, class codes, or true color, based on your point cloud data attributes.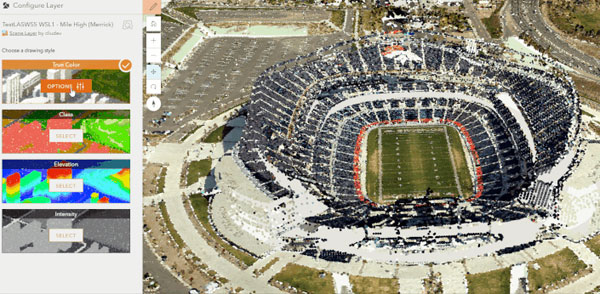 The vertical placement of your building (3D object), integrated mesh, and point cloud scene layers can be adjusted using the new elevation offset option.
Scene Viewer now supports vertical coordinate systems (VCS) and vertical units with scene or imagery layers that have precise vertical measurements.
OGC Web Map Service (WMS) layers can now be added. View the legend and configure pop-ups to further explore your data. See What layers does Scene Viewer support?
For more information, see What's new in Scene Viewer.
*
Living Atlas
ArcGIS includes a Living Atlas of the World with useful and authoritative maps on thousands of topics. Living Atlas is built into ArcGIS, providing an easy way to access basemaps, maps, layers, and more.
Esri vector basemaps have been updated with the latest commercial data for North America, South America, and Europe. In addition, the vector basemaps have been updated with detailed local data for dozens of communities in the United States, Canada, and elsewhere.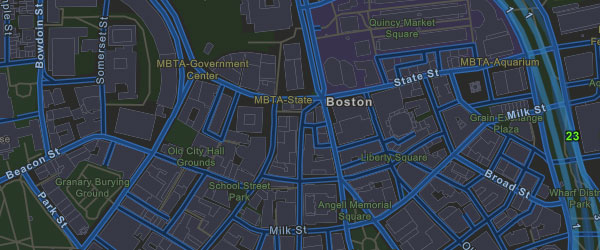 The World Imagery basemap has been updated with DigitalGlobe and Community Maps imagery for several countries, including Afghanistan, Germany, and Spain. Several dozen metropolitan areas in other countries have been updated with sub-meter resolution imagery.
*
Story Maps
Story Maps let you combine authoritative maps with narrative text, images, and multimedia content, making it easy to harness the power of maps and geography to tell your story.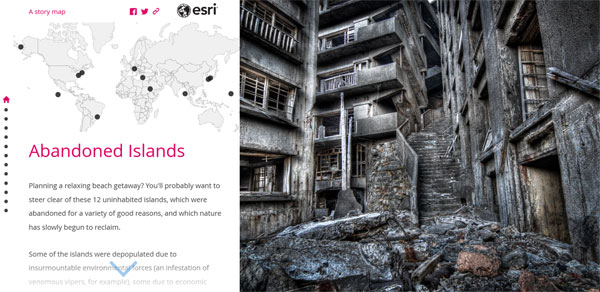 To improve usability and follow Web Content Accessibility Guidelines 2.0, enhanced keyboard navigation has been added to Story Map Journal. Keys can be used to navigate through the sections and around all the interactive elements, like buttons and links.
See the Story Maps website and Story Maps blog for more details.
*
Configurable Apps
Configurable apps provide an easy and fast way to go from a web map to an application, with no coding required. The following are new for this release.
Map Styler and Scene Styler are no longer in beta.
Crowdsource Reporter now supports setting a comment period in which users can submit new reports, comments, or votes.
Public Gallery is now in mature status. As an alternative, consider using the Maps and Apps Gallery or Minimal Gallery (beta).
See Choose a configurable app to learn more about these, and others. For more details on what's new see the configurable apps blogs posts.
*
Web AppBuilder
Web AppBuilder offers a way for you to easily create HTML/JavaScript apps that run on any device, using a gallery of ready-use-widgets. You can customize the look of your apps with configurable themes, and can host your apps online or on your own server.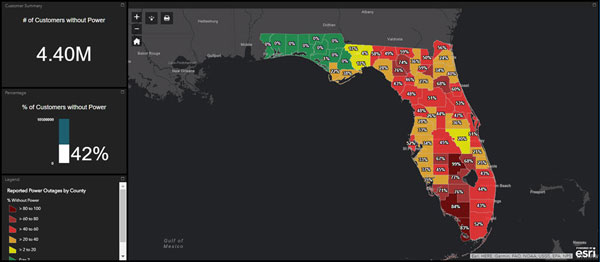 The following widgets have been enhanced:
Infographic now supports using a layer's symbology as chart colors when applicable; parsing a date field as a category field into selected units including year, month, day, hour, minute, and second; and sorting charts by value and label. Options were added to specify the maximum categories to display and determine whether or not to ignore null values.
Bookmark has new configuration options to display bookmarks in cards and list views, reorder bookmarks, and control whether or not end users can add bookmarks. Bookmarks predefined during configuration can no longer be removed at runtime.
Smart Editor has new options to show a list of valid drawing options for the selected template and to display the preset value list above the template picker. It also supports feature action so you can open it from the pop-up once it's been configured in the app.
Filter has a new option to collapse filters with an Ask for values check box when the widget first opens
For more information, see What's new in Web AppBuilder for ArcGIS.
*
Apps for the field
ArcGIS apps for the field help you use the power of location to improve coordination and achieve operational efficiencies in field workforce activities. Apps for the field have had numerous enhancements since the previous ArcGIS Online update including the following new features and capabilities.
Explorer for ArcGIS
Explorer for ArcGIS allows everyone in your organization to discover, use, and share maps on their Mac, iOS, or Android device.
Explorer for ArcGIS has moved into the field by adding functionality to make it easier to replace your paper maps. Use maps online or download maps packaged for offline use, mark up your map and share your sketches with your organization, and get directions or use the compass to find your assets. Explorer for ArcGIS supports more responsive vector basemaps, maps created with smart mapping, related records, and Arcade labels.
A new, simplified experience for discovering maps in your organization gets you to the maps you need. These new features are available on iOS and in beta on Android. For more information, see What's new in Explorer for ArcGIS.
Navigator for ArcGIS
Navigator for ArcGIS is a mobile app that gets your field workforce where it needs to be, unlocking efficiency and improving reliability.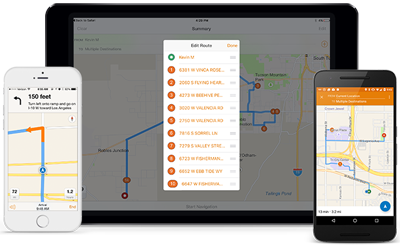 Navigator for ArcGIS can now display a stop list opened from a route layer item page.
Operations Dashboard for ArcGIS
Operations Dashboard for ArcGIS is an app that enables you to monitor, track, and assess your assets and daily operations.
Operations Dashboard has refreshed the functionality provided by dashboard items (beta). You can now author and share dashboard items from within a web browser. Dashboard items support the most modern aspects of the ArcGIS platform (including smart mapping, vector tile basemaps, and Arcade expressions) and feature a powerful new layout system and charting engine.
For more information, see the beta release blog post. To learn more about dashboard items, and to share your experience with them, join the beta program through the Early Adopter Community.
Survey123 for ArcGIS
Survey123 for ArcGIS is a simple and intuitive form-centric data gathering solution that makes creating, sharing, and analyzing surveys possible in three easy steps.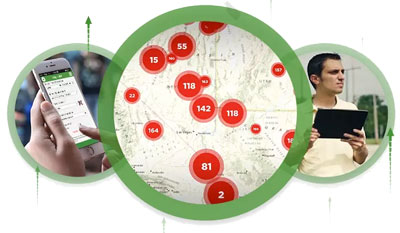 Survey123 has had an incremental release since the last ArcGIS Online update, including the following features and enhancements:
Audio recordings are now supported in the field app, and image questions support drawing or annotating on a full-screen canvas.
Editing workflows now support forms with repeated sections.
Using the Survey123 website, you can author a print template and print individual survey results.
Survey results can be exported in Microsoft Excel and KML formats.
Developers get the Survey123 field app and Survey123 Connect source code with AppStudio for ArcGIS.
For more information, see What's new in Survey123 for ArcGIS.
*
Apps for the Office
ArcGIS Apps for the Office enable you to put powerful, user-friendly tools and data into the hands of data analysts to gain location-based insights and make decisions that save money and time.
ArcGIS Maps for Power BI
ArcGIS geo-enables Microsoft Power BI with the world's leading spatial analytics. ArcGIS Maps for Power BI offers enhanced mapping capabilities, demographic data, and even more visualizations. ArcGIS Maps for Power BI is updated on a regular basis to provide new features, improved speed and performance, better usability, and bug fixes.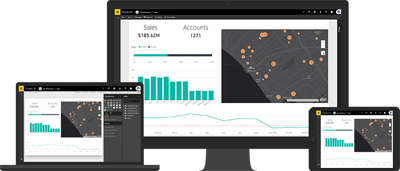 The latest update allows you to choose between an exact-match and a closest-match location search when mapping boundaries.
For more information, see What's new in ArcGIS Maps for Power BI.
ArcGIS Maps for SharePoint
Esri Maps for SharePoint has been rebranded as ArcGIS Maps for SharePoint. ArcGIS Maps for SharePoint leverages the Microsoft SharePoint framework to offer interactive and configurable mapping components that give you a geospatial view of your organization's data.
This update adds support for Microsoft SharePoint 2016, and the online version is now available as a single app that contains both the ArcGIS Maps app and the ArcGIS Maps Locate workflow. An enhanced security solution now allows SharePoint administrators to choose how to securely store ArcGIS credentials. This update supports ArcGIS Enterprise 10.5 and includes several user experience enhancements. For more information, see What's new in ArcGIS Maps for SharePoint.
Esri Maps for IBM Cognos
Esri Maps for IBM Cognos has moved to mature status [PDF] and is no longer available for download. If you have already downloaded Esri Maps for IBM Cognos, you can continue to use it. Read more about its product life cycle support status.
Esri Maps for MicroStrategy
Esri Maps for MicroStrategy has moved to mature status [PDF] and is no longer available for download. If you have already downloaded Esri Maps for MicroStrategy, you can continue to use it. Read more about its product life cycle support status
ArcGIS Earth
ArcGIS Earth enables you to explore any part of the world, and work with a variety or 2D and 3D map data formats.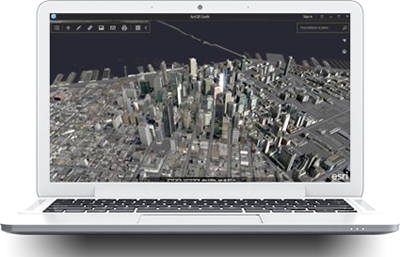 ArcGIS Earth now supports 3D models and local rasters. Using the ArcGIS Earth Automation API, you can control camera navigation and fly animations, control data operations, and take view snapshots.
This update enhances the capability to batch geocode content in ArcGIS Online and provides a smoother editing and configuration experience on CSV layers and drawing elements. As an administrator, you can now organize startup layers into groups, and turn off calls to ArcGIS Online for secure environments from the application configuration file.
For more information, see the ArcGIS Earth help.
GeoPlanner for ArcGIS
GeoPlanner for ArcGIS incorporates each aspect of a complete planning workflow—project creation, data identification, comparative analysis, and reporting—into a single web-based application. The app helps planners from a wide range of industries create and report on alternative planning scenarios to make geographically informed decisions.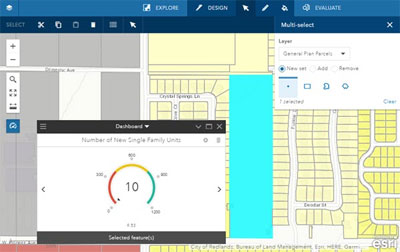 You now have more control over managing design layers. Once you create a design layer, you can rename the layer, add new design types, or delete existing types.
You can now update the attributes of multiple features simultaneously with the Calculate tool.
The Project Backstage now includes a new Collaborate section that contains tools that allow you to collaborate with others during the planning process.
You can now define constants in your projects that can be used in key performance indicator (KPI) calculations.
Please note that the GeoPlanner release is scheduled for later this month, and will not be released at the same time as this ArcGIS Online release. Stay tuned for further announcements.
*
Other Enhancements
Geocoding and geosearch
Organizations interested in optimizing geocoding and search results for addresses and places of interest can now create a new view of Esri World Geocoding Service to search only for specific types of locations within an area of interest. For example, you might create a locator view to limit search results to particular areas, or to enforce a specific level of precision when members perform batch geocoding of addresses.
Coordinate reference systems
Military Grid Reference System (MGRS) and United States National Grid (USNG) are now supported coordinate reference systems for publishing CSV files or Excel files as hosted feature layers. There is no credit cost for publishing with MGRS or USNG. There is a minimal cost for storing the published hosted feature layers. You can also now add CSV files to Map Viewer that use MGRS or USNG coordinates.
Accounts
Profiles now include a pop-up with information about the role you've been assigned. See Manage profile for more information.
*
For more information about the September 2017 release
For more information about the September 2017 release, see the What's new help topic or ArcGIS blog posts specific to this release.