Joining layers or fields is a common and critical part of the data engineering process. But it can sometimes be challenging to investigate and evaluate the success of the join. With Data Engineering in ArcGIS Pro, this process can be much more effective and enjoyable.
Data Engineering can help you quickly identify joined fields. If you have a large table, it helps you easily see where the joined fields begin, and how many fields were added. If you have multiple joined tables, it can help you easily identify the source of each joined field. This can make it easier for you to identify your fields of interest, then you can use Data Engineering to make a copy of that field. Check out the video to find out how.
Data Engineering can also help you find out if a join has been successful. The short video below shows you how to use the statistics panel to check for nulls in the joined fields. This can be a quicker and more accurate way to check the join than looking at the attribute table.
These videos have showcased how you can use Data Engineering to join fields using the Add Join tool. However, ArcGIS Pro has a few other ways to join layers. The Integrate group of tools contains the Spatial Join and Join Field tools. The Spatial Join tool enables you to join fields based on their spatial relationship to the input features. The Join Field tool lets you transfer one or more fields to the input table permanently. You can access these tools from the Data Engineering ribbon, in the Tools groups and the Integrate menu, or by right clicking fields in the fields panel or rows in the statistics table.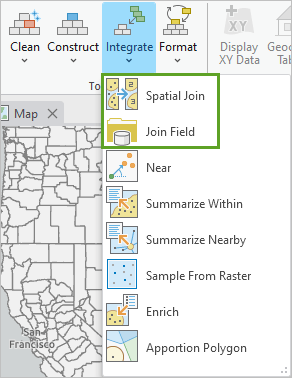 View more resources about how to use Data Engineering
Watch all the Data Engineering: How to videos on our channel