We are less than a month away from the 2023 Esri User Conference and are looking forward to answer your questions and showcase the latest exciting features in ArcGIS!
ArcGIS Pipeline Referencing is designed for pipeline operators and vertically integrated utilities that use linear referenced data for compliance and annual federal-mandated reporting. It works with Pipeline Open Data Standard (PODS) and Utility and Pipeline Data Model (UPDM) to manage pipelines efficiently and safely via route and centerline, and events location management capabilities. Along with new functionality in the Q2 2023 release, we have enhanced the sync service capability to support offline linear referenced data collection and updates. You can now use ArcGIS Field Maps in a disconnected environment and sync the updates back into the pipeline referencing geodatabase aka the system of record.
Join us in the expo
Visit us at the Utilities industry area (indicated using the red location pin in the image below) in the Esri showcase on the expo floor. The showcase is open during
Tuesday, July 11: 9:00 a.m. — 6:00 p.m.
Wednesday, July 12: 9:00 a.m. — 6:00 p.m.
Thursday, July 13: 9:00 a.m. — 4:00 p.m.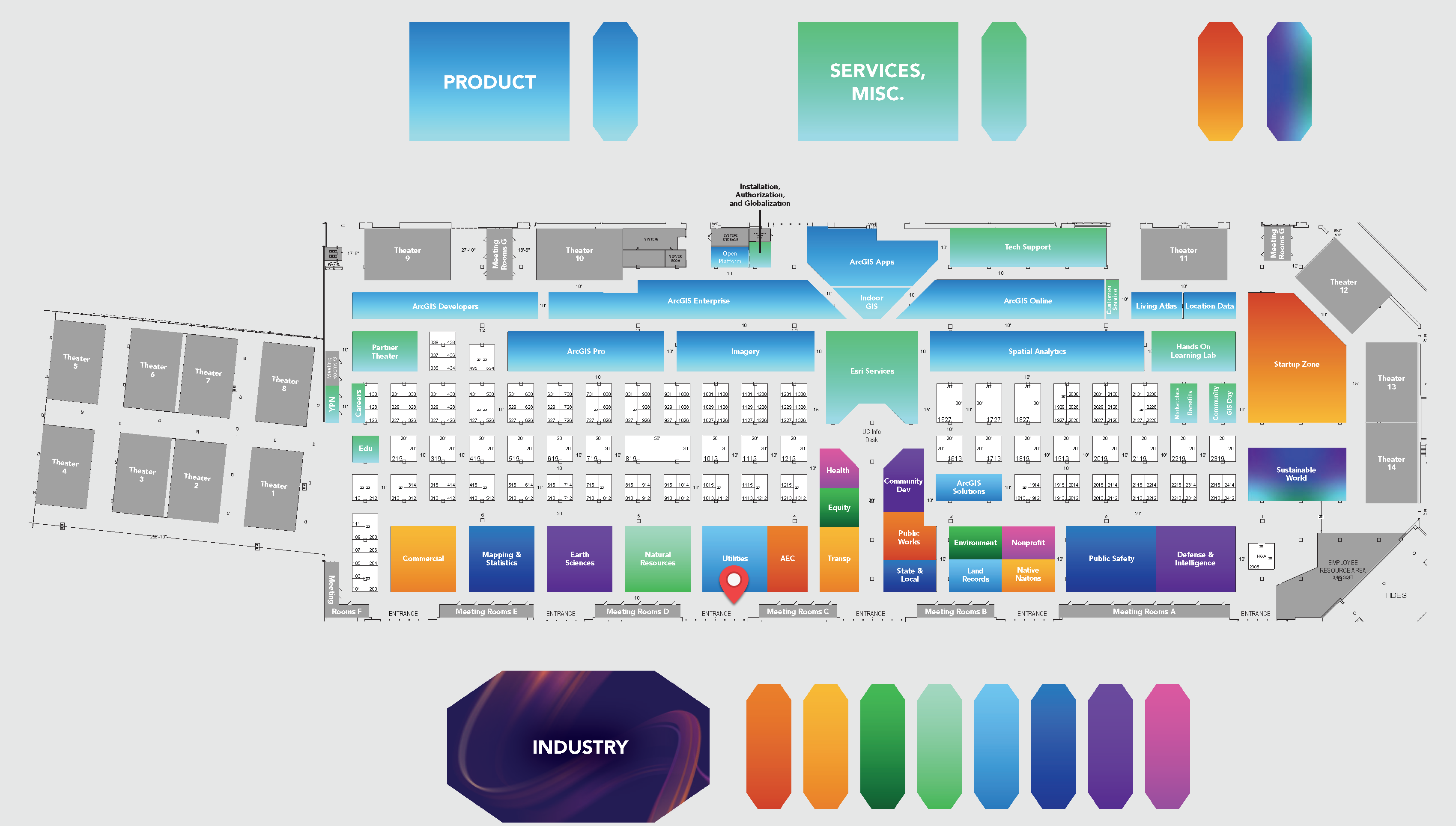 Note: The UC Event Map is now available to allow you to get familiar with the convention center and view locations of sessions and activities before you go. You can also generate a route and directions between two locations and view the estimated travel time. Use this map as a helpful tool, along with the Detailed Agenda and My Schedule, for planning your UC experience. The map will also be available in the Esri Events App and at directory kiosks on site in the convention center. Learn more.
Attend the sessions
Below is a chronological order of sessions focused on ArcGIS Pipeline Referencing.
Meeting | Tuesday, July 11 | 8.30 AM | Room 17 B
We would like to extend a warm welcome to our pipeline community for the kickoff session at the upcoming User Conference. This year's conference promises to be an exciting and informative event, and we want to ensure that you get the most out of your experience. Our team will be showcasing the latest updates in ArcGIS for Pipelines and offering valuable insights into the pipeline industry's current events and activities. This session will provide an opportunity to connect with the Pipeline team and prepare for the rest of the conference. We look forward to seeing you there.
ArcGIS Pipeline Referencing: An Introduction
Technical Workshop | Wednesday, July 12 | 8.30 AM | Room 30 D
Learn how ArcGIS Pipeline Referencing can be used to manage and edit pipeline networks event data on a spatial linear referencing system (LRS). This session will provide a product overview with demonstrations to orchestrate linear referenced pipeline data management and data editing work such as pipe replacements, linear referenced event behaviors, a REST API to extend LRS capabilities across the enterprise, event editing in both ArcGIS Pro and the web in the Event Editor, and integration with the Utility Network.
Pipeline Route Design and Mobility Solutions
User Presentation | Wednesday, July 12 | 8.30 AM | Room 29 A
Bye Bye Bye to Explorer, Collector, and Tracker. Field Operations has a need to view, edit and collect data in the field with the option to go offline. Mobile sync services in ArcGIS Field Maps that work with ArcGIS Utility Network (UN) and ArcGIS Pipeline Referencing (APR) met this need. Through Python scripting and ArcGIS Pro tools, ONEOK's GIS team created a process to sync data from APR to the sync service. This sync service allows field users to edit data, which feeds to an approval process by GIS Analysts. This improved data quality and standardized data collection across multiple business processes.
Pipeline SIG: Trends and Technology, a Community-Based Discussion
Special Interest Group | Wednesday, July 12 | 11.30 AM | Room 26 A
Use of ArcGIS in pipelines worldwide is growing and evolving. Join with other users in the gas and hazardous liquids pipeline community to celebrate this year's Special Achievement in GIS (SAG) award winner, talk about how business and regulatory trends are impacting GIS requirements, and explore how ArcGIS is best applied to common tasks and workflows. We will touch upon leveraging ArcGIS Pipeline Referencing/ArcGIS Utility Network.
ArcGIS Pipeline Referencing: What's New and the Road Ahead
Technical Workshop | Thursday, July 13 | 8.30 AM | Room 5 B
In this session, we will showcase new features and capabilities in ArcGIS Pipeline Referencing in the latest ArcGIS Pro and ArcGIS Enterprise releases. We will also discuss upcoming features that are planned for the next release.
Using the Sync Service to Support Offline Data Collection in Linear Referencing Systems
Demo Theater | Thursday, July 13 | 1.00 PM | Expo Demo Theater 4
Learn how ArcGIS Roads and Highways and ArcGIS Pipeline Referencing now supports the sync capability on linear referencing enabled feature services.  With this capability, users can now make offline edits to their event data using ArcGIS Field Maps and then sync it back to the LRS to sync with any route edits made while offline.
Resources
Visit the product information page, learn about what's new in the latest release, and join the community.