ArcGIS Pro 2.3 has been out since January, and you've hopefully had time to upgrade and get comfortable with the latest version. But while you were busy learning about the big-ticket upgrades, there were lots of other enhancements you might not have noticed. Here are a few of my favorites – and reasons to make the effort to upgrade to 2.3 if you haven't gotten the chance to do so yet.
The spread of spellcheck
ArcGIS Pro is far from a word processor, and odds are you don't want every word in your projects spellchecked (the average attribute table, for instance, would be covered in red squiggles). But when it comes time to share your maps and data with others, spelling does count, and you shouldn't have to proofread all your text the old fashioned way.
Spellcheck was available for metadata in earlier releases. At 2.3, it was made available in layouts for the first time. Reports, also new at 2.3, use spellcheck, too. It works just like it would in a word processor: right click a word with a wavy red underline to see a small pop-up. There, you can pick from a list of suggestions, choose to ignore them, or add the word to a custom dictionary.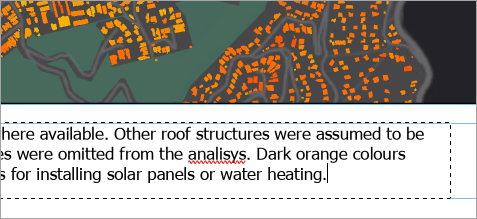 In a layout, spellcheck only flags words in text elements that are activated (i.e., while you're typing or when you've clicked the element to make typing available). This way, the underline won't interfere with the overall visualization of the layout. That doesn't mean you have to activate text elements one by one to check your spelling, though: you can see all the misspelled words in the layout in the Check Spelling pane. To open it, click the Check Spelling button on the Layout tab of the ribbon.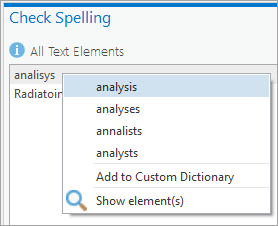 Learn more about spellcheck here and get more details about spellcheck in layouts here.
The memory workspace
Geoprocessing workflows – especially multi-step processes automated with Python or ModelBuilder – often produce intermediate data that you don't want or need to maintain. However, geoprocessing tools, whether run from the geoprocessing pane or a Python script, require you to specify an output location, which can cause an accumulation of unneeded datasets. There's a new workspace called memory at 2.3 designed to address this very issue. The memory workspace stores data for the duration of your ArcGIS Pro session, but when you exit the application, it is conveniently wiped clean. Not only does this reduce hard drive clutter, but it can also increase geoprocessing speed.
To write an output dataset to memory from the geoprocessing pane, simply clear the default path and type memory\ followed by your dataset name. It's the same in Python scripts: start your paths with memory\.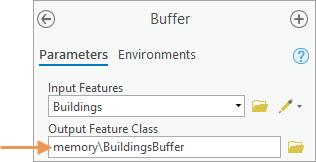 The memory workspace is similar to the in_memory workspace in ArcMap. A word of caution: the memory workspace is limited in size and shouldn't be used to process huge datasets. Learn more about the memory workspace here.
Reset Panes
ArcGIS Pro remembers what panes you had open in your last session. Usually, this is helpful. But in some cases, like when you're switching projects, you may find yourself closing and opening numerous panes at a time. There's now a shortcut to accomplish this with a few clicks. Located on the View tab, Reset Panes offers three options that ensure that essential panes are open while others are closed:
Reset panes for mapping: Contents and Catalog
Reset panes for editing: Contents, Catalog, Create Features, Modify Features, and Attributes
Reset panes for geoprocessing: Contents, Catalog, and Geoprocessing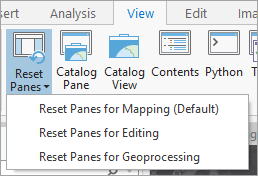 Equal Earth projection
Two projections were introduced at 2.3, but I want to draw attention to one in particular: the Equal Earth projection. The debate in cartographic circles over how to best represent the whole world as a flat map has raged for centuries. Some projections preserve shape at the cost of size, such as the famous Mercator, which has been lying to schoolchildren about Greenland for decades. Others preserve size but dramatically distort shape. Invented in 2018, the Equal Earth projection honors the relative sizes of areas and is designed to be aesthetically pleasing with minimal distortion, making it a great option for mapping global phenomena.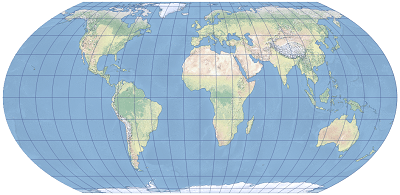 For many more ArcGIS Pro 2.3 tidbits you may have missed, browse this help topic.
Commenting is not enabled for this article.