ArcGIS Pro developers are doing great work developing add-ins with the ArcGIS Pro SDK for Microsoft .NET.  They've been building on new capabilities with each release of Pro, most recently with ArcGIS Pro 2.5 and the 2.5 SDK updates we announced previously.
This new release of the SDK builds on previous Pro releases, with several new opportunities for developers to enhance and extend Pro with unique tools and workflows.
To get started, here's a quick overview of the process of building an add-in for Pro:
Distributing Pro Add-Ins
As you and your organization complete a new Pro add-in, you may want to make it publicly available online.  To help with this process, there is a new ProConcepts Distributing Add-Ins Online document online with the SDK documentation updated at 2.5.
There are two main approaches to distributing your add-in online via Esri websites – ArcGIS Online and the ArcGIS Marketplace.
For any organization that would like to distribute a free Pro add-in, ArcGIS Online is available with an item listing. For Esri Partners, the ArcGIS Marketplace is a location to register as an approved Marketplace Provider and create listings for products and solutions, both free and for sale.
ArcGIS Online Item
An ArcGIS Pro add-in can be easily shared via ArcGIS Online. Creating an item listing is straight-forward to set up and can be posted and available in minutes.  There are several Pro add-in listings on ArcGIS.com.
The new ProConcepts document lists a couple Esri add-in item listing pages which you can check for ideas, and provides tips and links to help you create your own listing.
A new sample ArcGIS Pro add-in item listing: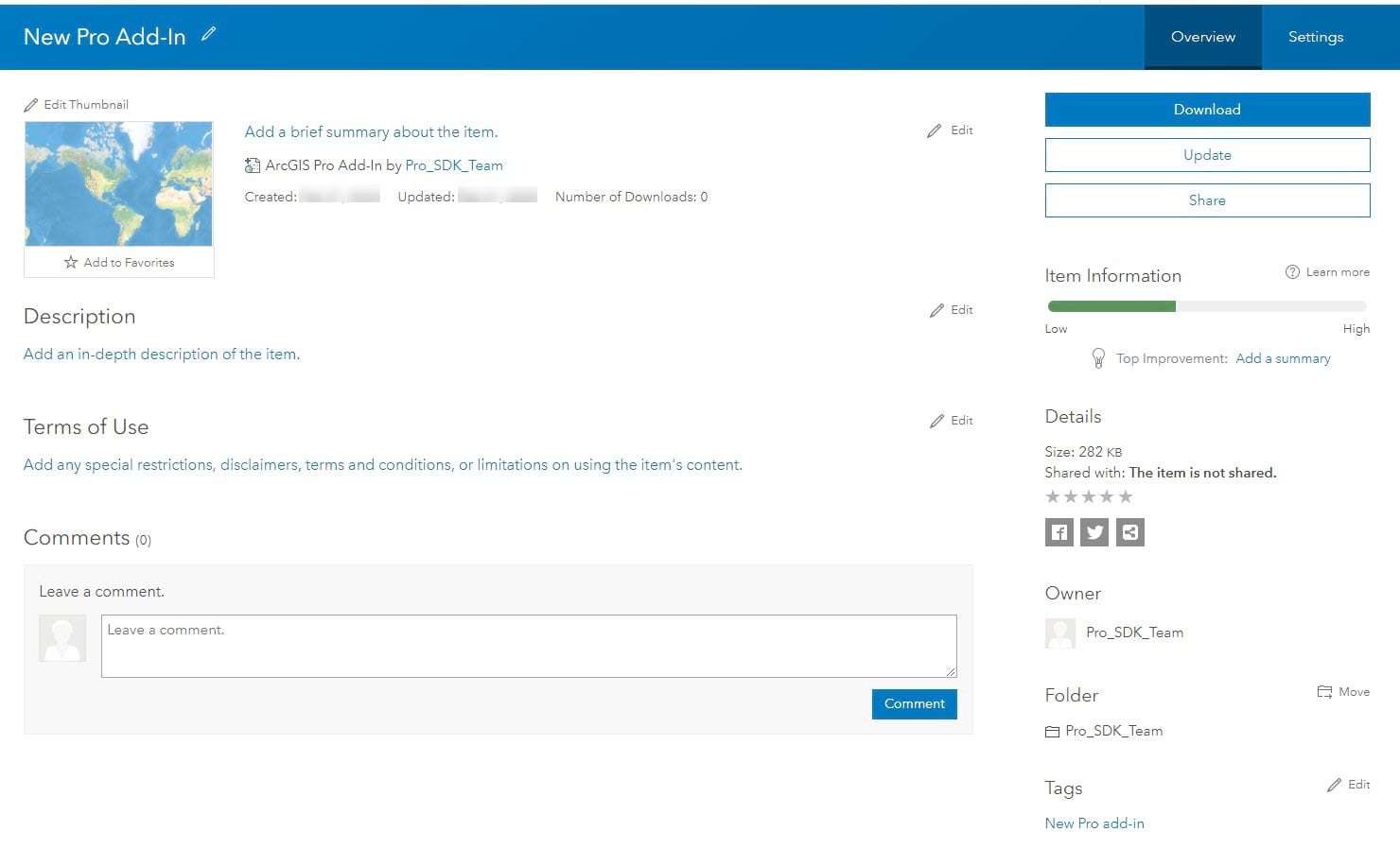 ArcGIS Marketplace Listing
If you are an Esri Business Partner, an Esri Emerging Business Partner, or Esri Distributor, you can register to become an ArcGIS Marketplace Provider, and create a listing for your add-in on the ArcGIS Marketplace.
The ArcGIS Marketplace allows ArcGIS users to search, discover, and acquire apps, content, solutions, and professional services from Marketplace providers.  We included some updates on a few of the providers that have listed exciting new Pro add-ins in the last Pro extensibility review.
If you are an Esri Partner, you can find out more on how to become a Marketplace provider here.
A few ArcGIS Marketplace Pro add-In listings: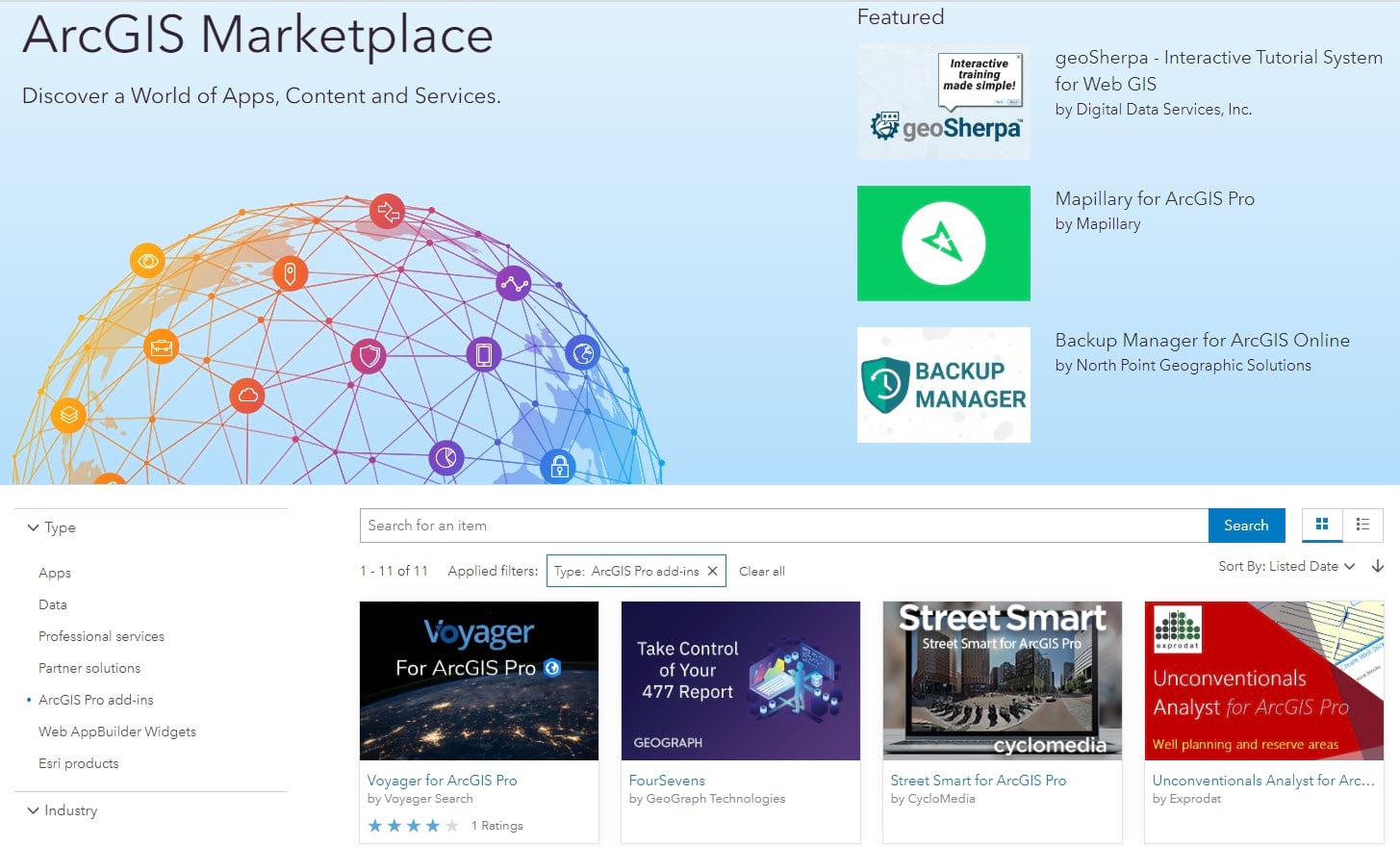 Getting Started
It's a great time to get started building add-ins to take advantage of all the capabilities of ArcGIS Pro 2.5.  Check out the resources available at the Pro SDK landing page.  You can also collaborate with other developers at the GeoNet Pro SDK Group where you can ask technical questions and learn more.
Also, for online instructor-led training, the official Pro SDK course, Extending ArcGIS Pro with Add-Ins, is available with several scheduled dates.  The course is also available for scheduling at your organization.  The course provides a thorough introduction to help jump-start your development work with Pro.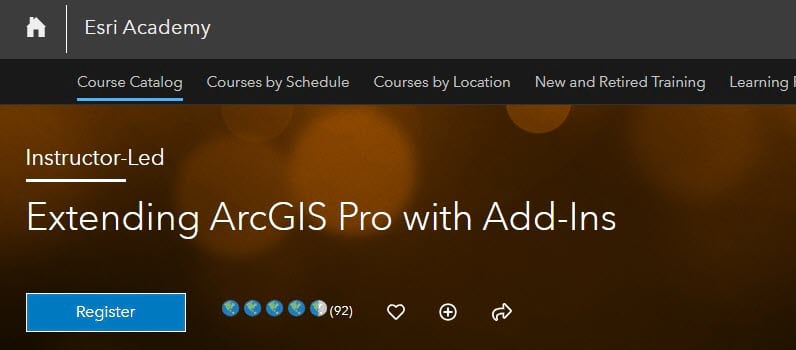 Finally, the Developer Summit technical session recordings will soon be available online, and we'll follow up with a post with links to all the Pro SDK sessions.  The sessions are a great resource for information on SDK patterns, updates and best practices.