ArcGIS Solutions is a collection of industry-specific configurations of ArcGIS that aligns with your business needs, transforms your use of ArcGIS, and helps you maximize the investment you are making in location-based data and technology. Our mission is to build high-value solutions that reduce the time it takes to deploy geo-enabled solutions in your organization and increase the business impact they make.
This ArcGIS Solutions Roadmap gives you a sneak peek of the major capabilities we are focused on in late 2023 and early 2024. Near-term will be available in Q4 2023 and mid-term in Q1 2024. Long-term capabilities are in the plan and slated for a Q2 2024 release but we will revise this roadmap in early 2024 to ensure it reflects our latest plans.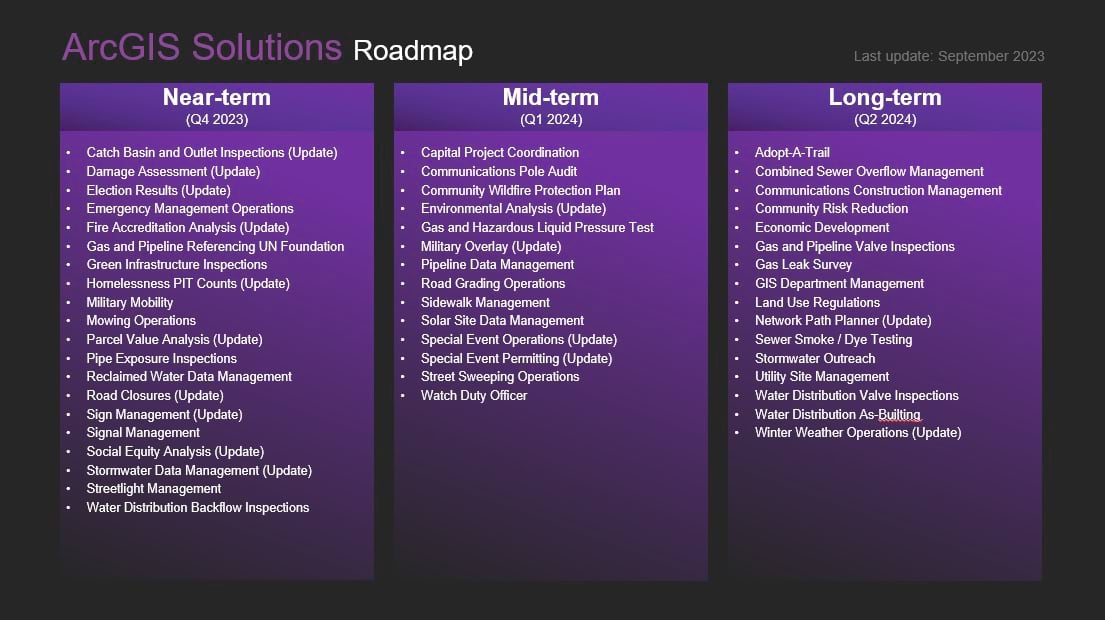 As with any roadmap, capabilities are tentative and may evolve, be delayed, or removed from the roadmap as priorities change. The continued development or release of a solution is at the sole discretion of Esri.
Please contact us if you are interested in partnering with the ArcGIS Solutions team on any of the capabilities listed above. We value those partnerships greatly and your contributions can help the entire GIS community grow. If you would like to see us develop a solution that is not currently in our portfolio or plans, please share your ideas on ArcGIS Ideas.
One final note on our plans for the remainder of 2023.  In the Q4 2023 release, we will be moving ArcGIS Solutions currently supported in ArcGIS Enterprise 10.5 – 10.9 into a mature support lifecycle status.  ArcGIS Solutions will no longer be available for these ArcGIS Enterprise versions, but customers may continue to use any solution they have previously deployed.  Furthermore, the Solutions Deployment Tool for ArcGIS Pro will also be moved to mature support and solutions will only be available in the ArcGIS Solutions app.  This app is currently accessible through the app switcher in ArcGIS Online organizations and ArcGIS Enterprise (10.9.1 – current) portals.
For more information on the latest ArcGIS Solutions release, see What's New.